SMP Architecture settles suit over Vt. library
Town sued firm over failure of former Baybutt Construction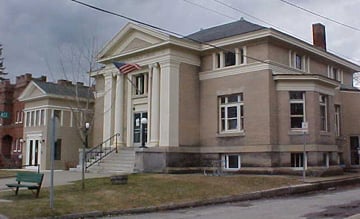 The town of Rockingham, Vt., has reached a $100,000 settlement with the Concord, NH-based architectural firm SMP over the troubled $3 million renovation of the town's library.
The settlement ends a 2013 lawsuit filed by the town against SMP, which had been hired in 2011 to oversee the renovation project. The town charged that SMP had failed to ensure that Baybutt Construction of Keene, NH, which had been hired as the builder, had taken out the required performance and payment bonds. The town paid $23,000 for the bonds, which Baybutt never took out.
In 2013, Baybutt owner Fred Baybutt filed for personal bankruptcy, and the construction company shut its doors. The financial difficulties also affected projects in Brattleboro and, Bellows Falls in Vermont, Keene, NH, and Nantucket, Mass.
Baybutt's financial problems became apparent during the Rockingham library project, when subcontractors at the library walked off the job charging that Baybutt had not paid them.
The Brattleboro Reformer reported that at the time the subcontractors walked off the job, the library remained under construction with its roof open and Baybutt was removed from the project.
To convince the subcontractors to complete the project, the town agreed to pay the contractors half the amount Baybutt owed them.
Attorney Stephen Ankuda, legal counsel for the town, told the Claremont Eagle-Times that lawyers could not find any cases in the United States in which an architect was responsible for making sure a payment bond was in place, and only located one case in England, he said.
Ankuda said that architects are "not insurers," and just have to "exercise judgment" with projects.