Small N.H. movie theaters turn to Kickstarter to 'go digital'
The crowdfunding route is one that many New Hampshire theater owners are eyeing as they scramble to come up with the funds to buy digital projectors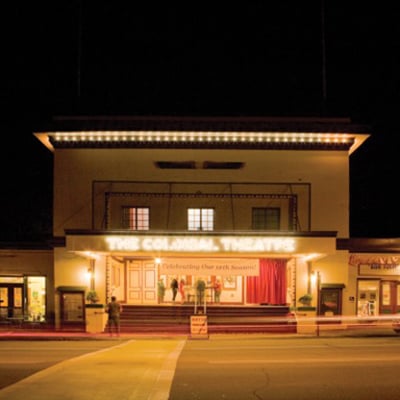 On July 4, 1915, the Colonial Theatre in Bethlehem fired up its projector for an audience for the first time, screening what was then a new release, "The Girl of the Golden West," a silent Western directed by Cecil B. DeMille.
It was the first of many films that would go on to be shown at the summer theater, which lays claim to being the oldest annually operating theater in the country. In the '20s and '30s, when moneyed city-dwellers would summer in the area's many grand hotels, the Colonial even acted as a test market for new films.
The first theater to be added to the New Hampshire State Register of Historic Places, its bright marquee has been a landmark of downtown Bethlehem for nearly 100 years.
But last year, it became clear to Stephen Dignazio, the Colonial's executive director, that big changes were afoot in the movie industry that could threaten its ability to show films as many years into the future.
In the past several years, film distributors have been phasing out 35mm film prints in favor of digital distribution, leaving smaller theaters that have yet to upgrade their equipment fighting over a limited number of celluloid prints of the movies they wish to screen. And, come next year, there's a good chance these theaters won't be able to get their hands on any 35mm prints at all.
The reason for the industry shift comes down to simple economics. While the digital equipment can be a costly purchase for theater owners, ranging anywhere in price from $50,000 to $100,000 per screen, it's much cheaper to distribute films digitally than by 35mm; a single celluloid print can cost up to $1,500 to produce, while a single digital copy costs about $150.
Around the country, more than three-quarters of all privately owned theaters have made the digital switch. Most of New Hampshire's bigger theaters have upgraded, and some two-screen ones – including the Milford Drive-In Theatre, Jax Jr. Cinemas in Littleton and Red River Theatres in Concord – have made the switch in the past couple of years.
For many owners and operators of small theaters, the end of 35mm has come faster than they expected, and has left them with a pretty stark choice: go digital or go dark.
"The film companies are not going to be using film after the first of the year, so we have to convert. We have no choice, and it's very expensive," said Patricia Baldi, owner of the Weirs Beach Drive-In Theater, the largest drive-in in the Granite State and one of the oldest remaining drive-ins in the country.
The crowdfunding route
To convert a single screen will cost about $75,000, bringing the total tab to upgrade the drive-in's four screens to more than a quarter-million dollars. A big investment for most businesses, for sure, but particularly so for a seasonal business that charges adults just $10 for a double feature and admits kids under 11 in free.
In an attempt to keep open the drive-in, which has been in their family since 1974, the Baldis decided to do what several other New Hampshire theaters have also done: They turned to the Internet to try to round up support, and money, to finance the upgrade.
They've been rallying theatergoers to vote for the Weirs Beach Drive-In in Honda's "Project Drive-In," a campaign that promises to give a digital projector to each of the top five vote-getting drive-ins across the country. (Several other local drive-ins are also vying for a projector through the Honda campaign. They include the Northern Nights Drive-In in Lancaster, the Northfield Drive-In – which straddles the Winchester, N.H. and Northfield, Mass. border – and the Fairlee Drive-In Theater in Fairlee, Vt., which is right on the New Hampshire border.)
On top of that, her grandson, Gregory Baldi, started a campaign on the crowdfunding website Kickstarter, which aims to raise $70,000 by Sept. 5 to finance a new projector. Pledgers who commit $50 are entitled to a reserved parking spot on their next visit, while those who pledge $100 get a VIP tour of the projection booth. Or, for $1,000, pledgers can get their company logo displayed in the snack bar for a year.
The crowdfunding route is one that many New Hampshire theater owners are eyeing as they scramble to come up with the funds to buy digital projectors. And for good reason: in several other cases in New Hampshire, the campaigns have worked.
It did for the Colonial. Last year, The Friends of the Colonial – the nonprofit group that formed to buy the theater a decade ago – raised the roughly $60,000 needed for the upgrade through a mix of federal and foundational grants and community donations. A chunk of that came from a campaign on Kickstarter.
They set a fundraising goal of $10,000, and offered up rewards like movie passes, popcorn and memberships at various pledge levels. Once the 30-day campaign was over, the goal was surpassed, with $12,465 raised from people near and far. (One donor even hailed from Scotland.)
What was notable about the crowdfunding campaign was the makeup of the donors – they tended to be younger people who were reached via social media channels and outside the "normal annual appeal letter group," said Dignazio.
The Colonial installed its digital equipment in July, and technologically speaking, it's been an unqualified success. The sound quality is vastly improved, he said, and the images are free of scratches and other abnormalities.
Photo by Jodie Andruskevich
Barry Scharmett shows off the Milford Drive-In Theatre's new projector, which was installed last summer.
But while the digital cinema revolution may result in a crisper picture and cleaner sound, Dignazio laments that it will make casualties of some small-town theaters, which he sees as community gathering spaces as much as they are places to see the latest release.
"The megaplexes are pretty sterile environments. I go there all the time to watch films I can't see anywhere else, but it's not the same as going downtown," he said. "These theaters in rural downtowns have a history that go beyond showing movies. People have their first dates there. They've been drawing people downtown, in the Colonial's case, for almost 100 years. It's beyond just what's on the screen."
When the Peterborough Community Theater launched a fundraising campaign of its own, its owners discovered the power of the personal connection. One older donor pledged money to help save the theater because he'd gotten his first kiss in one of the balconies.
Community response
"Everybody has a story about the theater or what they saw there," said Judy Mills, who bought it with her husband Roy five years ago. The first-run, one-screen theater has been a downtown fixture in Peterborough for nearly a century.
It took about two months for a marketer in town to convince the couple to try a Kickstarter campaign to help their theater go digital. Now, they're glad she was persistent.
They started the campaign March 4, setting a fundraising goal of $45,000. When it ended a month later, on April 3, they had raised $54,316.
"The theater's going to be 100 years old in September 2014, and people really, really wanted to see it stay open," said Mills. "The community came together; it was really amazing."
"These theaters in rural downtowns have a history that go beyond showing movies. People have their first dates there. They've been drawing people downtown, in the Colonial's case, for almost 100 years. It's beyond just what's on the screen."
Donors pledged in amounts ranging from $10 (which got them recognition on the theater's website) all the way up to someone who pledged $10,000, which was thanked with a lifetime pair of VIP movie passes, a private party, and numerous other rewards befitting such a big pledge.
"It was a really good-feeling thing that happened for the community," said Mills. "Everyone came together and they saved the theater, and I think it was a good model for other things that can be done that way."
While crowdfunding campaigns can be successful, some private theater owners have reservations about asking people to chip in for upgrades for a for-profit business.
Count among them David Fuller, co-owner of the single-screen Rialto Theatre in Lancaster. After the theater was foreclosed on by its previous owners in 2011, Fuller and a business partner bought it at auction, wanting to keep the theater running in an area that isn't exactly dotted with cinemas.
"Between here and the Canadian border, there is nothing," said Fuller. "We have people who come from Pittsburg, N.H., which is about an hour and 40 minutes away."
Classic advertisements play before the movies begin at the Milford Drive-In Theatre.
It became clear not long after they bought the theater that it would soon require a new digital projector, which Fuller was told would cost about $60,000. He's still in the process of trying to figure out how to raise those funds. He's exploring a low-interest loan through the town, though he hasn't ruled out crowdfunding altogether.
"A lot of people are doing Kickstarter programs, but we are a business, so I personally feel like it's tough for us to ask for donations and stuff from people," said Fuller. "But then again, we're not out to get rich with this business. We actually purchased the place to keep it going for the residents of Lancaster to go and see a film and see a concert."
The owners of the Northfield Drive-In Theatre in Winchester, which straddles the Massachusetts-New Hampshire border, debated over the past year whether to upgrade or shut down the 65-year-old drive-in. On Aug. 3, their decision was posted on Facebook:
"The announcement has been made: We will be making the digital conversion and continuing on into the future. We thank you for your continued support and will keep you posted on future fundraising opportunities for your drive-in theatre."
In a later post, the drive-in thanked customers who had let them keep the change to be put toward their digital fund.
A phone call to the Wilton Town Hall Theatre on Aug. 19 played back a prerecorded message: "'Unfinished Song', originally scheduled to be now showing, has been postponed due to no 35mm film print available for us to use. We sincerely thank you for your understanding and continued support."
The theater – an art house cinema built in 1886 – posted a similar message to its Facebook wall and rued that the "go digital or go dark" scenario "is becoming a reality more quickly that we had expected."
But the theater's Facebook fans didn't take the message lying down. "We have to fund raise and get the digital equipment. The Wilton theater is the best!" wrote one.
Another added: "Yes, fund raising is an excellent idea !!!! All of us regular members in the audience will participate. HOW MUCH DO YOU NEED ????"