Skiing boosts camaraderie
Pats Peak program aids company culture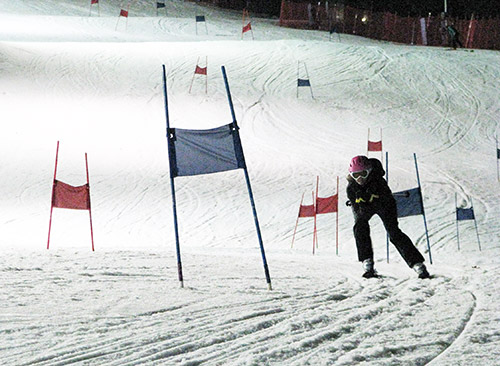 Happy hours are among the obvious occasions to socialize with coworkers. At Pats Peak's Adult/Corporate Racing Series, New Hampshire businesspeople get a friendly competition, a team-building experience – and there's beer.
From January to March, races begin at 7 p.m., Monday through Thursday at the ski resort in Henniker. Teams include five to seven individuals from Granite State businesses who race side by side on two courses marked with red and blue flags.
There is an incentive – the top five teams go the finals, which is followed by a dinner banquet – but participants are more focused on helping each other increase their speed and having fun.
"It's kind of this sense of camaraderie. You're always as a team. You're working together to get that couple of seconds faster. And there's five or six snowboarders, who are not putting down times to win, but just enjoying themselves," says Andy Davis, account executive at Davis & Towle Insurance Group in Concord.
"I'm 35; I have young kids at home. So it's a nice thing, because it's once a week you go out with these guys and gals at work, and you see a lot of people in the community you work with," says Davis, who's been taking part in the Corporate Racing Series for six years with his coworkers.
"It's a ton of fun. People come up from everywhere. The board that shows your timing and everything else also shows where you're from. You'll see people from Bedford, up by the New London area, people driving 35 to 40 minutes to go do it," says Davis. "They videotape [the race] as well, which is a hoot because they play it on the TV."
Strengthening bonds
Dr. Steve Larmon, an oncologist at Dartmouth-Hitchcock Keene, has been organizing his team for nearly 20 years. "There's this core group, we don't see each other too much but come the first week of January we're there, and you stay there after a while and share some popcorn and stories and beer," says Larmon.
"We started over in Maple Valley Ski Area [near Brattleboro, Vt.] as a group of doctors who got a team together. Then we went to Temple Mountain and then we went to Pats since the mid-'90s, and they do a wonderful job," he says.
"We've had a lot of ophthalmologists and dermatologists," says Larmon, who also mentioned a group of dentists and guest neurologists from Germany and India who participated. The group also has contained other members of the community as well, including an editor of The Keene Sentinel.
Currently one of his teammates is Dr. Bob Cochran, a family practitioner who was an alpine skier in the 1972 Winter Olympics in Japan.
"It's a lot of folks from different parts of the institution. I think it's helped strengthen the bond of those of us at the medical center and others in the community," says Larmon.
According to Larmon, that is especially needed in a changing health care environment. "One of the things that's happened is we're working more in silos. I started in a clinic with 35 guys and gals, now I'm an oncologist so I'm in a separate area. But one of the pharmacists I ski with I see on a regular basis."
Challenging winter
Skiers race down one of the mountain trails at Pats Peak Ski Area in Henniker.
Family and friends are also invited to watch participants race down the side-by-side courses. On a warm Thursday evening in late February, one family had some noisemakers to cheer a skier on, and many skiers made sounds of cheer and frustration as they approached the finish line.
"You're competitive with yourself and others within the gates," says Larmon.
The mild day also served as an example of how the underwhelming amount of this winter's snowfall has affected ski areas. The mountain was covered, but there were slushy and iced-over patches on the walk up to the course. In fact, that day, the temperature reached 61 degrees in Concord.
"What nobody is talking about is the phenomenal job Pats Peak has done with the weather conditions," says Bob Laflam of Concord, who races with friends.
"Pats makes a very good base, and they've been making snow on top of it," says Davis. "They've only canceled when it's been pouring," and that's due to how far participants drive, he says.
"This winter was most certainly a challenge for all of the New England ski areas. And that's a problem for the mountains," says Davis. "It's a huge cost to blow up the snow. It's tough to ski on, it becomes icy, it becomes granular, but all that said, you still get your fix."
Growing up around Lake Sunapee, Jim Cantin has always been an avid skier, and skied competitively while attending Boston College. He moved back to New Hampshire to work for Manchester-based Retrieve Technologies after spending several years in Boston.
"It feels very New Hampshire to ski at the end of the day. I know if I still worked in Boston I would never do that," says Cantin, a product manager at Retrieve.
"We're a new company and we've hired like 40 people in the past six months, so the corporate league is a great chance to get to know everyone a little better," says Cantin. "I noticed when I started working here that everyone is into something like skiing or some sort of outdoor activity, so it's great to do that rather than just go to a bar. It's unique."
"Part of building a new company is about building a culture," says Paula Philbrook, director of content research, development and strategy at Retrieve. "Company culture sets the tone for our interactions and our success. Our days are busy and sometimes we don't have the chance to sit down and interact more casually. These events give us this chance. Cheering each other on is a great way to get to know and support each other."