Six more retailers take space at 170-acre Tuscan Village
'We're tremendously pleased with our leasing momentum so far,' says developer Joe Faro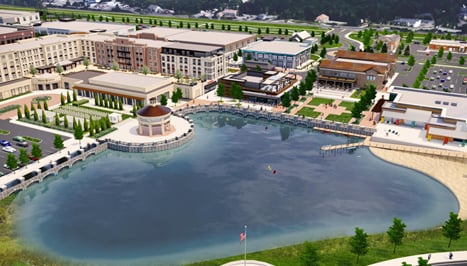 On the heels of the announcement that outdoor retailer L.L. Bean will be opening a 15,000-square-foot "experiential" lakeside store in the 170-acre Tuscan Village mixed-use development in Salem, six more retail tenants have signed on to take space in the South Village section of the project.
The six other retailers, according to a press release from developer Joe Faro, are Old Navy, Ulta Beauty, JPMorgan Chase Bank, Chipotle Mexican Grill, Salem-based fitness company Drive Custom Fit and Nashua-based Pressed Café.
Drive Custom Fit, which is currently located on South Broadway in Salem, will be moving into a 25,000-square-foot facility Tuscan Village. Pressed Cafe, which has two locations in Nashua and one in Burlington, Mass., will be in a stand-alone 5,000-square-foot building.
There was no word on how much space the other businesses are specifically eyeing, but Old Navy outlets typically are about 16,000 square feet, Ulta's are about 10,000 square feet and Chipotle eateries are typically about 2,500 square feet. Full-service JPMorgan Chase locations average about 3,000 square feet.
"We're tremendously pleased with our leasing momentum so far," Faro said. "The executed leases and overall interest in Tuscan Village has been fueled largely by our convenient location right off I-93, the tax-free New Hampshire advantage, and the true mixed-use, amenity-rich environment that we're delivering."
A portion of North Village is already nearing completion, Faro said – a new Market Basket supermarket and a Homesense store, owned by The TJX Companies. That part of the development is being co-developed with DeMoulas Super Markets Inc.
All told, about 800,000 square feet of retail space is planned in the mixed-use Tuscan Village, which will be some 2.8 million square feet. The remainder of the space will include residential and Class A corporate and medical office space.
Also in the North Village, two already-opened residential complexes – Corsa, a luxury apartment community operated by the Dolben Company, and The Villas, a condo community of luxury townhomes. In addition, Hanover Company is currently building a 281-unit, luxury apartment complex, with construction expected to be completed in late 2020.
As for the corporate office component, leasing is also underway, with over 1 million square feet of Class A office and medical space available, located in The Rock at Tuscan Village.