Show time in Merrimack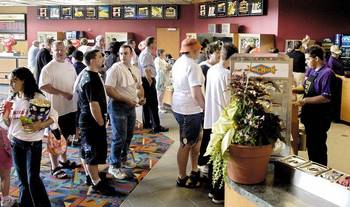 MERRIMACK – As Bugs might say, "Overture, curtain, lights. This is it, we'll hit the heights. And oh, what heights we'll hit. . . ."
Or, in the words of the Delaney clan, "Hello, Merrimack! Goodbye, Lowell!"
The Delaney family arrived at 10:30 a.m., determined to be the first ticket-buyers for the first show at the long-awaited, months-in-the-works, 12-screen, multiplex movie theater that lit up its virgin screen for a Friday morning matinee.
In a sense, they had been waiting much longer than an hour for the theater doors to swing open, the ticket-spitter-outer machine to hum, the popcorn to pop and the teenage ushers to say, metaphorically at least, "On with the show, let's begin!"
"We've been looking forward to a real movie theater opening in southern New Hampshire since we moved up here six years ago," Joe Delaney said.
The Delaneys moved to Merrimack from Somerville, Mass. They found a lot in town to like, but a few things here lacking – a movie theater with stadium seating, for example.
"This is my first time with stadium seating," said Jennifer Delaney, who stood outside Cinemagic Merrimack 12 with her daughter, Shannon, 6, and a neighbor, Krysten Karaian, 13. Meanwhile, her husband, Joe, and his nephew, David Delaney, 9, of Somerville stood in line for tickets.
The closest movie theater she knew about with that style of seats is in Lowell, Mass., Jennifer Delaney said.
"We haven't been there yet," she said. "We don't have to go now."
That sentiment – now we can forego Lowell! – was echoed by a handful of moviegoers on Friday who arrived to see Cinemagic 12's first round of matinee shows – "Spiderman II," "I, Robot," "The Village," "The Bourne Supremacy," "Thunderbirds" and, in the case of the Delaney clan, "A Cinderella Story."
"It's right next to the highway, so you can have people from different towns meet here," said Ryan Lewis, 18, of Merrimack, who was waiting to see "I, Robot" with friends Mark Koenig, 17, and Chris Scalabrini, 17.
For that reason, Lewis expects the theater to quickly become a popular teen hangout.
The 36,000-square-foot theater is the first stadium-style cinema in Greater Nashua. The city's last movie theater – which did not have stadium seating – was Hoyts at the Nashua Mall. Merrimack's other movie theater is Premiere 8 on the sliver of Route 101A that crosses south Merrimack between Amherst and Nashua.
Stadium seating, 12 screens, a convenient location – at 11 Executive Park Drive off Exit 11, just past the Radisson Hotel – were cited as reasons for attending the opening.
"And the free T-shirts," added Sarah Sloan, 15, of Merrimack. She and friends Nicole DiPalma, 16, of Nashua and Kathy Quinney, 16, of Lyndeborough were there to see "The Village."
Rumor had it that thousands of T-shirts were to be given out, Sloan said.
"This is kind of a game-time decision about the T-shirts," said general manager Jamie Pinard.
Turns out, lots of shirts were leftover from the ribbon-cutting ceremony on Thursday, so the first 5,000 ticket-buyers got one.
Pinard laughed when asked what challenges the management faced in opening a new multiplex. You don't think in terms of "challenges" when opening a movie theater, he said.
He might need to keep an eye on the projectors, which are in their "infancy," he said. Plus, he called up support troops from other Cinemagic theaters (Zycacorp, the Manchester-based parent company, also operates theaters in Saco, Maine, and Salisbury, Mass.) to lend support on opening day.
Other than that, "just make sure all our customers are happy and satisfied with our service," Pinard said.
Sloan, one of those happy and satisfied customers, held up her free white T-shirt sporting the theater's name and Web address. Was it everything she had hoped for? "Of course. I can die happy now," she said.