Should state aid recipients be drug-tested?
Live Free or Die Alliance Facebook respondents have their say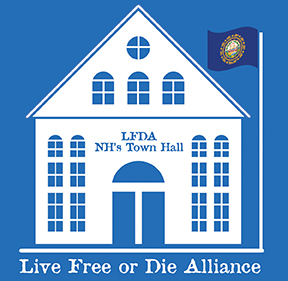 When a citizen receives financial assistance – commonly called "welfare" – from the state of New Hampshire, is it reasonable to expect that person to be drug-free and prepared to prove it?
The Live Free or Die Alliance recently asked its nearly 12,000 Facebook fans about that knotty subject, drawing an organization-record 1,441 responses as of Feb. 5, including 726 concurrences ("likes," in Facebook parlance), 130 people sharing the question and its associated image on their own Facebook pages, and 585 answers to the question from 463 individual respondents.
Our direct question to our Facebook fans was: "State Rep. Donald Lebrun (R) has filed a bill that would require applicants for welfare benefits (Temporary Assistance for Needy Families) to pass a drug test (at their own expense, though the cost is recouped if they test clean). … Should NH drug test welfare recipients?"
On March 6, the New Hampshire House rejected the bill on a voice vote. However, the tenor of the response from LFDA Facebook followers was overwhelming in support of drug-testing aid recipients: a full 73 percent. In contrast, 22 percent expressed views opposed to the drug tests and 5 percent of the responses were either undecided or didn't address the question at all.
However, responses within those percentages varied. Among those supporting drug testing, many simply expressed their support outright, while many others observed that they have to be drug-tested at their own workplaces, so why shouldn't those receiving financial support from the state be compelled to do the same?
"When so many have to be tested to obtain and maintain employment, then, hell yes, the welfare paid out should be dependent on maintaining drug-free status," wrote one woman typical of many pro-testing respondents.
Others who endorsed testing took issue, however, with applicants being forced to pay for the test, even with the legislation's provision that "clean" recipients would be reimbursed via their eventual aid package.
Some respondents expressing views against drug-testing aid recipients cited privacy and constitutional concerns, while many relied largely on the experiences of other states, focusing on the price tag.
"It's stupid and a waste of money. Florida tried it and got back a 2 percent hit rate at a cost of millions of dollars before the courts put a stop to it," wrote one man.
"Although in principle it sounds like a good idea, (most) people will test negative as they did in Florida," another participant said. "The taxpayers are then on the hook for all of the testing costs. … The testing companies however laughed all of the way to the bank."
The Live Free or Die Alliance presents this report not as any sort of scientific poll or survey, but rather a digest of citizen testimony, where respondents are (to the greatest extent possible) identifiable by their real names.
As New Hampshire's town hall, the nonprofit, nonpartisan Live Free or Die Alliance is free and open to all, offering a unique and important mechanism for more than 14,000 community members to express their views.
While lawmakers and other decision-makers are impelled by their own research, judgment and conscience, they cannot truly represent citizens without ascertaining their views on important matters. Our experience with this single Facebook exercise shows that most citizens who avail themselves of the LFDA's civil, moderated issues forum favor drug-testing to prevent illicit substance users from abusing the public dole.
John F.J. Sullivan is editor-in-chief of the Live Free or Die Alliance (http://nhlfda.org).