SHOP health insurance marketplace on the chopping block
ACA insurance portal for small business has failed to gain traction in New Hampshire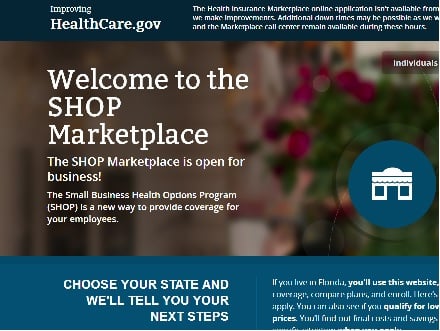 The Trump administration has called the Small Business Health Options Program (SHOP) marketplace under Obamacare a bust and may do away with one of reasons for companies to use it – allowing employees to pick their plan on Healthcare.gov.
SHOP is designed to increase and maintain insurance coverage in the small group market. It is aimed at businesses with less than 50 employees and are not required to provide insurance under the Affordable Care Act. Under SHOP, businesses with 25 employees earning under $50,0000 a year receive sliding two-year subsidies. The subsidies can amount to as much as half of the health care premium.
For those with more than 25 employees, or smaller businesses that have used up their two-year subsidy, the main benefit of SHOP is that it lets employees pick their plan on Healthcare.gov.
However, computer problems delayed that feature for years, and now the Centers for Medicare and Medicaid Services is proposing rules to pull the plug on it altogether, at least on the federal exchange, which New Hampshire uses.
Under the proposal, to grant greater "flexibility," employers would sign up directly with an insurance agent, starting in 2018, though the company could still use Healthcare.gov to determine whether the business qualifies for tax credits. This would take the "burden" off businesses and insurance companies, the reasoning goes.
'Significantly short'
The reason for the proposed change is that SHOP enrollment has been "lower than anticipated," explained CMS in a May 15 letter sent to insurance agents.
According to CMS, in New Hampshire, in January, only 136 businesses participated in the program, enrolling about 823 employees. (State figures as of May are similar: 130 companies with 761 employees.) That pales in comparison to the 93,000 New Hampshire residents covered by the ACA through individual polices as of May.
New Hampshire is not much different than the rest of the country. Some 27,000 businesses with 233,000 enrollees participate in shop nationwide.
The program is "significantly short" of the 4 million people nationwide that the Congressional Budget Office predicted would enroll for coverage through the SHOP marketplace by 2017.
"SHOP has been a non-starter in New Hampshire," said Ray White of Cornerstone Benefits and Retirement Group Inc. in Bedford and a former Republican state senator.
SHOP subsidies were too complicated, he said, and the SHOP plans are too limited to be appealing.
While the ACA makes up about half of White's health insurance business, "nobody talks about SHOP. That's why the federal government is trying to get away from it. It has been a total failure."