'Severe liquidity crisis' prompted GTAT's bankruptcy
Effect of filing is clear so far, but cause remains a question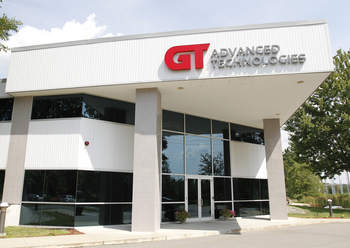 GT Advanced Technologies says it sought bankruptcy protection Monday morning because it faced a "severe liquidity crisis," according to court filings in what is the second-largest bankruptcy filing in New Hampshire history, behind only the 1988 Chapter 11 petition filed by Public Service of New Hampshire.
But Merrimack-based GTAT won't say what led to that crisis – at least not yet. The answer, the company said, would come at a hearing on the hundreds of pages of first-day motions designed to keep the company going while the bankruptcy court sorts things out.
Speculation is that something went terribly wrong with GTAT's deal with Apple in which the tech giant advanced $578 million to GTAT to build a plant in Arizona that would supply sapphire screens for Apple's mobile devices.
When Apple unveiled its new iPhone 6 in September, it did not have a sapphire screen, as many anticipated.
The company said its new Apple Watch would contain sapphire, but that indicated that it would require a lot less of what GTAT had to offer. Apple also pushed back the date of the watch release at least until February.
CEO Tom Gutierrez assured investors during an earnings call last August that if it missed an Apple deadline, it wouldn't be a "world-ending event."
He said at the time that the company expected to have $400 million in the bank at the end of the year. He also was upbeat about the rest of GT business and promised to talk about that last week.
Instead, however, the company has lost nearly $250 million in cash over three months, leaving it with $82 million in the bank.
Whatever the reason for it, the liquidity crisis came at a bad time.
GTAT faced some $145 million in trade claims, with only $84 million of unencumbered cash to pay them off, according to the filings. To stave off creditors until it received financing, GTAT was forced to turn to bankruptcy court for protection.
The company promised that it expected that the bankruptcy court would allow it to "conduct business as usual," saying that management would retain possession of the company. But analysts used words like "stunning" and "shocking" after the announcement, and investors sold GTAT shares in a panic. Share prices tumbled from $11.05 Monday morning to 80 cents at the close of trading – a drop of 92.76 percent.
That means a company with a $1.5 billion market capitalization the morning of the bankruptcy filing was reduced to less than $110 million at the end of the day. Already, law firms were lining up investors to sue the company.
The company's nearly 7,000 vendors (more than 700 of whom are in the Granite State) could also be in trouble.
"How do I file my claim for money owed to me before your filing? When can I expect a check? Will I be paid in full?" were the questions posed on the company's Web page explaining the bankruptcy.
"As is customary in Chapter 11 proceedings, payment for pre-filing obligations will be subject to court approval to pay them as part of the reorganization. We recognize the challenges this may present and we are doing everything we can to expedite the Chapter 11 process," said the company.
The emergency motion does ask the court for permission to label certain "critical payment vendors" that are needed to keep the company afloat. Similar motions were made so the company can use its own bank accounts to pay employees, insurers, landlords, necessary licenses and utilities and taxes. It also said this was necessary to protect the company from takeover while under distress, arguing that any change of ownerships would jeopardize some $152 million in tax credits that could be used to pay off creditors.