Serenity Place bankruptcy reveals over $750,000 in debt
Former drug treatment facility files for Chapter 7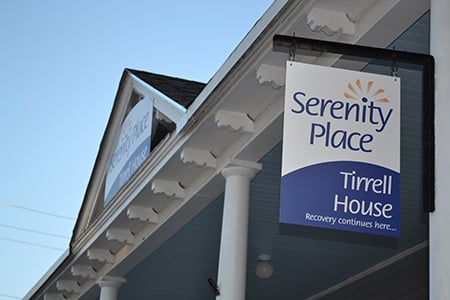 Serenity Place, once an essential organization in the city of Manchester's fight against the opioid crisis, officially filed for Chapter 7 bankruptcy last week, revealing that the drug treatment facility owed more than $750,000.
The filing has been expected ever since state officials forced the treatment center, headquartered in the old Manchester Police Station on Chestnut Street, into receivership in December. It is now run by Families in Transition.
The April 25 bankruptcy filing provides some additional details to the organization's finances, such as a peak and sharp drop-off in revenue.
Serenity Place pulled in $3.7 million in the fiscal year ending June 2017, compared to $1.9 million in fiscal 2016. But in the first 10 months of the 2018 fiscal year (as of March 31) revenue fell to $1.3 million.
The filing also kicks off the process of paying off creditors, the largest being the Internal Revenue Service, which claims it is owed $218,000, primarily federal tax deductions.
In addition, the debtor – officially known as the National Council on Alcoholism and Drug Dependence/Greater Manchester – owes $180,000 to the state Department of Health and Human Services, $99,505 to Eastern Bank and another $9,625 to the NH Department of Employment Security.
All of the above have a secured interest in a three-story building on Manchester street where Serenity operated Lin's Place, a sober house for women, which the filing says is worth $475,000. Some $13,000 of the IRS's claim is also secured by the building.
The biggest unsecured creditor is board member Alan Villeneuve, who lent the organization $66,000 shortly before it went under. Serenity Place also owes $60,000 to Avertest LLC, a Richmond, Va., drug testing firm, and $22,000 to Devine Systems, a Bedford IT company. The unsecured creditors – there are 62 in this case with claims totaling $251,000 – are usually last in line to get paid and often get a fraction of what they are owed.
Serenity Place's liabilities totaled $758,796.40, over $100,000 more than total assets of $644,117.78. But that asset total often shrinks thanks to the legal fees racked up during the bankruptcy process. In this case, the court might appoint a "Patient Care Ombudsman" for those receiving treatment, incurring additional costs.
In addition, the bankruptcy court may scrutinize Villeneuve's claim because it might he might be considered an insider. Attorneys John Fitzgerald (president of Serenity Place) and Michael O'Shaughnessy (vice president of the organization) have not made a claim, but they will probably be shielded from personal liability by the bankruptcy filing.
Bankruptcy Judge Bruce Harwood has scheduled a May 23 hearing in federal bankruptcy court in Manchester.
There was only one other April business bankruptcy recorded in New Hampshire compared to 11 in March. Overall, there were 143 bankruptcy filings for the month, 42 fewer than March and 16 fewer than April 2017. In fact, it was the lowest number of April filings since 1989. In 2010, at the height of the recession, there were 511 April filings.
Year-to-date, there have been 4 percent fewer filings then last year.
The business filings were:
• Horne Excavating LLC, North Haverhill, filed April 15, Chapter 11. Assets: $1,559,900. Liabilities: $220,226.
• National Council on Alcoholism and Drug Dependence, dba Serenity Place, Manchester, filed April 25, Chapter 7. Assets: $644,117. Liabilities: $758,796.