Sen. Hassan introduces bill to ensure federal websites are mobile friendly
Studies show low-income Americans rely heavily on smartphones for internet access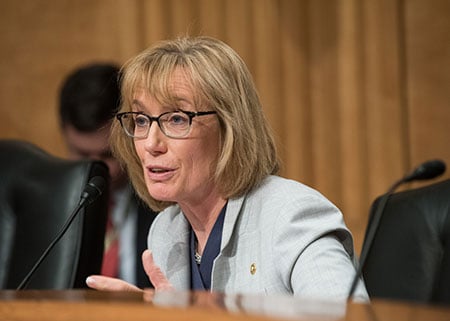 Senators Maggie Hassan (D-NH) and Cory Gardner (R-CO) introduced the bipartisan Connected Government Act today, to expand access to government services and information by requiring all new federal websites to be mobile-friendly.
The bipartisan bill aims to expand the reach of government services and information for lower income households by requiring all new government websites intended to be used by the public to be mobile-friendly.
According to a Pew Research Center survey from last fall, 20 percent of low-income Americans rely entirely on their smartphones for Internet access. A Pew survey conducted in 2016 revealed 23 percent of smartphone-only users who do not have broadband access at home are Hispanic while 15 percent are African American and 9 percent are Caucasian.
The bill also requires the General Services Administration to submit a report to Congress on agency compliance with this law within 18 months of enactment. Congresswoman Robin Kelly (D-IL) previously introduced a companion bill in the U.S. House of Representatives.
"Studies have found that mobile devices are surpassing desktop use for accessing the web, and ensuring that the federal government is up to speed with the technology that Granite Staters and Americans depend upon in their daily lives is critical to the success of our people in the innovation economy," said Senator Hassan in a press release. "The bipartisan Connected Government Act will help provide access to government services and information for individuals who rely on mobile technology, including low-income households who more heavily rely on mobile broadband and Americans who experience disabilities. I will continue working across party lines to move this commonsense measure forward."
"Providing mobile-friendly government websites is an important step the federal government can take to provide better service for the American people," said Senator Gardner. "As more and more Americans rely on their mobile devices to access information and websites, it's important the federal government has websites designed for mobile platforms. The Connected Government Act will promote common-sense transparency and bring the government into the 21st century."
Senators Hassan and Gardner also introduced the AIRWAVES Act, which will help lay the groundwork for 5G technologies by ensuring the future spectrum needs of wireless carriers are met. The AIRWAVES Act also designates a percentage of spectrum auction proceeds to go toward broadband infrastructure in unserved and underserved areas, including rural areas.