Schools look to raise money for playgrounds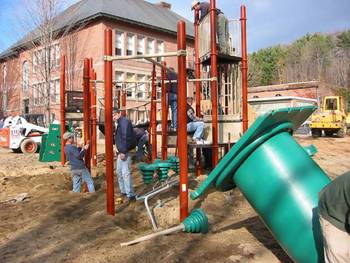 WILTON – School playgrounds constructed 20 or so years ago are all in disrepair and insurance companies are asking that they be dismantled for safety reasons.
The Parent Teacher Association at Florence Rideout Elementary School began their fund raising over a year ago and this weekend installed the first new structures.
The PTA at Lyndeborough Central is just beginning their fund raising, hoping to begin some construction next year.
A family concert by Amy Connelly and Stephen Lechner on Nov. 20, will benefit both playgrounds. The concert, scheduled for 10 a.m. at FRES, is sponsored by the Wilton-Lyndeborough Woman's Club. Tickets are available at the door and cost $5 for the first child and $3 for each additional child in the family.
The PTA has collected more than $40,000 and more is needed. Collection jars are in several local businesses.
New structures at the school include a row of swings in a tubular frame and a large "play structure," a combination of two types of bright green plastic slides, various climbing sections and walkways.
On Saturday, a huge pile of bark mulch awaited completion of the installations and would be spread on the ground.
Plastic is now advocated for slides since it does not get as hot in the sun as metal.
In Lyndeborough, Committee Member Karen Grybko said this week, "We have a lot of events planned," events such as community suppers, walk-a-thons and raffles. "We have a lot of suggestions."
"We hope to know by spring if the (present) playground will have to be relocated," she added.
That will depend on upcoming votes about the future of the school. Whatever happens, most of the aging structures have to be replaced.
"The insurance company has said the old tires have to go," she said.
Earlier this year, the insurance company said to remove the swings and increase the depth of sand under the equipment. The committee also removed the Tarzan swings which were made of chains and injuring students.
Grybko did not have an estimate of costs.