Salem student loan collection firm caught in U.S. Department of Education 'politics'
Company's future at risk over DeVos ties to another company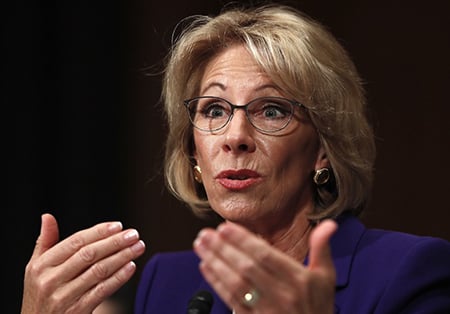 Windham Professionals, a student loan collection agency in Salem, could lose a federal contract worth about $400 million, resulting in a "substantial" reduction in its 700-plus workforce, including some of the 200 employees located in New Hampshire, according Brett Lief, the company's chief strategic officer.
The company had been handling federal accounts for the U.S. Department of Education since the beginning of the decade, but – despite what Lief says is a stellar record – has been caught up in a nasty multi-firm litigation battle that includes conflict-of-interest charges involving Education Secretary Betsey DeVos, and Performant Financial, a California company that was awarded a similar contract, according to a Washington Post account of the matter.
"This has nothing to do with our performance," said Lief. "We were just caught up in the politics of it all."
On May 4, the department rescinded the contracts of both Windham and Performant. Windham appealed on June 26. Lief said he expects a decision in the early fall. Meanwhile, the company is struggling to diversify its business to lessen the impact of the decision.
In 2009, Windham was one of seven companies to win a five-year contract to handle graduates that had defaulted on their student loans. Windham's job is either to collect or work out a "rehabilitation" plan for those who wish to start paying their loans in order to improve their credit rating or prevent their wages be garnished. (Students loans are not protected by bankruptcy.)
But the department – which wanted to streamline the process by combining the servicing and collection – reduced the number of large loan servicers from seven to five. That prompted some 17 of 40 losing bidders to protest the award in the U.S. Court of Federal Claims in 2015.
The details of the complaint are under wraps, since bid protests usually involve confidential information, but the whole process was put on hold, resulting in a judge ordering the department to award a contract, which it did, to Performant and Windham.
The Post estimated that the contracts were worth $400 million each, a figure that the Windham does not dispute.
Political gripe
The focus of the complaints was on Performant, whose current management is marginal and past performance satisfactory, according to the department's evaluation, as opposed to Windham, which was respectively deemed satisfactory and exceptional.
But there was also a political gripe, since Performant, reports the Post, is linked to LMF WF Portfolio, a limited liability company that once counted DeVos as an investor.
LMF was one of several firms involved in providing Performant with a $147 million loan in 2012, the Post reported.
But the May 4 contracted cancellation also included both Windham. The agency said it was changing its collection policies, rendering the contract unnecessary and the litigation moot. But it prompted new litigation by the companies whose contracts had just been canceled.
"They went from seven large companies to five to two to none," said Lief. "During that time, the number of loans have doubled. They have plans to collect, but they never told anyone what those plans are."
Actually, the loans will go to 11 smaller companies – with an annual collection portfolio of less than $50 million – though six of those companies would now officially become a big company because of the new business. Meanwhile the amount of debt these smaller companies are expected to collect has grown to a daunting $1.4 trillion and their contract is up next year.
One of those 11 companies, FH Cann and Associates, is located in Andover, Mass.
Windham, which hasn't gotten a new loan since the end of 2016, is still handling 300,000 of the 500,000 loans, but that business could go away too.
The company, which also has locations in New York, Nevada and Tennessee, has been reducing its workforce slightly though attrition, but if it loses the contract for good, "we couldn't get by through attrition. There would have to be a substantial reduction of our workforce," Lief said.
How substantial depends on how successfully the company can diversify. Windham already collects directly for several hundred colleges and has a five-year contract with Rutgers University to answer existing student calls on financial matters.
Collection agencies perform a "thankless job" but a necessary one, said Lief. "We are collecting from students who went to college on a government loan and they haven't paid what they owed the taxpayer. They are already defaulted, so we spend quite a bit of effort getting them out of debt and a large number of them have."
He also stressed that, as a government contractor, the company is required to pay prevailing wages and offer standard benefits, including health insurance.