Saint-Gobain closing Merrimack plant amid PFAS criticism
Operations to continue into 2024, but 'invisible nightmare' still lingers for locals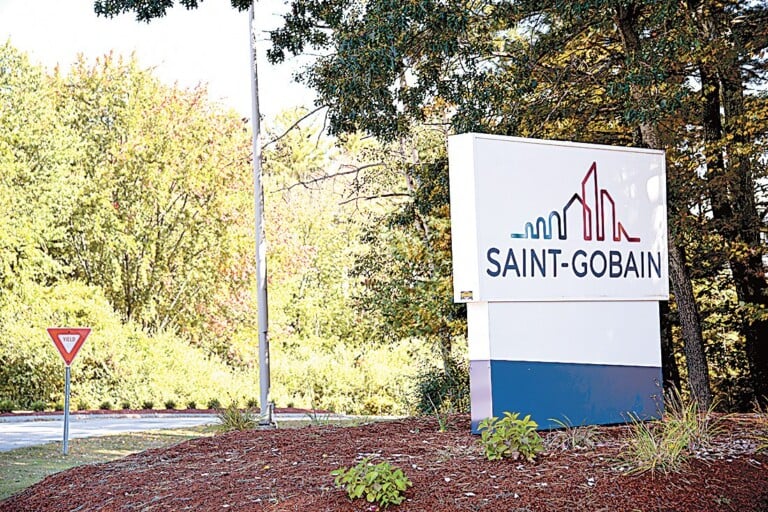 Saint-Gobain, a French manufacturing company that has been the epicenter of PFAS pollution in southern New Hampshire since 2016, has just announced it will be closing its Merrimack facility.
The closure comes just as Saint-Gobain was approved for a controversial air permit last week by the NH Department of Environmental Services (NHDES). Saint-Gobain has been at the center of public scrutiny after PFAS chemicals were discovered in Merrimack water supplies in 2016. Since 2018, the company has been involved in remediation efforts to supply bottled water and implement filtration systems after coming to an agreement with the NHDES.
"Saint-Gobain Performance Plastics will continue to work closely with the New Hampshire Department of Environmental Services on the ongoing environmental investigation and remediation effort, including providing bottled water and permanent alternate water, as appropriate, within the Consent Decree area," Saint-Gobain said in a news release.
"The company values and thanks all of its employees for their hard work and is committed to supporting each employee through this transition. Alternative roles and relocation assistance will be offered to eligible employees who wish to remain with the company. Support packages will be made available to those who will not continue," the company said.
The decision comes "after careful consideration and strategic evaluation of what is best for achieving Saint-Gobain's core business goals and is in line with the company's mission and plan," the company said. The company has no plans to move operations from Merrimack to another location.
The company is ceasing these activities in North America; it is not a transfer of operations, according to a spokesman.
Rep. Rosemarie Rung, D-Merrimack, had the following to say in a written statement about Saint-Gobain's announcement: "This is an important step to halting the environmental assault on Merrimack from Saint-Gobain, but Governor Sununu must now step up and ensure Saint-Gobain does not leave town without a fund in place to clean up the mess they are leaving. There remains PFAS in the soil that will continue to contaminate our water for decades. This announcement does not leave them off the hook."
According to Mike Wimsatt, state waste management division director at the Department of Environmental Services, the company will continue to operate into 2024 and then proceed with closure of the Merrimack facility. "We have been assured by the company they will continue to honor their commitments with respect to any contamination of drinking water and groundwater in the state," Wimsatt said over the phone.
Laurene Allen, local advocate and cofounder of Merrimack Citizens for Clean Water, expressed similar concerns after hearing the news of the company's decision. "I am concerned about where they are moving this production line to, as the invisible nightmare will then begin for an unsuspecting community," Allen said in a text message.
Manchester Mayor Joyce Craig released a statement saying: "Today's news is a step in the right direction for Merrimack residents and provides a significant opportunity to remediate the harm caused by Saint-Gobain. I'm grateful for the advocacy of Merrimack's 'Water Warriors' who raised awareness of the devastating effects of PFAS entering our water supply. Their work has been critical in helping not just Merrimack, but all of us better understand the impacts of these harmful chemicals. This will help our state create a future with clean air and clean water."
Rep. Nancy Murphy, D-Merrimack, echoed the sentiments of Rep. Rung and Allen in her written statement about Saint-Gobain. "Those of us who've been working hard to hold Saint-Gobain accountable for the past seven years, and those who have been impacted by its production practices are glad to hear that Saint Gobain will finally be leaving Merrimack," Murphy wrote.
"Saint-Gobain's utter disregard for NH communities is egregious and reflective of its primary focus and misplaced priorities: profits over people," Murphy continued in her statement.
Murphy was also concerned about the aftermath of Saint-Gobain's production once they depart Merrimack. "As a result of Saint Gobain's tenancy here, citizens have paid — and will continue to pay — a huge price, even after it finally closes its doors. Beyond the costs borne by private well owners outside a far too small 'consent decree area', we have paid to filter the drinking water in our homes; we have paid to filter the public wells in our town; we have paid to filter the drinking water in our schools. And we are paying for the contamination of our air, water, and soil with our compromised health," Murphy said.
It is unclear how the closure will impact local employees from the plant. Murphy had the following to say on the Saint-Gobain workers:
"As they too are victims, I ask that anyone that has the ability to do so, consider offering employment to those individuals who have served this company over the years and now may find themselves out of a job. Let's see what we can do as a community to help these men and women find employment in a safe environment."
This article is being shared by partners in The Granite State News Collaborative. For more information, visit collaborativenh.org.