Rochester firm is a case study in export success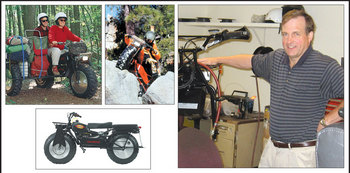 In 2009, in the midst of the drastic economic downturn, New Hampshire companies shipped the second largest total of exports in state history. That's according to Justin Oslowski, director of the U.S. Department of Commerce, U.S. Commercial Service, located at the University of New Hampshire in Durham.Meanwhile, in the first quarter of 2010, exports increased by 44 percent over the previous year, Oslowski said — the fourth biggest increase of any state."It's New Hampshire. There's something about our businesses," said Oslowski, who works primarily with small and mid-sized firms. The vast majority employ 25 people or fewer. "We try to ensure that any investment a New Hampshire company makes will be money and time well spent," he said. "At the end of the day it's about creating jobs, and we know that exports lead to job creation."According to Dawn Wivell, director of the New Hampshire International Trade Resource Center — which provides all sorts of guidance and information on exporting — "the global economy is all about innovation.This is a state with a lot of very innovative companies," Wivell said. "We have everything from the oldest craft organization in the country to a product like Segway."Oslowski, who has worked in other states, says New Hampshire also benefits from good cooperation among state and federal entities, including the Export-Import Bank, in serving the business community. In fact, the International Trade Resource Center is considered a model for other states.
Looking for opportunityAmong the beneficiaries of that close collaboration is Thomas Blais, president of Rokon International Inc., a small operation at the end of a quiet road near downtown Rochester.The company manufactures all-wheel-drive motorcycles and employs between eight and 10 people (sometimes 15). Exports make up 30 to 40 percent of his sales.The ITRC has been instrumental in helping him realize his international ambitions, Blais says."(Dawn) is a focal point that you can go to, you can clear things, you can keep moving. The whole thing is to keep moving. Don't stop, and do it at a profit."Blais has some blunt news for fellow small-business owners: "If you are not reaching out into international sales, you have no sales."During the recent economic crisis, Blais said, his international customers kept his business going. Domestic customers were subject to the frozen credit market and often unable to secure loans."You have to be looking where opportunity is knocking. You can't be banging your head against the wall when the United States isn't going to give you the orders, no matter pretty much whatever you do."That's similar to what Sen. Jeanne Shaheen and others said during an export forum in March at the New Hampshire Institute of Politics at St. Anselm College. More than 95 percent of the world's customers live outside the United States, Shaheen said. Yet the vast majority of American businesses don't export.The National Export Initiative recently unveiled by the Obama administration aims to change that, with a goal of doubling U.S. exports in five years.
Niche marketsAbout 10 years ago, Blais received his first call from Jordan — the Jordanian military, to be exact.It was a Wednesday, and he needed to be in Jordan by the weekend. "Now that's pretty intimidating. You're thinking, 'Do I need a visa? How much is my airline ticket going to cost? What's going to happen when I get there?' It's a little nerve-wracking."But with the help of the U.S. Department of Commerce — then located at the Pease International Tradeport along with the International Trade Resource Center — Blais soon had all the information he needed."By Thursday afternoon I'd purchased a ticket. I'm on my way. I'm there on the weekend. The rest is history. I have regular business there."Blais says he's sold about $1 million worth of Rokons — which carry a price tag of about $6,000 apiece — in Jordan. He's been to the country about 20 times. The motorcycles, at about 200 pounds and with hollow wheels, stay upright in some of the softest sand in the world — the endless dunes of Wadi Rum, where "Lawrence of Arabia" was filmed.Through a joint venture, Blais also sells the Jordanians kits for assembling Rokon motorcycles. The Jordanians are now selling those kits to Brunei, a small nation on the island of Borneo in Malaysia."If you have technical expertise, and you have some backup support, you can do a lot," he said.Blais says he gets ideas all the time from customers for new markets and innovations. "We are a niche product. We have so many different weird uses you would never even think of," he said.Here are just a few: mosquito control, crop checking, vineyard tending (in New Zealand), and reindeer herding (in northernmost Sweden).In response to customer feedback, he's switched to a four-stroke engine and added front suspension. He recently developed an electric-powered Rokon.These are not easy undertakings for small businesses, Blais acknowledges. But, so far, the investments have paid off.
Budget cutsBlais says he's among a group of small-business owners concerned about state budget cuts that have affected the ITRC. The staff has dwindled, and last year the agency moved to state offices in Concord — no longer next door to partners such as the U.S. Department of Commerce. Trade missions have been grounded because of a statewide travel freeze."So by effectively not supporting the trade center, you're effectively not supporting international trade," Blais said. "That's what's happening in this state right now. You can blame it on the budget, but effectively you're killing the goose. You're not allowing the goose to produce the taxes to solve your other problems," he said.At the federal level, Justin Oslowski says things are looking up, allowing the U.S. Department of Commerce to fund such positions as commercial specialists who hook up American businesses with potential customers overseas.Meanwhile, Dawn Wivell says the center has always been lean, and the staff has been adapting — placing more export information on its Web site and continuing to consult on a regular basis with partners such as Oslowski.Wivell considers Blais her first customer. "We were unpacking, and he walked through the door," she says.She recalls a trade mission to Taiwan when Blais met with cabbage farmers who had prepared an all-night party for him.Such personal meetings are essential, say many in the exporting business. The Internet, although a powerful global marketing tool, is no substitute for sharing a meal in a Taiwanese village.Each country involves unique challenges, Blais says. In Canada for instance, he must give the U.S. government 72 hours' notice before one of his motorcycles leaves the country. Rokon motorcycles in Canada require amber and red reflectors and special decals.In Mexico, Blais says, "their rules at the border are complicated because they try to extract every possible fee that they can, even though it's under NAFTA."Meanwhile, in Brazil, a 100 percent duty tax doubles the cost of a Rokon. So Blais is working on a joint venture that allows him to ship motorcycle kits for assembly there as a way to reduce the steep tax.Even with the current economic uncertainties, Blais seems undeterred — whether it involves Rokon or the trade center. "I've had everything go wrong, a million times over. I never get too negative," he said. "I'm looking forward."