Rochester district finds a solution for students with no broadband
Use of scattered school bus hotspots being used to help meet challenge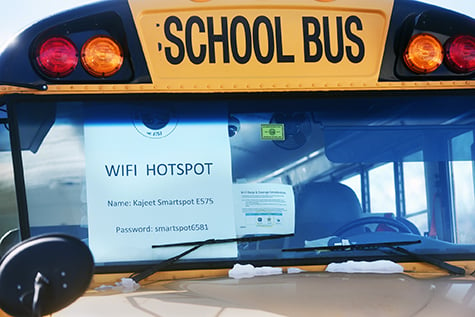 Since New Hampshire moved to remote learning in March due to the novel coronavirus pandemic, school districts across the state are grappling with how to provide online education to students who may have limited or no access to broadband services.
According to broadbandnow.com, a company that tracks broadband availability across the country, 27,000 households don't have access to a wired connection capable of 25-megabits of download speed. To qualify as having high-speed internet, a household must have a minimum of 25-megabits of download speed.
But at least one school superintendent may have found a way to address this and it's possible other districts in the state could replicate the process.
In Rochester, Superintendent Kyle Repucci has taken on the struggles of remote learning head on by spreading nine buses throughout the district with Wi-Fi-equipped hotspots to provide internet for students without access.
"I was at a conference years ago and a superintendent from Kentucky would park his buses throughout this town during snow days so his students in rural areas could be connected to the internet to access curriculum," Repucci said in an email of how the idea was brought to Rochester.
Rochester's fix directly helps students who don't have access to the internet at home. It also addresses a group of students who don't have access to local providers, such as Comcast and Atlantic Broadband, which are providing free Wi-Fi hotspots across the area and country to customers and non-customers.
Nine buses so far
When Gov. Chris Sununu closed down schools in the Granite State on March 16, Repucci knew that students throughout his district wouldn't necessarily have the access to Wi-Fi needed for remote learning.
So after a day of planning, he had the buses sent out to test the strength and reliability of the Kajeet hotspot devices that would be in use.
In the past, the district had Kajeet devices installed on buses due to long road trips for athletics, which is one of the reasons it was put into use quickly. A Kajeet device is a filtered mobile hotspot device, providing students with a safe, simple wireless connection to the internet.
The price for a Kajeet SmartSpot runs from $104.97 to $329.97 with a one-time purchase, plus $14.97 per line/month.
Once the test was successful, Rochester sent out the nine buses. Drivers park the vehicles at selected locations and hang posters on the side to indicate the username and password for access to the Wi-Fi hotspots. The signs also indicate the hotspots have a maximum range of about 300 feet.
"It is sustainable as long as the buses are not needed for another purpose, that we have drivers available to park the buses each day, and that the equipment does not fail," Assistant Superintendent Saundra MacDonald said.
To get the plan going, no physical modifications were needed for the buses, but every night the bus drivers must make sure that the hotspots are being fully charged for the next day.
Repucci would like to get more buses out to the school district, but is limited in the number of Kajeet devices he has available to him. One thing that is being monitored is if buses need to be moved to fit particular needs.
Social media has been a vital tool in sharing with students where the vehicles will be placed.
A complication that Rochester has had to deal with is trying to make sure buses are sent to locations with the highest need. But certain locations only have so much space, which isn't helpful when operating a large school bus.
Placement of the bus affects the strength of the Wi-Fi hotspot, and because students are connecting to something not inside their own home, the hotspot needs to be close enough to them that it can infiltrate a concrete structure.
Still, Repucci said he it is something that can be done at other school districts across the state and country.
"We put this plan into action due to the need caused by our state-wide remote learning order," he said. "Our hope was to create as much equity as possible."
These articles are being shared by partners in The Granite State News Collaborative. For more information visit collaborativenh.org.