Richardson Media Group earns B corp certification
B Corp certification marks a significant milestone for the women-owned, Seacoast-area agency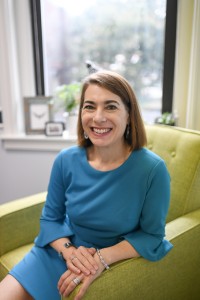 Richardson Media Group (RMG), a media planning and buying and SEO agency based in Portsmouth, has announced that it has been granted B Corporation certification by B Lab, the international nonprofit organization committed to using business as a force for good. RMG, a NH Benefit Corporation founded in 2014, joins over 1,645 companies across the United States that hold this distinction, whose mission is to make a positive impact on communities, workers and the environment through sustainable and inclusive business practices.
Owner and Media Director Anne Richardson started the B Lab certification process in the fall of 2020 when she was selected to participate in the UNH B Impact Clinic. She worked alongside a group of undergraduate students who shared her interest in delving into ways a small business like hers could influence the world in a meaningful way.
"Earning our B Corporation certification is both an incredible achievement and an immense responsibility," she said. "B Corp designation signals that our mission extends beyond our core services to the health and well-being of our employees, improving our environmental impact and using our voice to educate others."
Well before earning their B Corp status, the RMG team has actively pursued a socially responsible agenda. They seek like-minded clients and agency partners, volunteer with NH Businesses for Social Responsibility and contribute a portion of their annual profits to educational nonprofits via 1% for the Planet.
Richardson and her team will continue their support of the B Lab mission, doing business to benefit people, communities and the planet.