Revised Apple agreement gives GTAT more leeway
New deal helps N.H. firm avoid costly litigation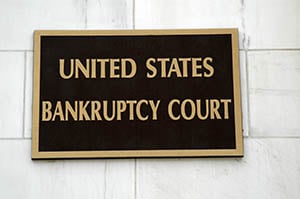 GT Advanced Technologies will get more time to pay back Apple in a deal agreed to by creditors and tentatively approved Monday by a federal bankruptcy court Judge Henry J. Boroff.
The settlement – reached an hour before Monday's hearing in Springfield, Mass. – would still give Apple a set amount for every sapphire furnace the Merrimack-based GTAT sells until it pays off the $439 million it owes the technology giant.
Apple had fronted GTAT the money to build some 2,000 of the furnaces, which were to be used to supply Apple with sapphire for screens for its mobile devices. But the deal fell apart, and on Oct. 6 GTAT filed for Chapter 11 reorganization in the second-biggest bankruptcy in New Hampshire history.
But the new agreement reduces the set amount per furnace that Apple would receive. Originally, the company would have received $200,000 each for the first 500 furnaces, and $290,000 for each sold subsequently.
The settlement reached Monday allows for a more gradual payback: $169,000 each for the first 500 furnaces, $243,000 for the next 500, $262,000 for the following 500 and $290,000 for the rest.
GTAT would still have to pay back Apple its $439 million, a debt that comes ahead of paying off bondholders and creditors, who are owed close to $600 million. But the deal would give GTAT a better chance to pay them off because, at least in theory, it would help the company return to its more profitable business of selling equipment rather than materials.
The settlement also means GTAT would get more of the proceeds from the furnace sales, "and that means more money in our pocket," said Luc Despins, an attorney for GTAT, "because the first furnaces will be easily to sell"
The new settlement also extends the date that GTAT has to store the furnaces, from Sept. 15 to Dec. 31 of 2015, rent-free at Apple's Arizona facility.
Apple also agreed to pay maintenance costs during that time, so GTAT would only have to pay for utilities. This is a big deal, Despins said, because it would let GTAT put off the $20,000 cost of crating each furnace, a cumulative cost of $43 million.
Finally GTAT would get a discount – ranging from $10 million to $47.5 million – if its pays paid off its entire debt before 2017.
Selling the furnaces, "is the most critical issue that the company facing It's the primary driver of cash flow and profitability," said Neil Augustine, a GTAT adviser from Rothschild Inc., a New York-based restructuring firm, who testified Monday.
$50 million litigation
The bondholders and creditors had questioned whether they would be better off if GTAT sued Apple rather than settle with them.
But on Friday, before the Monday hearing, Apple attorneys made the case that GTAT had no case against it, arguing that the firm entered the deal with its "eyes open," delivered only 6 percent of the product it promised, despite having received all but $149 million of the expected $578 million prepayment.
In fact, Apple said in a filing, GTAT CEO Tom Gutierrez "admitted to Apple that he was not happy with the Debtors' performance and accepted responsibility for numerous failures …. Ultimately, GTAT has nobody to blame but itself for its inability to comply with its contractual obligations and certainly does not have claims against Apple."
But Despins made it clear that he didn't agree with "Apple's view of the world," but actually thanked it for pointing out flaws in GTAT's case, since GTAT was now making the argument that it's better to settle with Apple than fight it.
It was a view echoed by Augustine, who said that litigation would have cost GTAT more than $50 million, with dubious chances of success. Besides, it would be unlikely that the company could carry on with its business during the legal war.
"It would be a recipe for disaster," Augustine said.
Creditors and bondholders who went though thousands of pages of Apple documents as well depositions from Apple's top officials came to the same conclusion. And with the new deal, they estimated that they won about $50 million in concessions from Apple.
Judge Boroff raised some concerns, particularly a provision that would require that the proceeds held by GTAT subsidiaries other than the one holding the Arizona furnaces be paid to Apple. This was also a concern voiced by Tera Xtal Technology Corp., a company that has claims on some Hong Kong furnaces as a result of a $24 million arbitration settlement with GTAT in August.
GTAT attorneys came up with language that satisfied Tera Xtal and appeared to satisfy Boroff, but the judge said he would need to see a completed agreement, before approving it.