Report: Over 9,000 NH homes at risk of major storm surge
Single-family, multifamily Seacoast dwellings face a total of $2b damage in a Category 4 storm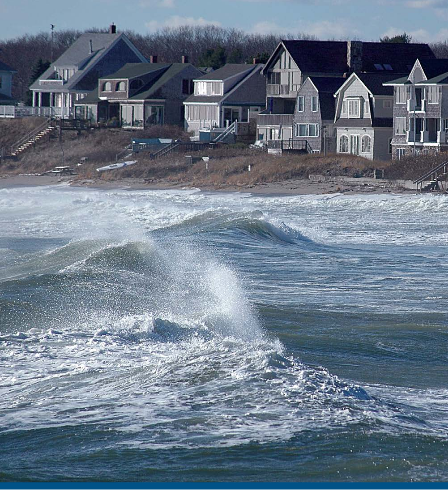 More than 9,000 single-family and multifamily New Hampshire homes, with a total estimated reconstruction cost value of over $2 billion, are at risk of storm surge damage, according to a report released by real estate data analytics firm CoreLogic.
The 2019 CoreLogic Storm Surge report estimated the damage that would be incurred if various categories of storms , from Category 1 to Category 4, were to hit the New Hampshire Seacoast. If a Category 4 storm were to hit, the report said, 9,315 single-family homes and 179 multifamily homes would rack up a reconstruction cost value (RCV) of $2.05 billion ($1.988 billion in single-family damage and $71.8 in multifamily damage). Less dangerous storms would have increasingly less of an impact, but would still cause severe damage, according to the report:
Category 3: 7,069 single-family homes at risk with an RCV of $1.395 billion; 132 multifamily homes at risk with RCV of $49.7 million
Category 2: 3,999 single-family homes with an RCV of $693.9 million at risk; 84 multifamily homes with an RCV of $31.6 million at risk.
Category 1: 186 single-family homes with an RCV of $33.8 million at risk; 1 multifamily home with an RCV of $276,280 is at risk.
The report didn't calculate the impact a Category 5 storm – the most dangerous – would have on New Hampshire.
Nationally, the report calculated that 7.3 million homes on the Atlantic and Gulf coasts are at risk, with an RCV of nearly $1.8 trillion.
"It is essential to understand and evaluate the total hazard exposure of properties at risk of storm surge prior to a hurricane event, so insurers can better protect and restore property owners from financial catastrophe," said Dr. Tom Jeffery, senior hazard scientist at CoreLogic. "Damage from storm surge and inland flooding has proven to be far more destructive than wind in recent years, so we cannot rely on the hurricane category alone to give us a sense of the potential loss. A Category 5 hurricane in an area with few structures may be far less devastating than a Category 1 hurricane in a densely populated area."