Report: N.H. health premiums rose in '11, but not as much as they could have
Health insurance premiums in New Hampshire rose by an average of nearly 4 percent in 2011, but the increase would have been more than double that size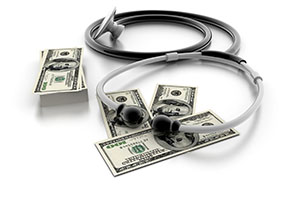 Health insurance premiums in New Hampshire rose by an average of nearly 4 percent in 2011, but the increase would have been more than double that size had some consumers not scaled back the level of benefits they receive to save money, according to the state Insurance Department's annual report on health insurance rates.
In 2011, overall premiums in the privately insured markets increased 3.8 percent, while people lost nearly 5 percent of their health insurance benefits through increased cost sharing or eliminating covered services, the report found.
Without any reduction in benefits, the average premium would have increased 9 percent in 2011, according to the Insurance Department.
The department issued the second annual report, which looked at the growth in health insurance premium costs from 2010 and 2011. Roughly two-thirds of the New Hampshire market is privately insured, with 61 percent covered by employers, the highest share of any state in the country.
The report was issued as a requirement of a 2010 state law, which requires the insurance commissioner to hold a public hearing concerning the trends driving health insurance cost increases and to prepare a report that includes the findings.
The twin goals of the report are to determine the cost drivers that contribute to increases in health insurance premiums and to improve transparency of the health insurance premium review process.
The hearing was held in September 2012. Representatives from New Hampshire's major health insurance carriers — including Anthem Health Plans of New Hampshire, Harvard Pilgrim Health Care, Cigna, New Hampshire Health Plan, and MVP Health Plan of New Hampshire — testified, as did a doctor from Dartmouth-Hitchcock Medical Center.
Their testimony, as well as data collected by the Insurance Department and questionnaires of several New Hampshire carriers, was included in the 43-page report, which was prepared by Gorman Actuarial. The analysis looked at claims costs for covered health care, health carrier administrative costs, and health carrier profits.
Other key findings of the report:
• Administrative expenses increased nearly 6 percent in 2011.
• Average carrier profits increased by 2.9 percent in 2011, up from the break-even level in 2010. Of New Hampshire's four largest carriers, Anthem and Cigna had the highest overall profit margins in 2011, while MVP and Harvard Pilgrim reported the largest increases in profit margins from 2010 to 2011.
• Nearly one-fifth, or 17.8 percent, of premiums went to administrative expenses and profits, while 82.2 percent went to medical benefits.
• Total medical expenditures increased 3 percent from 2010 to 2011. Carriers had assumed expenditures would increase 10 to 12 percent annually from 2010 to 2012, because of a "significant lag" in the time between a carrier setting premium rates and observed medical trends. The lower-than-expected expenditure rate in 2011 was driven by lower utilization trends, the report said.
"The public hearing and report findings underline the increasing urgency of identifying effective ways to control health care costs and the associated increases in health insurance premiums," said Insurance Commissioner Roger Sevigny. "The growth in member cost sharing in the last few years has been breathtaking. Sick or injured people are less and less able to rely on their insurance company to fully cover the cost of receiving necessary health care services."
The full report may be viewed at nh.gov/insurance/reports/index.htm.