Region has high hopes for Dartmouth incubator
'There is a long track record of success for incubators which are associated with major academic institutions'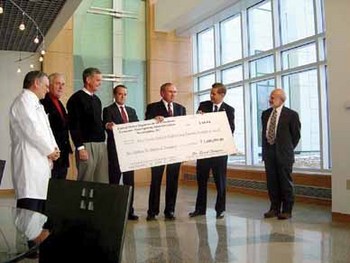 When the Dartmouth Regional Technology Center opens its doors a year from now, the closely watched incubator experiment could become an economic engine for the Upper Connecticut River Valley. It also could lead to the development of similar incubators on the Seacoast and in the Plymouth area.
"Our priority is to launch successful companies," said Greg Fairbrothers, executive director of the Dartmouth Entrepreneurial Network. Fairbrothers, a professor of business administration at Dartmouth College, is part of a team of local and state officials as well as Dartmouth, that has pushed the project from initial concept four years ago.
Fairbrothers is understandably bullish on the potential of this 48,000 square-foot, $4.5 million high-tech incubator, which will be located at Centerra Technology Park in Lebanon on land donated by Dartmouth.
The success rate for companies associated with incubators — and still in business after five years — is 87 percent, compared with 25 percent who didn't have incubator support
"There is a long track record of success for incubators which are associated with major academic institutions," said Fairbrothers, who cited incubators connected with Georgia Tech and Rensselaer Polytechnic Institute in New York state as highly successful, long-term programs that have developed hundreds of companies and tens of thousands of jobs. And the fact that New Hampshire is home to more than $207 million in research projects already makes it a fertile ground for entrepreneurial activity.
Incubators have arisen over the past two decades as a solution for many institutions and communities that have found that providing the right conditions for developing businesses is far more effective than luring outside businesses into their region.
When it opens, the Dartmouth Regional Technology Center, or DRTC, will join the ranks of more than 1,000 incubators currently operating nationwide. According to figures supplied by the National Business Incubator Network, the success rate for companies associated with incubators — and still in business after five years — is 87 percent, compared with 25 percent who didn't have incubator support.
Bigger plans In theory, what makes incubator-based companies more likely to succeed is the old real estate mantra of location, location, location. In the case of DRTC, the connection to Dartmouth will be highly symbiotic.
"These businesses will have access to Dartmouth facilities, such as the library, researchers, contract workers and fellow entrepreneurs who are spinning off companies based on college research," Fairbrothers said.
In addition to its strong engineering and business schools, Dartmouth Hitchcock Medical Center and its associated research projects have the potential of providing momentum for biotech business development.
The new businesses also will fall under the eye of the college's network of venture capital alumni, which, said Fairbrothers, rates as high in clout and resources as Stanford's and Harvard's.
"We have very high hopes for the Dartmouth Regional Technology Center," said Roy Duddy, director of the N.H. Business Resource Center in Concord. "Our goal is to grow our own and to keep the skills of our graduates and entrepreneurs here. Eventually we plan to develop a statewide business incubator network."
Duddy has helped the project by securing more than $2.6 million in federal grant funding and more than $1.4 in local and state matching funds. Dartmouth made a $750,000 land donation for the facility, which will be run as a nonprofit entity.
Getting into the DRTC will not be easy, nor an exercise in charity. "There will be no subsidies," Fairbrothers said. "There will be a rigorous admissions process, which will include a plausible business plan. The rents will be market rate."
Architectural plans for the DRTC incorporate what Fairbrothers called "an extremely flexible interior design to accommodate the varying needs of the anticipated 15 to 20 new businesses, including an already-established anchor company."
Long-term benefit
For Steve Epstein, executive director of the Grafton County Economic Development Council, the DRTC offers an antidote to the sobering economic reality faced by many communities in the western and northern parts of the state.
"We can't really lure businesses to rural areas," he said. "And one of our main problems isn't unemployment, but underemployment."
Epstein focuses on 38 towns and the city of Lebanon. What he's banking on are statistics that show incubators creating hundreds of jobs, may of them in the well-paying category, from the businesses that reach their five-year thresholds.
"The long-term benefit will show itself in the five and six years after we cut the ribbon," Epstein said. "Our second piece will be to keep them in the area," where the companies may move into communities such as Enfield, Orford, Grafton and Lyme — all of which yearn for so-called "clean business" development.
"There's no guarantee that the businesses will stay here. Some may head into Vermont or into Claremont or out of the region," Epstein said. "But we think we will get our fair share."
Fairbrothers said feasibility studies and research into the experiences of similar incubators have already paid off in terms of preparation for DRTC.
"The two pieces of advice I received were to have the building paid for and to have more than 30,000 square feet of space because you will likely grow much faster than anticipated. We've done both, which we think will help us in the long run."