Redevelopment of Belmont-based Gale School depends on fundraiser
Construction could begin as early as next year if $574k goal is met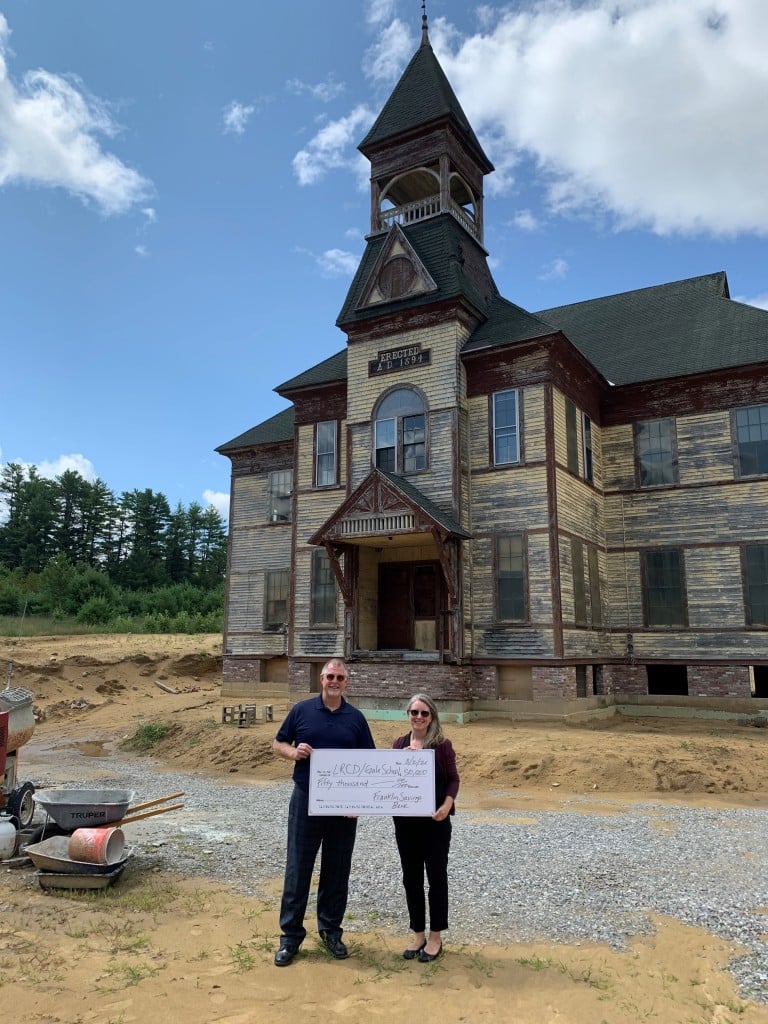 Franklin Savings Bank recently purchased $50,000 in New Hampshire business tax credits from Lakes Region Community Developers to support the redevelopment of the Gale School in Belmont.
LRCD must sell $574,000 more in tax credits to move head on the project, which will transform the dilapidated historic building into a vibrant community facility hosting a child care center operated by the Boys & Girls Club of Central NH and a program center operated by Lakes Region Community Services.
Construction could begin as early as next year if funds are acquired.
"We are thrilled to support the redevelopment of the Gale School," said Ron Magoon, president of Franklin Savings Bank. "The family supports that will be offered in the renovated space are critical to the health of our local economy. We also love the collaboration between these three long-standing organizations that serve our region so well."
The Gale School was built in 1894, and was used by the Belmont school district until the mid-1980s. The building has been mostly vacant since then, and years of neglect have taken their toll. The Gale School was named to the New Hampshire State Register of Historic Places in 2018, and was selected as one of New Hampshire's Seven to Save in 2017.
In July 2020, the building was successfully moved by the local Save Our Gale School Committee to a new location at 60 Concord Street in Belmont Village. LRCD agreed to partner with the committee to redevelop the building.
"This project is very exciting," said Carmen Lorentz, LRCD's executive director. "We are so grateful to Franklin Savings Bank for their support. Lots of people have worked incredibly hard over decades to save the Gale School and bring it back to life to serve the community again. It's humbling to be part of this effort."
LRCD operates 366 rental homes and now new types of real estate development, such as affordable commercial space for local non-profits that provide critical services.
The tax credits are administered by New Hampshire Community Development Finance Authority. Any business with operations in NH that contributes to a CDFA tax credit project receives a state tax credit worth 75% of their contribution. The credit can be used over a period of five years to reduce the business' state tax liability (business profits, business enterprise or insurance premium taxes). The tax credit program allows New Hampshire businesses to redirect a significant portion of their state tax dollars to support local projects that they care about.
CDFA initially awarded LRCD $750,000 in credits for the Gale School project, of which $176,000 have been sold to date.
Businesses interested in supporting the Gale School project by purchasing tax credits should contact Carmen Lorentz at 603-524-0747, ext. 110.