Red Sox star Johnny Damon visits downtown shop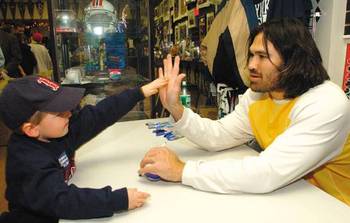 NASHUA – Four-year-old Chase Buckman was first in line Tuesday night to get his commemorative World Series baseball signed by Boston Red Sox centerfielder Johhny Damon.
"You didn't have to wait as long as your parents for us to win a World Series," Damon told Buckman after giving the Concord boy a high-five.
Joel and Maria Buckman, Chase's parents, joined hundreds of other Red Sox fans of all ages at Nashua Sports Collectibles on Main Street, where the World Series champion signed hundreds of balls, bats, jerseys and photographs for fans.
Some 425 people bought tickets to the sold-out event, which was arranged by Nashua Sports Collectibles owner Bill McLaughlin well before the Sox won the World Series.
"We had 2,500 phone calls after he hit the grand slam (in game 7)," McLaughlin said.
The signing was one of several public appearances for Damon, who was a guest Monday night on "The Late Show with David Letterman." Police were on hand at the Nashua store in case the crowd became unruly, but there were no problems.
Hundreds showed up at the 135 Main St. store on election night to get a glimpse of the Sox star, who was dressed in a yellow shirt, blue jeans and Puma sneakers.
"He looks like Jesus," said Sean Sirois, 15, of Goffstown. Sirois brought his grandmother, Leslie Thompson, 58, of Litchfield, and great-grandmother, Gloria Roy, 78, of Dracut, Mass. to the signing.
"We've been die-hards since 1967," Roy said. "We've waited every year."
A family of five drove about 60 miles from Oxford, Mass., wearing Red Sox caps over long, black wigs and black beards. Each had a piece of Sox memorabilia signed by Damon, whose locks appeared a bit shorter than usual.
"What do we have here?" Damon said as the group approached. "We've got my kids," he joked. "It's great. I like it."
Fans, many dressed in Red Sox jerseys or "Damon is my homeboy" shirts, brought presents, birthday cards and cookies to Damon, who turns 31 on Friday.
"Thanks very much. I'm going to be reading that later on tonight," Damon told C.J. McKay, 11, of Hudson, who handed Damon a handmade card.
"I should have more signings on my birthday," Damon joked.
Damon spoke to every fan who approached him at the signing table. More fans said "thank you" than "congratulations." Damon said it felt great.
"You can't say enough about the fans of the New England area. They've been supporting everything since day one through good and bad," Damon said. "They're just coming out and showing their gratitude, and I love it."
Nancy Baker of Nashua bought tickets to the event for her son, Andrew, who turns 14 on Nov. 12 – just a week after Damon's birthday.
"How can you not like Johnny?" Andrew Baker said, holding the major league baseball Damon would later sign. "I'm probably going to case it and then put it in my room. I'd never sell it."
Damon's autograph is priceless to some, but tickets to the event weren't free. Ticket prices varied depending on the item. For instance, for $60, a fan received an 8-by-10 color photo to be signed. For $75 – the price of a field box seat at Fenway Park – fans got an official major league baseball to be autographed.
Those who brought their own items paid a bit less: $65 for an autograph on a ball, $80 for an autograph on a cap and $90 for Damon's signature on a bat or jersey.
Just as the sports store is a business, so is baseball, and Damon acknowledged that when asked which free-agent teammates he expected to return to the Red Sox next year.
"I think we are going to lose a couple of our pitchers, which, unfortunately, sometimes that happens, especially when you win a championship," Damon said. "Players accomplish everything they set out to do and sometimes they move on."
Damon said the most important thing now is to re-sign catcher Jason Varitek.
"He's been the backbone of our team," he said. "To me, he's been our team captain. It definitely showed during the playoffs. There's going to be some changes, but for the most part, a lot of the guys are going to be back."
Shelley Greenglass of Weare, who is president of the Official Johnny Damon Web site (www.johnnydamon.com), snapped photos of the centerfielder for his site, which had 250,000 hits this past week and a half. The site had just 150,000 the year she started it, Greenglass said.
"I'm proud to be a part of it, and I'm even happier for him," she said. "It couldn't have happened to a better person."
And Damon said it couldn't have happened to a more special team – a team he knew was special when they took the field in spring training last March.
"It was just a matter of putting it all together, and we put it all together. That's what good teams do," Damon said.
"We weren't great all year, but when it counted, we were better than the other team. We're very happy that this was the team that did it."