Rebirth of an industry
Aluminum extrusion firm Vitex accomplishes an impressive turnaround in Franklin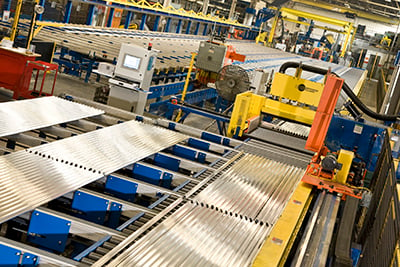 In a recent issue of the trade magazine Light Metal Age, the Franklin-based company Vitex Extrusion LLC was given prime treatment to showcase a turnaround that changed its destiny.
No longer a company saddled with an aging plant and an uncertain future, Vitex has become a manufacturing success story in an era when such turnarounds are the exception and not the rule.
"We saw an opportunity," said Vitex President Andy Curland, who originally joined the company in 2002 as sales manager. "The business was not profitable, and at the time we had an outdated plant."
Aluminum extrusion, a process of transforming aluminum alloy into a wide range of shapes and sizes to serve a number of industries, is not an industry for the faint of heart. Global competition is fierce, and Vitex had gone through a few name and ownership changes between its 1986 start in Franklin and 2007. Curland had spent most of his career in the aluminum industry and had sought an acquisition opportunity for years.
After being named chief operating officer in 2005, Curland took a long, hard look at the company's prospects and capabilities. He saw future potential, but only if Vitex made significant investments – something that happened rarely between 1986 and 2007 – and if it took the risk to expand its business focus.
Even before Curland teamed up with the private equity firm Rainbow Capital in 2007, to buy the company, more than $1 million had been invested in new machinery. Curland said since then more than $11 million in machinery and plant investments have been made, allowing Vitex to solidify its status as a niche player in the extrusion market while expanding into contract component manufacturing.
Curland said the goal was to reach about 50 percent of its business revenues with its move into what's known as "downstream manufacturing."
The combination of heavy investments in modern machinery and business diversification helped Vitex not only survive but grow during a challenging stretch during the recession.
An intense marketing plan was matched by turning a former warehouse into a new manufacturing platform. "The new presses allowed us to insure, as much as anyone can insure in business, the chance for future growth," said Curland.
That $7 million investment in a new production line was completed in early 2012. It completely modernized the 115,000-square-foot facility, and production began to soar from around 13 million pounds of products in 2007 to more than 30 million pounds in 2014. An additional $2 million investment in improvements eventually led to three full-time production shifts for the 100 employees.
Niche market
Curland's understanding of the industry also has paid off.
Vitex supplies aluminum profiles for a wide range of industries, including alternative energy, automotive and transportation, sporting goods, consumer goods, electronics and special industrial markets. Final use of these aluminum profiles can be found in security detectors, basketball backboards, solar panels, ski racks, automobile and thermal applications. Aluminum has become a hot commodity, in part because of its unique combination of strength and malleability.
"The aluminum industry is being driven by two new applications in particular: home construction and aerospace," Curland said.
'We saw an opportunity,' says Vitex President Andy Curland, who originally joined the company in 2002 and later purchased the company with a private equity firm.
Another major player is the automobile industry, which Curland said began making a transformation to greater amounts of aluminum in the late 1970s and early 1980s. American automobiles and trucks contain more pounds per vehicle of aluminum than ever before and innovative companies such as the electric car manufacturer Tesla have been building all-aluminum vehicles.
Perhaps to an indirect degree, Vitex has also benefited from anti-dumping trade orders by the U.S. Department of Commerce against Chinese extrusion manufacturers.
A recent report by Ducker Worldwide for the American Extruders Council said that up to 20 percent of the U.S. extrusion market had returned to domestic producers since the orders took effect in late 2010.
Curland said that Vitex maintains a strict niche market focus that serves mostly New England. It doesn't export, and three of its biggest accounts are from companies in Vermont and Maine. He connects Vitex's success as an important link to the profitable success of its clients.
The most important aspect of Vitex's renaissance means that Franklin has become an unlikely center of manufacturing excellence and Curland plans to keep it that way.
"We aren't going anywhere," he said.