Reaching out to the next generation of manufacturing workers
Social media is seen as a key tool in getting the word out about career opportunities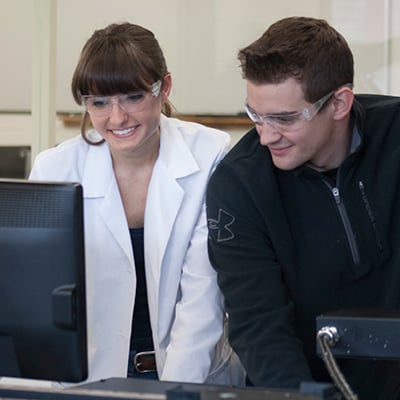 The demographic dilemma facing U.S. manufacturers is simple: as older workers retire, many of whom are in the baby boom generation, the next generation of workers is unprepared, ill-trained or uninterested in taking their place.
At least in New Hampshire, an initiative is under way through the Community College System of New Hampshire to reach, inform and, it's hoped, recruit the next generation of workers for the advanced manufacturing sector. That initiative will eventually include online and social media outreach and an increased menu of online course.
"These are not your grandfather's manufacturing jobs," said Desiree Crossley, marketing coordinator for CCSNH's Advanced Manufacturing Partnerships in Education, or AMPed, about the jobs available in the high-tech manufacturing sector – jobs that require a different skill set than in the past.
Reaching potential future workers through the media they use is one way to make considering a manufacturing career path a "cool" choice, she said.
"AMPed has really been about bridging any gaps that may have existed between educational institutions, industry and members or potential members of the workforce," Crossley said. "An interactive, assertive and diverse social media strategy is another way to bridge the gap – this time with outreach and marketing. Just as AMPed reached out to regional advanced manufacturers to ensure the curricula developed would be an effective, targeted solution to a dwindling pool of qualified job applicants, we can use social media to really connect with prospective students and their influencers."
CCSNH programs focus on such advanced manufacturing sectors as computer-numerical controlled machining, composites, robotics, automation and mechatronics, welding and precision manufacturing.
CCSNH is working closely with entrepreneurs and manufacturing companies to design dozens of training and education programs that target development on science, technology, engineering and math skills.
A student at Nashua Community College works with a high-tech CNC (computer numerical controlled) machine.
At a recent event in Rochester, Gov. Maggie Hassan hailed the partnership between Great Bay Community College and high-tech manufacturers Safran and Albany Engineered Composites, which are working together to develop composites manufacturing curricula. Great Bay has opened a second campus, the Advanced Technology & Academic Center in Rochester, to meet the demand for worker training.
Enlighten and engage
"It's really extraordinary, the capacity we have," Hassan said. "But advanced manufacturing requires skills that are high tech."
Late last year, JoEllen Space assumed her role as director of online advanced manufacturing programs and career training for CCSNH. She has been focused on creating the largest online curricula the state education system has ever seen. If social media holds the promise of reaching a new generation of manufacturing workers, flexible educational offerings may be the key to helping them succeed.
It's necessary because, Space said, she is surprised that the public at large knows little about what's happening to enlighten and engage potential workers about the prospects of well-paying jobs.
A student at Manchester Community College uses computer technology to direct a production robot.
This includes not only younger workers, but unemployed people looking for a career shift and military veterans.
"We are working on a core curriculum for a certificate offering for those who want to get to work ASAP."
Such a curriculum, she said, could involve eight courses — science, math, computers, reading. writing, communications, critical thinking and informational literacy.
"We want this to be accessible to all," Space said.
Space is overseeing a major shift to accommodate a new approach to learning that is anything but one-size-fits-all. There will be a wide range of online course offerings, hybrid classroom-online courses and programs designed for a fast-track certification, while others will lead to an associate degree and beyond."When I am out talking even with neighbors or family, they don't know," she said.
But, as they say in the movies, building it is no guarantee they will come. Crossley and the Portsmouth creative agency Saltwater are designing a long-term effort to engage not just potential students, but their friends, family, boyfriends and girlfriends, mentors and career counselors.
"We can have a dialogue, share ideas, answer questions," Crossley said. "Where traditional ads can sometimes fail to make meaningful, personal impressions on an audience, social media can succeed because of its interactive nature."
Photo courtesy Albany Engineered Composites
Cutting-edge machinery is used by Safran employees to manufacture aircraft parts.
The tools, said Mike Carella of Saltwater, will be a lot of video, an interactive website and a heavy social media presence when it's launched later this year.
"It's all about community. We are working with CCSNH to build a community around smart manufacturing and give people the tools to research and communicate," Carella said. "Obviously, we're going to use a Facebook page for this initiative. We are going to strongly encourage people who are in industry to talk about what they have learned and experienced to prospective students."
Crossley said the research on social media is becoming quite clear. As many as 80 percent of regular Internet users use Facebook to connect with brands and almost 50 percent of people already utilize social media platforms such as LinkedIn or Facebook to enhance their careers.
'Making things is cool'
"It's a perfect solution to the problem because you have to go where the kids are," said Katie Paine, the New Hampshire-based chief marketing officer of Newsgroup International and an expert on 21st century digital marketing.
"The average kid is switching media 27 times an hour, or every 2.2 minutes, from Facebook to Twitter to Instagram to Pinterest. You can't just advertise at them. You need to be real and authentic and connected."
Paine suggested using humor and interesting conversationalists to break through the clutter, because "most of these kids don't have a clue what they want to do."
For a trend to go viral, she added, it will be crucial to show that "manufacturing isn't a dead and dying business. It's cool, and making things is cool."