Ralph Baer memorial to be unveiled in Manchester Millyard
Statue to honor 'father of the video game'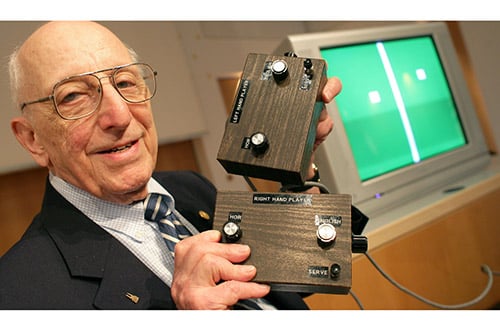 A statue honoring the memory of longtime Manchester resident Ralph Baer, the inventor who led the team that created the first home video game while working for Sanders Associates in Nashua, will be unveiled Friday, May 10, at Arms Park in Manchester's Millyard.
While working as chief engineer at Sanders (now BAE Systems), Baer, whose basement lab has been recreated at the Smithsonian Institute in Washington, spearheaded development in 1968 of "The Brown Box," a console that connected to a television. The technology was licensed by Magnavox in the early 1970s and was called the Magnavox Odyssey.
On Friday, a sculpture will be unveiled in Arms Park featuring Baer seated on a bench holding his Brown Box. The project was funded via a Kickstarter campaign with support from BAE Systems and Orbit Group.
Dedication of the Ralph Baer Memorial Bench at the newly named Baer Square, will begin at 11 a.m.
Baer, a New York native who worked and lived in Manchester, had more than 150 patents awarded to him throughout his life.
Baer is widely accepted as the "father of the video game." He was awarded the National Medal of Technology and was inducted into the National Inventors Hall of Fame before he died at age 92 after living in Manchester for 42 years.