Radisson-Manchester offers comfort, convenience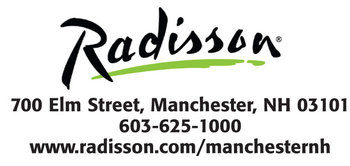 "You can have it all near it all" at the Radisson Hotel-Manchester/Center of New Hampshire.
The 12-story hotel with six luxury suites, a parking garage and 65,000 square feet of function space in the heart of downtown Manchester offers all the comforts and amenities of a full-service hotel, along with easy access to the city's top entertainment, sports and dining venues.
The Verizon Wireless Arena, minor league baseball at MerchantsAuto.com Stadium and some of the area's most popular shops and restaurants are only a short walk away. The Radisson also offers its guests free transportation to and from Manchester-Boston Regional Airport.
"It's all very convenient," says Maurine Bowman, director of sales and marketing. With two restaurants on site, the Radisson offers both visitors and local residents the added pleasure and convenience of dining at the popular nightspot known as JD's Tavern or amid the greenery in the attractive and cozy Café on the Park.
And the Center of New Hampshire's function rooms and convention space offer plenty of opportunity for trade shows, conferences and awards banquets.
Guests find comfort as well as convenience in the Sleep Number beds and spacious, climate-controlled rooms. Luxury suites offer panoramic views of the Queen City, its historic Millyard, the Merrimack River and the mountains beyond. Visitors to the Radisson in Manchester might even see the next president of the United States as candidates in the New Hampshire primary, campaign operatives and media stars all congregate at the largest hotel and conference center north of Boston.
"They all come here," says Bowman.
The NHBR Business Profiles section contains content provided by New Hampshire Business Review advertisers.