Questions raised about $7m Tyco settlement spending
Length and openness of decision-making process, use of money at issue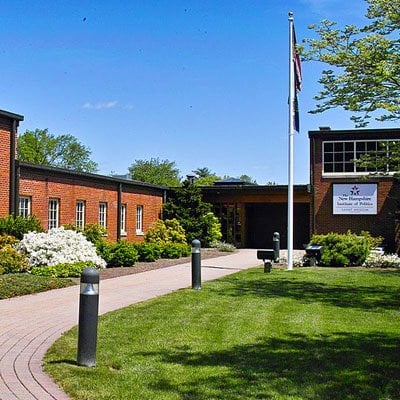 In October 2002, the board of directors of Tyco International paid the state $5 million to settle a New Hampshire Bureau of Securities Regulation enforcement action for failing to prevent its CEO from looting the company, which at the time was based in Exeter. The money was going to be used to fund a program focusing on "statewide investor education" and "corporate governance," to be determined by the Secretary of State's office, which oversees the securities bureau.
This past June, more than a decade later, the committee that controls the funds finally decided how what is now a $7 million endowment would be spent. They voted that $5 million would endow an interdisciplinary program on philosophy, ethics and sustainability to be run out of the classics and humanities departments at the University of New Hampshire and $2 million would be set aside for another program based on ethics and government, at Saint Anselm College in Manchester.
The Saint Anselm program also will include an investor education component. The college will subcontract with business writer and blogger Jack Falvey, who says he will send out a "tip of the day" email for investors.
But now that the programs and institutions getting the Tyco money have been chosen, there are questions about the selection process itself. Why did it take so long? Who made the decisions on where the money should go, and why? Why are critics saying the process was not an open one?
"It sounds like a windfall to UNH and Saint Anselm," said Paul J. LeBlanc, president of Southern New Hampshire University, which – along with other New Hampshire colleges – was not consulted or asked to participate in developing a program or submitting a proposal.
"It's hard to miss the irony in this," he added. "The lessons learned from Tyco include more transparency, openness, equitable dealing. It was not fully evidenced in the deployment of this money."
Secretary of State Bill Gardner, who chaired the Center for Public Responsibility and Corporate Citizenship board overseeing the money, was away and could not be reached by deadline. Neither could former governor John Lynch, who was on the board when he headed the University System of New Hampshire but did not attend meetings until April of last year.
Former Deputy Secretary of State Bob Ambrose, who also sat on the board, took responsibility for the delay, blaming it on "infrequent meetings" and the difficulty of coming up with a course of action that was "truly unique."
According to Ambrose, a broader program focusing on ethics and sustainability was decided upon at UNH because the problems at Tyco represented a "breakdown in ethics, not just a boardroom thing," and it could apply to all sorts of boards, including those of nonprofits. He said the UNH program would be aimed at a broad range of students, rather than business students, because "a lot of CEOs never went to a business school" – which is why it will be run out of the classics department.
Ed MacKay, former chancellor of the university system, echoed Ambrose, but added that there will be transparency in the future, with periodic reports to the Secretary of State's office, which, he said would make them public.
A missed opportunity?
Whatever the process, corporate governance – which was central to the breakdown at Tyco and similar corporate accounting scandals of its era and since – was the focus of early efforts to spend the money raised through the 2002 settlement. But now that concern has been moved to the periphery. Instead, it has been replaced by a much broader program to uplift the ethical behavior of as many young people as possible.
The Tyco scandal certainly demonstrated the need for better ethics. The 2005 convictions of Tyco CEO L. Dennis Kozlowski and chief financial officer Mark Swartz — for looting some $600 million from the company to pay for lavish parties, fancy art and an opulent Manhattan apartment that featured a $6,000 shower curtain — put New Hampshire mug shots on Wall Street scandals at the turn of this century, most notably Enron and WorldCom.
At the time, the New Hampshire securities bureau didn't go after Kozlowski, but the board that let him get away with his actions. The bureau's efforts didn't just lead to the $5 million settlement in October 2002 – the second largest involving a single company at the time – it also resulted in the resignation of several board members, at the bureau's insistence.
"It was unprecedented in that it was for specific failings involving corporate governance," said Mark Connolly, who headed the bureau at the time.
In September 2003, the bureau announced the creation of the Center for Public Responsibility and Corporate Citizenship, with a board of directors that included officials from the Secretary of State's office – which is designated in the agreement with having the final say on how the funds are spent – and the University System of New Hampshire, with which the funds are currently deposited.
"It's hard to miss the irony in this," said LeBlanc. "The lessons learned from Tyco include more transparency, openness, equitable dealing. It was not fully evidenced in the deployment of this money."
In the Sept. 10, 2003, press release announcing creation of the center, Connolly said "the center is a nonprofit, non-partisan initiative dedicated to strengthening corporate governance practices by fostering a spirit of ethical awareness and responsible citizenship among business and civic leaders."
The center was rather low-key until the end of 2005, when it hired former CNN financial editor Myron Kandel as its head. The center held some high-profile forums, entitled the Initiative For Corporate Responsibility and Investor Protection. The forums involved such notables as then-U.S. Attorney General Dick Thornburgh and former Securities and Exchange Commission Chairman Harvey Pitt and John Bogle of The Vanguard Group.
In the third year of his contract, Kandel said, he "mapped out an ambitious" program for further forums, including one to be held at the New York Museum of American Finance, which would give "New Hampshire a position on Wall Street." Instead, he did a series of interviews on New Hampshire Public Television.
But Kandel said he was "exasperated at the lack of direction from the board," and after a three-year stint was up (at a price tag of $400,000) the whole thing "fizzled out."
Board members "sat on their hands – and those funds – just as the most severe financial crisis since the Great Depression was engulfing the nation … That was when American investors needed the most protection," said Kandel.
It wasn't until April 2012 that the board narrowed in on creating a program, though it wasn't until June 3 of this year that its members signed off on it.
The one good thing about the delay: There was more money to work with. Despite the economic downturn, the money grew from less than $5 million to more than $7 million.
What held things up?
There was the question of where the money should be housed — at the university system (where it was) or the University of New Hampshire Foundation (where it is now). Ambrose said that one concern was the rate of return, but others – off the record – referred to a bit of a power struggle between MacKay and Gardner.
Then there was the question of what the money should be spent on.
Gardner had told NHBR in 2004 at the very beginning that the study of ancient Rome and Greece would lay the ethical foundation that needed to be built into the business community.
"The classics are the foundation of human relations," he said nine years ago. "There is a component to make people think about the frailties of us all."
'Classical content'
Gardner appears to have gotten his way.
Stephen Trzaskoma, a UNH classics professor, is the acting, and expected to be permanent, head of the program at UNH, though it will be under the humanities umbrella because of its interdisciplinary nature.
The university will use some of the income from the endowment – expected to be $200,000 a year – to hire a professor and offer six related courses.
"There will be a classical content, but it won't be a whole semester on Socrates. This money will not be paying for classics courses," Trzaskoma said.
Trzaskoma will also be meeting with officials from the UNH Peter T. Paul College of Business and Economics to allow the offering of ethics classes to its students (though not necessarily through Paul College, Trzaskoma emphasized).
"We don't know what our students are going to do," he said. "A lot of people end up in the business world, but in college they don't think that's where they are going. Our thinking is that it would be broad as possible an audience and a broad approach," said Trzaskoma. "This is not just about corporate ethics, but about political ethics, traditional responsibility, across time and space."
Tom Kelly, UNH's sustainability officer, will also participate in the program.
Corporate behavior is "critical" when it comes to such questions as climate change and biodiversity, he said. And while the Tyco scandal had nothing to do with the environment, "sustainability is not just about the environment, but about the integrity of many things, including corporate institutions."
In addition to the courses, Trzaskoma hopes to bring in speakers, hold forums, reach out to other colleges, and even to high schools. There might be some kind of ethical summer camp at UNH, or perhaps some of the money would go to support something like Hosting Young Philosophy Enthusiasts (HYPE), a group of 300 students from 13 high schools that host an annual convention at Saint Anselm on philosophy and ethics.
Another question was whether some of the money should go to a private college, in this case Saint Anselm. Again, according to several sources, it was Gardner who pushed the Manchester campus, home to the New Hampshire Institute of Politics and New Hampshire Political Library, the latter of which was founded by Gardner and Hugh Gregg, the late governor and father of former Judd Gregg, the former senator, in 1997.
Father Jonathan DeFelice, who stepped down at the end of June after 24 years as president of Saint Anselm, made the proposal shortly after Kandel's stint was over.
"It flows out of our mission," DeFelice said, noting that the college has two programs that deal with ethics: the institute and the Richard L. Bready Chair in Ethics, Economics and the Common Good.
MacKay, however, said that since "Bill has a good relationship there," Gardner "specifically invited them to make a proposal."
MacKay said he was "insistent and consistent" that the university system handle the money, but Kandel had already held some forums there, "so there was history and confidence" that it was a "good fit for our proposal."
Ambrose would only say Saint Anselm was chosen "because of the program they already had in place."
No other proposals
When Falvey, the writer and blogger, approached the Secretary of State's office in February with his proposal, he said that Gardner put him in touch with Saint Anselm, which hired him, although Falvey had no previous relationship with the college. (Falvey would not disclose his compensation, though he did say, "I'm not getting rich on this thing. This is a very small part of it.")
Falvey is a frequent contributor to the Wall Street Journal and adjunct faculty member at both the University of Massachusetts-Boston and Boston College. His website, MakingTheNumbers.com, sends out a free daily sales tip to salespeople (he charges sales managers a fee) and he is known for his pithy statements, like, "It is better to have a mission in business than a mission statement."
Falvey's only foray into the issue of corporate ethics or governance was a 2005 WSJ op-ed about Tyco back in 2005.
He said his daily email lessons – about 250 words a day, sent 250 weekdays in a year – will be more focused on investor safety. Put them all together, and you have a "textbook," he said, but it would be in a newsy style designed to hook the reader.
He already has titles for each of his lessons, such as "Diversification controls both risk and reward" and "Derivatives anyone? Don't even go there."
While many of his topics might be considered common sense, "People need to be reminded more often than they need to be instructed," he said, quoting the 18th century essayist and critic Samuel Johnson.
What else Saint Anselm will do with its share of the money is not clear. The two professors that the Secretary of State's office listed as contacts could not be reached by deadline.
"It will do something with education in ethics," DeFelice said. "It was harder to come up with a clearer, more complete proposal before we were awarded the money."
Ambrose said he was under the impression that other New Hampshire colleges were approached about submitting proposals, but none contacted by NHBR were.
"We have expressed interest, but we were never contacted," said Wayne Lesperance, a political science professor at New England College in Henniker, where he also heads the Center for Civic Engagement. "It's a shame. NEC is all about civic engagement and ethical practices. We would have seriously applied. Why wouldn't we get a chance to? It seems incredibly unfair."
The Lindenauer Center for Corporate Governance at the Tuck School of Business at Dartmouth College in Hanover also wasn't approached, said B. Espen Eckbo, the professor who heads the center, which mainly focuses on research.
"We were making an effort early on to be part of the structure in the beginning, but then we never heard anything. Of course we would be happy to find good ways to spend that money," he said.
The New Hampshire College & University Council) – a nonprofit consortium of 22 public and private higher ed institutions — worked with Kandel, but also wasn't approached about further participation. LeBlanc, of SNHU, thinks the organization should have been, since the council has launched cross-college initiatives before, such as the Campus Compact, which focuses on community service.
Council President Thomas Horgan declined comment for this story.
Connolly, the man whose work at the securities bureau resulted in the Tyco settlement, also had a problem with the process.
He was an original member of the Center for Public Responsibility and Corporate Citizenship board, though he resigned when he left state government in 2010. But he did stay on in an advisory capacity and was at the meeting in April 2012 when the proposals were first discussed.
Connolly said he was concerned "that there wasn't an explicit competitive component concerning public funds going to a private institution. That is the main reason I cannot fully endorse it."
After telling the board just that, Connolly said he left the meeting, and has not had anything to do with the process since.