Quebec firm acquires North Country Smokehouse
Smoked meat firm's operations will remain in Claremont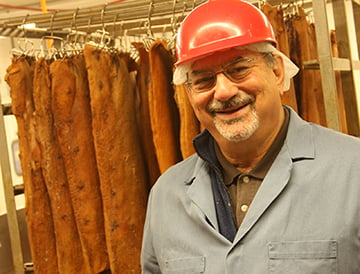 Les Specialites Prodal, a processed meats and specialty foods manufacturer and distributor based in Canada, has acquired North Country Smokehouse of Claremont, one of the most high-profile food companies in New Hampshire.
North Country Smokehouse, a maker of bacon and a wide variety of other artisanal smoked meats, has been in Claremont since its founding in 1912. Under the leadership of Mike Satzow, the family-owned business has developed a national customer base, including many hotels, restaurants, supermarkets and food specialty stores.
The companies have had business ties for the last 15 years, said Satzow, who said the decision to sell the firm was driven by his firm's growth over the last several years, which has put a strain on facilities. (The firm annually produces some 200,000 pounds of bacon alone.)
He said the company, which has a "strong commitment to the Claremont area," will remain in the city, along with its 32 employees.
Satzow, who will continue to oversee operations in Claremont, said both North Country and Les Specialites Prodal "share the same values when it comes to quality workmanship, respect for our raw materials and a commitment to providing the best possible product to our customers."
Based in a town outside Montreal, Les Specialites Prodal produces and markets a wide selection of processed products, including meat pies and pasta sauce, but its specialty is deli meats. Its primary brand, Paysan, is sold at supermarket chains throughout Quebec.
Serge Breton, president of Les Specialites Prodal, said the acquisition of North Country Smokehouse will give the firm access to new markets.