Q&A with zero-waste pioneer Alex Freid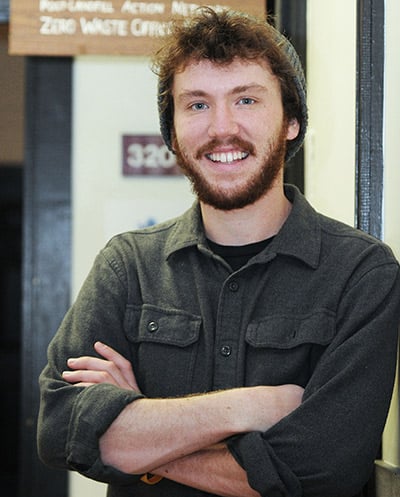 In the spring of 2011, as students at the University of New Hampshire began moving out for the summer, an innovative program called Trash to Treasure was unveiled by some determined UNH students. Rather than the annual dumping of thousands of pounds of cloths and appliances into the garbage, the students gathered up the trash of May and turned into a giant yard sale of recycled and reused treasure for returning students in August.
New Hampshire native Alex Freid was one of those organizers, and after he graduated in 2013, he took the idea to a national level with the founding of the Dover-based Post Landfill Action Network. "We are challenging the models of disposability and planned obsolescence," Freid told NH Business Review.
The nonprofit organization, which was recognized in 2013 as the winner of the first Social Venture Innovation Challenge, spreads the "zero waste" gospel through reusing, repairing and recycling and best use practices to campuses of all sizes across the country.
At the same time, Freed explained, PLAN is connecting a growing network of business partners with the next generation of dedicated student leaders and activists with student internships, online tools and sustainable product that incentivize program success. PLAN is lean with only eight, very young full-time staff members.
Q. When you helped launch Trash to Treasure as a UNH student, did you have any idea where it might lead?
A. The simple answer is yes, because even then we had dreams that this could spread across the country. It has been a long journey to this point, and we've taken a lot of turns that we didn't originally envision, but they have been in a good way. Through research we saw the potential. UNH just had their seventh sale that raised $20,000 and diverted 25 to 30 tons of useable material.
Q. What is the best part of your job?
A. Every day we get to see of the value to the work we are doing, but for me the most rewarding thing is inspiring young leaders to succeed. I feel the same way about the team we've developed across the country. All of them are 26 years old or younger. These are former student leaders who are really proving themselves. It's not just me coming up with strong innovations. Our growth is due to that strong team, which has created cool repair and reuse initiatives and the research they are doing to develop strong partnership with our campus members and business partners.
We partnered with Patagonia for a national, 21-college "Well-Worn Tour" earlier this year that drew tens of thousands of students to learn about repair and reuse of clothing and cellphones through what we called a "Zero Waste Extravaganza." It was a big hit. (Editor's note: A similar venture, the Points of Intervention Tour is planned for 2018.)
Q. Have you been surprised by the organization's growth?
A. We are less surprised than kind of overwhelmed at moment by how popular we've become. We serve more than 100 campuses across the country and have staff members in New Hampshire, Philadelphia, South Carolina and Colorado. We have set a goal of 500 campuses by 2020, because our model is working and evolving with campuses as large as Arizona State (90,000 students) or as small as College of the Atlantic in Bar Harbor, Maine (1,000 students).
Q. What is the model?
A. Our core model is a membership organization. We have invited campuses to join as a member, and all our services are part of the membership. We offer them blanket input with resource guides, case studies of best practices, leadership training and individualized plans to them identify and achieve their goals. It could be a composting initiative, reducing water waste or opening a thrift store or any of the above as we work deep to help them create lasting programs for their schools. Our business partners are a vital part of this model.
Q. How has your role changed?
A. In the very beginning, it was just figuring out how to start an organization: paperwork, creating the initial structure, adding staff, and developing nine successful pilot programs. Then we took that to approach funders and supporters and started to build the membership program.
My main role now is strategic development, fundraising and partner development. We are a nonprofit with a goal of reaching self-sustainability through the combination of $500 annual memberships, grants and philanthropy. To continue to expand nationally we need to expand our revenue sources through business partnerships like Patagonia and Penske Truck Rental.
Q. What do you hope PLAN's legacy will be?
A. We are challenging the model of disposability and planned obsolescence. We are building an infrastructure to reduce waste and creating a coalition of activists and business partners like Patagonia who are committed to making long-lasting products.