Q&A with YWCA of N.H. Executive Director Monica Zulauf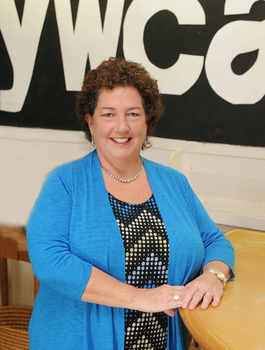 Monica Zulauf is executive director of the YWCA of New Hampshire, which — as the state's largest crisis center for victims of domestic and sexual violence — aided 2,500 victims last year alone.
But the nonprofit, which has been in Manchester since 1920, offers more than just crisis services statewide. It partners with numerous organizations to offer programming to youth, families and refugees on topics ranging from leadership to healthy decision-making to parenting.
A wife and mother of three, Zulauf has spent her 34-year career working with women and families in a variety of nonprofit settings, joining the YWCA about six years ago following 10 years at the HUB Family Resource Center in Dover.
Q. What is the YWCA?
A. We're the oldest and largest women's organization in the world. There's some friendly debate whether the first association was in Boston or New York, just like the Red Sox and the Yankees. I'm from New York, so I tend to think it was probably New York. The mission has really always been around empowering women.
In the 1850s, that meant providing safe housing for women coming into work in factories. And they did a lot of advocacy work on keeping women safe coming over in ships from Europe. Women traveling unaccompanied were often becoming victims of sexual assault and exploitation.
The piece around eliminating racism was added in the 1940s, which is really early. The first integrated lunch counter was at a YW in Atlanta in the South.
We've been here in Manchester since 1920 — our building was built in 1928, and when it was built, it had a restaurant, a pool and a gym. I like to point out to the staff here that those were pretty radical things. Women couldn't go out unaccompanied and have lunch, so this was a place you could go and have lunch. They had a snowshoeing club, they played basketball, and they could go swimming.
Pre-Title IX, which was in 1972, those were things women couldn't access easily, so we've always been pretty cutting-edge, and very strong in economic empowerment for women.
Q. What are some misconceptions people have about the YWCA?
A. That we're the girls' YMCA. We're separate organizations. We're certainly cordial to each other, and they're often co-located in the same cities. They have stayed more with the same swim-and-gym youth programming kind of stuff. They have a lot of great programs, but we've always been a women's social service organization.
Q. What sorts of programs do you offer?
A. We do financial literacy courses in English and Spanish, so we do a lot around workplace issues. Equal pay is still big — I read minutes from the 1930s where they are talking about equal pay.
Nationwide, we're the largest provider of child care, which we don't do here, and we're the largest provider of services to victims of domestic and sexual violence, which we do do here — we're the largest center in the state.
We have a shelter, and last year, we will have seen 2,500 victims come through. Also, we're working on holding community conversations on race, which are hard conservations to have. We're trying to work with whole families. There aren't women's issues — there are issues that impact the whole society.
We have a partnership with Child and Family Services, UNH-Manchester and UNH Cooperative Extension. The four of us work together to put together parent education support groups.
Manchester didn't have a family resource center, so we've been doing that for five years and it's been filling the void. The funding is gone for those kinds of programs, we're looking for funding, and we're continuing to put them on. We're using senior salaried staff to do this, because we just feel very committed that families need support to be successful for the kids to be successful in school. It reduces child abuse, it reduces substance abuse, and it just makes sense to work with families.
Q. Do you have a statewide presence?
A. We're moving our presence around the state in a variety of ways right now. We were one of the priority leaders on the bullying legislation, so that was certainly a statewide initiative. The work we do, we're sort of the home for the Sloan award, and that's a statewide initiative. Our crisis work stays here in Manchester, but our work with teens or parent education — that can be statewide.
Q. Is the crisis work the biggest part of what you do here?
A. It is. We refer to that as victim services. We have the visitation center and the shelter, where we work with victims of domestic and sexual violence.
Then we have our youth programs. Some of those are geared toward high-risk kids, but we do a lot around leadership, and we do a lot around healthy life choices.
One of my favorite programs is "Pick a Partner: How Not to Marry a Jerk." We've actually done it for teens, and we've done it for women, because we don't really teach people how to make decisions around relationships, and a bad relationship decision — in the worst case — they end up in our crisis center. But even in less involved cases, the divorce rate is high, and there's a lot of miserable people out there.
We do a life-skills program in the schools on healthy decision-making. We really feel that if we can intersect with preteens and teens on making some good life choices, it just greatly improves their outcomes.
Q. What support do you get from the national organization?
A. It's shifting. We had been very regional, very bottom-up. We pay to be an affiliated YWCA, and we have to meet certain criteria. It's shifting. The national office is going to take a much bigger role, which I think is great because we all do advocacy, but I think we need to have a unified identity across the country, and that's what's going to be shifting over the next 18 months.
We're the only YWCA in New Hampshire, and we're not that big of an organization. There are YWCAs that have $60 million budgets and are really powerhouses in their states, so that's my dream.
Q. How will you get there?
A. We're about to launch our membership drive, and we've never had a major membership drive while I've been here. The pool here closed in 1994. Since then, I think very little has been done with membership.
We're very excited at how women did in New Hampshire in the election. New Hampshire had so much bad press the last couple of years on how it spoke about women and people with disabilities, it was really nice to be able to stand up and go, "I'm from New Hampshire." I don't believe New Hampshire picked these women because they're women — I think people looked and said, "Who's the best candidate and who represents my values?" And it just happened that they're all women.
Q. It was an interesting response to all the talk about the so-called "War on Women."
A. We're a culture where we're continually declaring war on things. We've had a War on Poverty, we've had a War on Drugs — I hope the War on Women is as much of a disaster as those were. And maybe that's what we're seeing.
It was very disheartening for me in the last year to look at women losing ground, because in my life, it has moved steadily forward, with women in education and the workforce. We're not equal pay yet — some fields are, but not all. I think we've gotten parity on engineers and doctors and those folks, but not hourly workers certainly.
One of the things I'm on my soapbox about is how we're going to define workplace flexibility. It's not, "Can you come in half an hour late or take a longer lunch?" Day-to-day flexibility is great, but it really has to be lifetime career flexibility. I don't know why we haven't developed more of a culture where people — men and women — can come in and out of the workforce.
Why not be able to take a year off? I'm not saying get your same job back, but you shouldn't be taken less seriously because you had to take a year off to care for a parent or a baby or renovating a house. I think there are fields, primarily nonprofits, where you can do that, but I don't think the corporate world lets you do that yet.
Q. You won the Sloan Award for workplace flexibility in 2009. What's it like to work here?
A. I think we're a really good place to work. We've been finalists in other years. Last year was the first year we weren't a finalist, and I can tell you why. We had lost 23 percent of our funding, and I needed to move to using more part-time workers than we've historically done, and at that time they were non-benefited part-time workers.
I have 2,500 victims that need services a year, so we've had to make some hard choices. I am happy to report our part-time workers now have benefits.
We have a dog policy. My two are not the only hounds that come in here. I encourage folks to volunteer at their kids' schools, we flex-time as much as we can for folks, and we have paid time off. And the YWCA has one of the oldest retirement systems — I think it was one of the first ones for women — but we have a defined benefit retirement here. The first day of your third year you're vested, and we contribute 7 percent a year.
I let the younger staff know because they're not thinking retirement, but at this point in my life knowing that for every month I'm going to get a check from the YWCA when I retire is really nice.
Q. How did your funding change during the recession?
A. The state cut drug and alcohol prevention money. We used to actually have a full-time person who did that work, and that was zeroed out. We also used to get a fairly nice piece of funding from the County Incentive Funds, which was money that came through DCYF (the Division of Children, Youth and Families), which was used to prevent kids from going into placement — either working with kids or working to support parents to keep kids from going into foster care. That money got zeroed out. With federal money reduced, we were really hit. There had been a very small line item in the state budget for family resource centers, and it was zeroed out.
Plus some of the foundations shifted their focus, so that went away — it was just really a tough couple of years.
It had a really big impact, and we know we need to diversify our funding. That's why we're going to do a membership push. We really want to connect people to our mission. We have not done the best job we could have in selling what we do here. We're going to be looking to businesses around the state to offer discounts with our membership.
It's a new landscape for nonprofits. I don't see the government funding coming back any time soon.
Q. Recovering from the recession, will we see more collaboration between nonprofits?
A. I think so. It just makes sense if we want to deliver really good services to individuals and families. To really improve a community, you have to be like a fabric, not just a safety net.
I can't think of how many places we partner with — school districts, nonprofits, law enforcement, just on and on. I think we need to make our case better as an economic force. If I had to say what nonprofits are not doing as well as they can is to say we've got some political clout, and we have some economic clout.
I think that thriving nonprofits make thriving communities. Part of the reason New Hampshire looks so good on paper — a healthy population and a good place to raise kids — is that we have a thriving nonprofit community here. It's not government doing it in New Hampshire — it's nonprofits.
Q. Can you talk about the work you're doing with the state's growing refugee population?
A. It's been a struggle to really have quality interactions. Certainly we provide services to victims, but I see one of our goals to provide education to the men and women of those communities as to what our social norms are here and how do we blend our social norms with the positive social norms from the different refugee communities.
This year, we allowed the African after-school program to move in downstairs. They didn't have a place they could call home, so we're providing some technical assistance to them on nonprofit management and helping them find volunteers and funding.
Raising kids is baffling to people who've lived in this country their whole lives. You come from an African nation and you're here in New Hampshire, the kids acclimate so much quicker than the parents do. The parents get their information from the kids, so when kids say you can't tell them what to do or the government will come in, parents are really at a loss. We've gotten funding from the Women's Fund, we're going to be working with some of the moms. Starting in February, we're going to do a very long, 14-week parenting program and help them understand a bit about the school system.
One of our goals, I talked to the Women For Women Coalition, who we're partnering pretty heavily with now. They're really helping them get some economic empowerment. We don't have low-skilled jobs anymore in Manchester that pay a decent wage. You've got to have English, and you've got to have some skills — if you have a cottage industry skills, you've got to have some help marketing that, so we're exploring those kinds of things.
What can we do to help them not have to wait a generation to be successful? That's the immigrant story — usually you have to wait a generation for your kids to go out and make it. I'm not so sure all these kids are making it right now, so getting that education piece is key.