Q&A with UNH sports law professor Michael McCann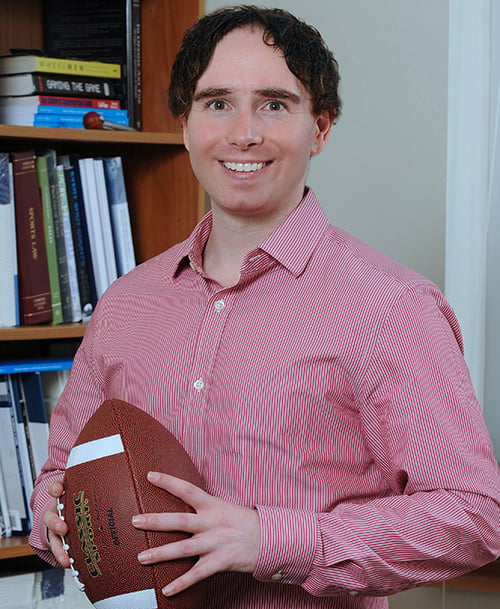 Anyone who followed the "Deflategate" controversy likely came across University of New Hampshire law professor Michael McCann – in print, on the radio or on television. As an expert in sports law, McCann has been a frequent source for stories about Deflategate and the legal battle between the National Football League and Tom Brady, the four-time Super Bowl-winning quarterback of the New England Patriots.
McCann has also written about Deflategate as a regular contributor for Sports Illustrated, in addition to a wide range of breaking and feature pieces, including one with disgraced cyclist Lance Armstrong in 2013.
He is also the editor-in-chief of the influential Sports Law Blog. His impartial work breaking down NFL labor law chapter and verse even drew applause in a recent editorial in the Concord Monitor.
McCann, a Massachusetts native and founding director of the Sports and Entertainment Law Institute at UNH, found his muse while attending the University of Virginia Law School. He wrote an unsolicited paper ("Illegal Defense: The Irrational Economics of Banning High School Athletes from the NBA") challenging the conventional wisdom of so-called experts.
That study later drew the interest of lawyers handling the case of football player Maurice Clarett, who challenged the NFL in Federal Court. Clarett sought to be drafted but did not meet the NFL's time requirement of three years removal from high school graduation. McCann was asked to join the legal team – which won at the federal District Court level but lost on appeal – and his career took off from there.
Q. How old is the field of sports law?
A. It's been around a long time because there have always been legal disputes between players and leagues. When Major League Baseball was given antitrust exemption by Congress in 1922, the legal implications of labor and entertainment law became more widely discussed and understood.
I believe that Paul Weiler was the first to offer a sports law course at Harvard in the late 1980s, early 1990s and the field of sports law took off from there.
Q. Why did it interest you?
A. I grew up in Massachusetts and was a big sports fan. I was watching the NBA draft in 2002, and someone said it was so bad for students to jump from high school to the pros. I didn't think so, but did some research on my own and wrote a paper for the Virginia Sports and Entertainment Law Journal, where I was editor.
My real entry into sports law came when the paper got noticed and that led me to the Maurice Clarett case.
Q. Why has it grown so fast?
A. You can see it in the headlines every day. Because it covers a wide range of disciplines: labor law, contract law, copyright and intellectual property law. You see it obviously with Deflategate, but also college athletes at Northwestern looking to unionize. Basketball star Ed O' Bannon sued and won to be paid for his likeness being used by the NCAA in video games.
Q. Why did you come to UNH Law School?
A. I was teaching at Vermont Law School, and a few years ago I was offered this great opportunity to be the founding director at the Sports and Entertainment Law Institute.
It's been an exciting time, and when you start getting ranked among Harvard and Yale for law schools, that's very good and shows the quality of the programs here. I intend to stay because this is home for me, and I want to become a bigger part of the New Hampshire legal community.
Q. What kind of work can your students find?
A. The sports and entertainment legal fields have become so expansive and the course law provides so many transferrable options – antitrust, labor, contract, disability. They learn a ton about the law through sports, and we have a practice-orientated approach for them to get actual skills.
We've been able to place students for externships and legal residencies at different entities such as apparel companies, sports teams, sports agent firms or university athletic departments. The apparel industry for example is exploding in sports-related legal work.
Q. Why teach a Deflategate class?
A. It's a mix of sports, the law and media. What makes it so compelling is the number of areas in the law where the answers are not clear. The CBA (collective bargaining agreement) gives the NFL sweeping authority to act as it wants, but what if the process was fundamentally unfair?
It's a good legal teaching moment about the rights of a player, which are different from the rights of the Patriots' owner, Robert Kraft. It's also interesting how captivating the journalism has been. We know the initial leak about the amount the balls were underinflated wasn't true, but we saw how powerful an impact the media had in setting the narrative of the story from the beginning.