Q&A with UNH School of Law Dean Megan Carpenter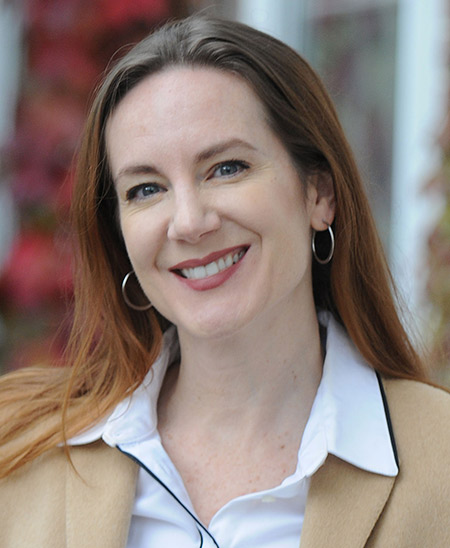 In March, the University of New Hampshire announced the selection of a new dean for its School of Law. The announcement, coincidentally, came on International Women's Day. Megan Carpenter, who arrived in July from Texas A&M University Law School, is the first woman dean since the school's founding as Franklin Pierce Law School in 1973.
One of the country's smallest law schools, UNH Law has an international reputation as one of the top places to study intellectual property law. It is one of the things that attracted Carpenter, who practiced IP law before teaching and co-directing the Center for Law and Intellectual Property at Texas A&M. She chairs the academic committee of the International Trademark Association and is former chair of the Law and Entrepreneurship Special Interest Group of the U.S. Association for Small Business and Entrepreneurship.
Carpenter's impact on the state is potentially significant: while fewer than a third of UNH Law students come from New Hampshire, 46 percent of its graduates remain to work in private practice, business and the public sector.
Q. What makes UNH Law different from other law schools?
A. This law school was started to be different. It was started in a barn on Mountain Road in Concord with a strong ethos of innovation and an entrepreneurial spirit, and it has always had a strong social justice component. It is very community-oriented. Also, this has always been the flagship institution for intellectual property in legal education. More than half of full-time faculty members have IP experience. We include an IP course in the first-year curriculum, which is unique. It is a priority for us — as it is in the world.
Q. Why is IP such an important practice field?
A. IP is the legal framework that deals with human creativity. It's an area of law that impacts everybody, whether we realize it or not. If you have an internet presence and use email, you're a consumer and a producer of content. Our economy is driven by information and content now, more than by traditional, primary-sector industries.
Q. What challenges face law students today?
A. Tuition and the ability to find jobs. It's really important to us to make legal education accessible, and we award scholarships to 100 percent of our students. In terms of jobs, we graduate students who are practice-ready – we don't just teach people to think like lawyers, we prepare them to get out there and be a lawyer. Almost all our students participate in an externship or clinic so that when they graduate they have experience in the practice of law.
Q. What attracts students to UNH Law?
A. We have very strong statistics in the things that matter to students. Our professional employment rate, of students getting real-world law jobs in the open market, in 2016, was 91.8 — second only to Harvard in the New England region. In 2017, the passage rate of those taking the bar exam in New Hampshire for the first time is 94.1 percent. And Concord is a great place to live: it has a walkable downtown in the state capital, with mountains and the Seacoast nearby — whatever you'd want to be happy and raise a family as an educated professional.
Q. How does UNH Law benefit the community?
A. The school is an economic engine that counters New Hampshire's aging demographic by bringing educated young professionals into the state. When our students complete externships and legal residencies in the nonprofit sector, they have a significant impact. If you put a dollar amount on the work they do, according to the salaries that would be paid to legal professionals, UNH Law students have contributed $8 million in the last three years to the state's legal infrastructure.
Q. What kind of presence does the school have outside New England?
A. We have alumni all over the world, including the heads of IP offices in Taiwan and Argentina. We have faculty members on the ground promoting intellectual property education and training in Vietnam, Algeria, Thailand, China, Latvia and other developing countries.
Q. What are the school's relationships with the business community, and what will they be under your leadership?
A. I would like to strengthen the school's relationships with the business community, and I've been reaching out to local organizations to do that. The law school should be woven into the fabric of the community, not a separate entity that's just placed here. We're developing deeper partnerships with various companies, such as DEKA in Manchester, which is engaged in promoting advanced manufacturing and regenerative tissue research. We'll have a class next semester that deals with applicable legal issues in the biotech industry. Students will focus on a case study at the company, and when the semester ends they'll have an opportunity to complete an externship that will function like a lab for the course.
Q. How is legal education changing?
A. One way it's changed is that the number of people who want to be lawyers has decreased, yet people who need to know about the law are everywhere—in engineering, journalism, public policy, and other fields. There is a need to help people get the legal education they need, even if they're not going to spend three years in law school. We have two master's programs in IP for non-lawyers or for international attorneys. We have graduate programs and certificate programs to empower people more broadly in their own fields. Legal education is being democratized.
Q. You studied foreign languages as an undergraduate and graduate student. How did that background lead you into the law?
A. I've always been interested in what words mean and how they're used. Language and law are related intrinsically.
Q. What impact would you like to have on the school?
A. I want to make sure UNH Law continues to be a pioneer and a center for debate and dialogue. I want to raise the profile of the school internationally and regionally. It's really important to me to strengthen connections with our alumni. And I want to increase enrollment.
It has been a challenging time in the market, with fewer people applying to law school. At UNH, we've elevated the profile of our students and decreased our enrollment as a strategic move in a changing landscape for legal education. I want to hold those standards steady while increasing enrollment.
Q. What is your vision for the school?
A. My hope is that we will be a leader in interdisciplinary legal education, bringing legal education to new audiences and new markets. We will have the best IP program in the country. We'll continue to have an international presence as participants and thought leaders, in keeping with our social justice focus.
Robert Viles, the first dean of Franklin Pierce Law School, said that starting the school was a rare opportunity to stop talking about what's wrong with legal education and start doing something about it. I see those words every day on a plaque in the foyer, and it inspires us to continue to be a pioneer in legal education.
Q. What is wrong with legal education?
A. Law is inherently interdisciplinary, but law school has been separate from the community in a silo, or some might say an ivory tower. Now it needs to be taken out of the silo and into the field, to empower people.