Q&A with Theatre for Life's Genevieve Aichele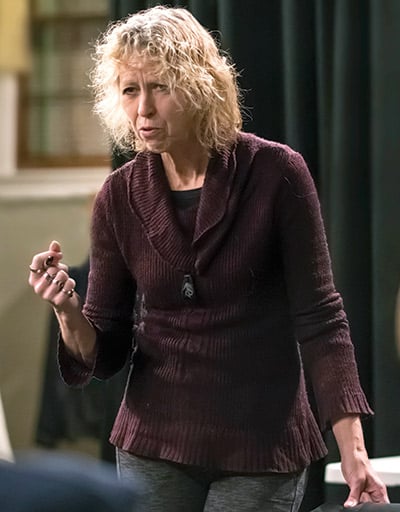 The Shakespeare comedy "As You Like It" has one of the most quoted lines from the bard: "All the world's a stage/And all the men and women merely players." But it's an applicable vision for a unique training program called Theatre for Life and run by the Portsmouth-based NH Theatre Project.
Theatre for Life aims to bring the skills used on the stage to the business, education and nonprofit sectors to help individuals and organizations succeed in a competitive environment in which effective communications and interpersonal skills are highly sought-after talents.
"The art of theatre provides a compelling model for all aspects of interpersonal communication," says Genevieve Aichele, founder of the program and artistic director of the NH Theatre Project, who has more than four decades of acting, directing and teaching experience. "Theatre for Life is an opportunity to explore individual leadership styles, collaborative and creative problem-solving, and specific presenting skills that are powerful tools for all areas of life."
The program offers multiple workshops, including public speaking and basic presentation skills, business "storytelling" to better communicate with colleagues or clients and improvisational tips for team-building. The wide range of New England clients has included Unitil, VF Timberland, Landy Management, Bob's Clam Hut, Computer Resources LLC, Gould Academy, National Education Association Mediation Team, the Mulhern & Scott law firm and Op4G.
Q. What was the genesis for Theatre for Life and how long has it been going?
A. About 20 years ago, my colleague Stephen Gianotti of The Woodland Group asked me to coach two of his clients from Unitil in public speaking. I realized then how the tools of theatre could be directly applied to the world of presentation and facilitation, indeed anywhere that personal communication is vital.
About 10 years ago, a group of us from NH Theatre Project started working together to bring the activities we use in our youth education work into the business community. Traditional theatre "games," such as improvisation, script analysis and role-playing, all have direct application to building group collaboration and inspired leadership. Many of our initial clients came to us because of educational residencies we had done in schools. For example, NHTP teaching artists had been doing residencies at Gould Academy for many years, when their leadership team asked if we could help them through an organizational transition using the same techniques we used with their students.
Q. How does this training benefit the business/non-profit communities?
A. NHTP custom-designs each program but we generally work with three basic models:
Public speaking and business storytelling: Specific techniques from the theatrical sciences are used to improve skills in presentation, facilitation, marketing, customer service and leadership capacity.
Team-building: Improvisation and role-playing techniques from the performing arts are used for collaboration, conflict resolution, re-inspiring passion and strategic leadership.
Private coaching: Individual focus including those looking to improve skills related to a job or position change, promotion, and/or specific personal issues such as anxiety or English as a second language.
Q. What has been some of the collective feedback from clients?
A. It has helped so many to really enhance their public speaking skills. It's lessened anxiety and given them much more confidence and faith in themselves to hone their message about what they are trying to say and why.
They also learn there are many ways to present what they say. We've also been told that people learn how to be comfortable working as a team and learn alternative tools to work through tough situations in good spirits. It's a similar application to the theatre when actors and actresses are thrown together and learn quickly how to work together.
Q. How has your team responded to working through Theatre for Life?
A. Our mission at NHTP is to "provide a nurturing environment for community members to be inspired and transformed through the art of theatre." The teaching artists at NHTP are eager to share our beloved art form with others. We are often in awe at how much passion and creative inspiration come soaring out of those who think they are 'not really performers.' As one recent participant said, "I don't consider myself a spiritual person. But something shifted for me today. This has changed my life." Could anything be more gratifying?
Q. What is one thing that most folks might be surprised to learn about the NH Theatre Project?
A. We are celebrating our 30th anniversary and consider ourselves a "community theatre" in the European sense, a model that is relatively unknown in the United States. In Europe, "professional theatres" are those that employ professional union actors and "amateur theatres" are those where folks perform for the love of the art. A third model, ours, is "community theatre" where professionally-trained artists choose to work in community.