Q&A with State Rep. Laurie Sanborn
Seven years ago, Laurie Sanborn teamed up with her husband Andy Sanborn to open The Draft, a popular sports bar and grill in Concord.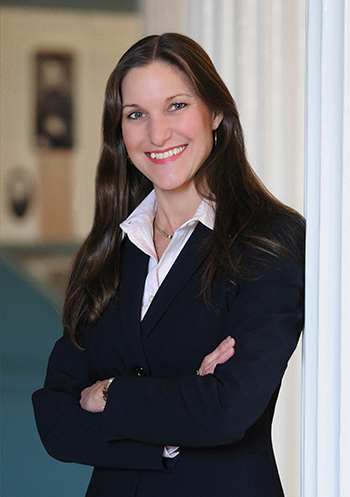 Seven years ago, Laurie Sanborn teamed up with her husband Andy Sanborn to open The Draft, a popular sports bar and grill in Concord. For the last two years, the couple from Bedford have also teamed up in the State House, where they have become the Legislature's Republican power couple.
Andy now heads the Senate Commerce Committee and Laurie is House Republican policy leader and founder of the House Business Caucus.
Q. What did you do in business before opening The Draft?
A. I spent many years in human resources. I worked at HealthSource and at Yankee Book Peddler for many years before we became entrepreneurs.
Q. How did The Draft come about?
A. There wasn't a restaurant to watch sports with really good food in Concord, so we thought we would try it.
Q. Why go into politics?
A. Andy was asked to testify on some legislation. There wasn't enough interest in business concerns, so he threw his hat in the ring. He didn't win in 2008, but he ran again in 2010, and at the end of the sign-up period, I decided to run too. Our feelings were you really can't complain unless you willing to take a stand.
Q. Tell me about the House Business Caucus.
A. After I was elected, I looked to join a pro- business group of legislators, but there was none. So I created the House Business Coalition. We have since changed the name to the House Business Caucus because "coalition" didn't really say what we do. We band together to support legislation.
Q. How bipartisan is it?
A. We don't care who sponsors a bill. It is whether it has a direct impact on private employers, mostly on small business. Many are not represented by an industry group.
Q. What's the breakdown of membership of Republican and Democrat?
A. It is evenly mixed, about 50-50. There was a lot of early interest, phenomenal really.
Q. You don't see some political tensions ahead?
A. I hope there isn't. Last year we backed 50 pro-business bills that passed with bipartisan support. They didn't make headlines because they were not that divisive.
Q. What were your biggest accomplishments?
A. Improving the fairness under the state Department of Revenue's audit of small businesses. In the past, the taxpayer had to prove that they were reasonably compensated, and that was changed so the DRA had the burden of proof.
Q. What do you think about social issues compared to business issues, like killing the R&D tax credit by attaching it to an abortion bill, as was done last year?
A. Regardless of how you feel about social issues, they are two distinct topics, and it was very not pro-business to tie them together.
Q. What about business issues endorsed by the Business and Industry Association?
A. The BIA and other chambers and business groups have memberships to appease. We take a broad look, not favoring different groups or certain organizations. Also, we do support the free market. Sometimes, the answer for businesses is to look to the government. But that's not the environment we are looking for.
Q. Does that include an issue like workforce housing?
A. I don't remember if we took a position. Obviously, the homebuilders supported it, since that means more opportunity for them, but it creates mandates and rules for landlords. Basically, it's like rent control.
Q. How about Medicaid cuts?
A. We did not comment. The hospitals affected are mainly nonprofit that rely on federal funding, so quasi-public.
Q. Funding a study of commuter rail?
A. A study does not have impact on business. Besides, that affects the southern part of state. Other parts of the state might have to carry the expense.
Q. How important is a right-to-work bill to your group, and will you push for its passage this year?
A. From a small business perspective, we think it would help them. But I don't think right to work is going to be big issue. It failed last session, so with the numbers this year, it's not a huge probability.
Q. What is at the top of your agenda?
A. Our biggest focus is to reduce unnecessary regulations that cost business time and money.
For example, New Hampshire said if you have more than five employees, you have to have a safety committee with a written safety plan. That's expensive, and small businesses tend to be very on top of safety. I think we've got it to 10 employees.
One bill looked promising — workers' comp reform, which we believe could be bipartisan. In the first 10 days of an injury, employers will be allowed to select the doctor an employee can use, and they'll be encouraged to use generic drugs and control costs. It's a win-win.
Q. Parting words?
A. We are listening to businesses. We want to hear from them.