Q&A with State Banking Commissioner Glenn Perlow
He previously worked as deputy commissioner of the state Banking Department and before that was a senior assistant attorney general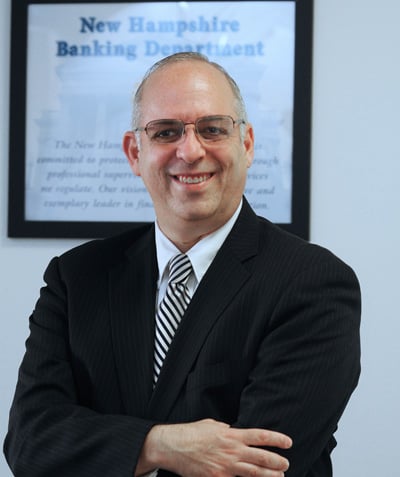 Glenn Perlow, appointed earlier this year by Gov. Maggie Hassan as the state's new banking commissioner, previously worked as deputy commissioner of the state Banking Department and before that was a senior assistant attorney general.
Q. You went to the Massachusetts College of Art. How did you get from there to this?
A. I call it phases of life. I was 34 when I went to law school. As I got near graduation (from art school), I focused down to video communications as a practical way of combining art and making living. I spent five years at Filene's doing corporate communications. I needed to make a decision about continuing. I decided to do something that had been in the back of my mind for a long time.
Q. You worked first at the McLane firm. What did you specialize in there?
A. I began doing environmental law, then some insurance litigation. I left with a senior partner who decided to open his own shop. We spent six years together in an office in Bedford.
My practice was in business and commercial litigation, with a focus on real estate, particularly eminent domain. That will explain how I transitioned to the AG's office. When I joined the office, I was a typical generalist. I had 23 state agencies, boards and commissions that I was responsible for.
The medical malpractice case arose out of my counseling work to the Insurance Department. I counseled Revenue, the PUC, Corrections. I got to know all of state government very well. It got me into the news of the day, but not always in the news. Toward the end, I worked with DRA and HHS on the Medicaid Enhancement tax issue, which is kind of newsworthy now.
Q. You left off the Banking Department.
A. I was assigned to Banking late in the FRM period. (Former Banking Commissioner Peter) Hildreth was already gone and Ron Wilbur came on as commissioner. I was brought on in October 2011 to be general counsel and was later named as deputy.
I focused our early efforts on making sure that the legal division was fully staffed.
Q. Has the department changed since the FRM scandal?
A. One of the most important functions is the interaction between our examination staff and our legal division. I focused our early efforts on making sure that the legal division was fully staffed. Any enforcement action that was proposed for the commissioner to sign I would review, talk with legal and the examination staff and make sure I could comfortably translate to the commissioner why we were taking that action.
Q. Over recent years, there have been fewer and fewer banks and more and more other financial institutions. What is the Banking Department doing or should be doing to deal with that?
A. We are generally divided into the banking division and the consumer credit division. The banking division covers three types of entities — banks, credit unions and trust companies. All the rest are covered by the consumer credit division.
The examinations on the bank side tend to safety and soundness examinations, whereas on the consumer credit side, they tend to more compliance with federal consumer protection laws. We assign two of our three hearings examinations to consumer credit. There tends to be a lot more enforcement on the consumer side.
Q. The Banking Department has been relatively low-key on enforcement actions.
A. I don't think it's a fair perception that we couldn't be aggressive if we needed to be aggressive. Let's take the bank side. Coming out of the 2006-2008 banking crisis, financial crisis and recession, New Hampshire banks were characteristically conservative and strong.
sOur institutions are not really engaged in those sorts of practices and risky behaviors that are generally believed to be part and parcel of the financial crisis.
With regard to the mortgage side, we are very active. We often take enforcement actions in concert with other states. We try to be aware of things happening in federal law. The Dodd-Frank Act is only a few years old, and a lot of the regulation hasn't been written yet.
Q. What are the hot spots?
A. Payday lending. Payday lenders have a 36 percent cap. Title lending was capped at 25 percent monthly, as much as 300 percent annually. Both are dong business here, but the troubles are with unlicensed offshore and tribal-based payday lenders, particularly tribal. There is a sovereignty issue that is unresolved.
Q. Could the department do more about foreclosures?
A. We have a very robust structure. The most important thing for people facing foreclosure is to understand where they are situated and what their options are. The most powerful tool is housing counseling.
The Banking Department in each state received $1 million as part of the national mortgaging servicing settlement in concert with $2.5 million that the Attorney General received to bolster housing counseling. Folks facing foreclosing have a single phone number (211) that they can call and then be directed to a counselor or referred to Legal Assistance, if necessary.
Q. What changes do you envision for the department?
A. New Hampshire has declared through the Trust Modernization Act a policy towards being a place where trust companies would want to do business. Since that time, quite a few trust companies have chartered in New Hampshire. I have seen sort of an undertow of more inquiries. We charter 26 trust companies that account for over $350 billion in assets under management. I only see that growing. I see more emphasis there in the future.