Q&A with SkyTrans President Jerry Pendleton
Ski-lift expert discusses his work on Waterville Valley's Green Peak expansion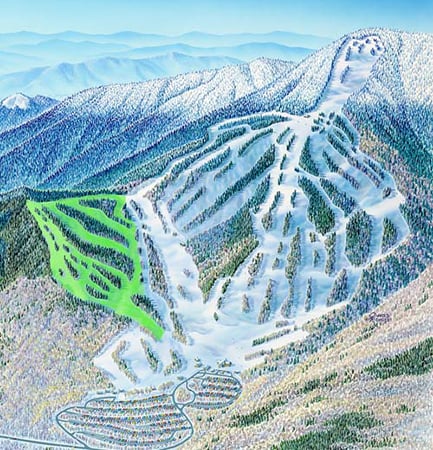 In preparation for the opening of its Green Peak expansion, Tatiana Baier, communications manager at Waterville Valley Resort, interviewed Jerry Pendleton, president of SkyTrans Mfg., LLC, the man who built the first lifts at Waterville Valley Resort 50 years ago, and has been overseeing the new Green Peak lift installation.
Q. How did you get involved in lift construction?
A. O.D. Hopkins Inc. was originally founded by O.D. Hopkins – he lived in Contoocook. I also lived there, worked on the local farm, and that's how I met him. He wanted me to help him run a very small company. I was very young at the time – 21 years old. I thought about it and I decided to give it a try. I thought of it as a place where I could advance in the future. I ran several portions of the business.
I became a very minor shareholder in 1965. O. D. Hopkins, Inc. was renamed Hopkins Engineering Inc. in 1965 and established itself as a ski-lift manufacturer with the purchase of John A. Roebling & Sons' ski-lift division.
Skyfair Inc. was spun off from O.D. Hopkins Associates in 1986 as an aerial tramway operations company and took with it ownership of the rights to the ski-lift designs, and drawings, licensing O.D. Hopkins Associates Inc. as its manufacturer of record.
O.D. Hopkins Associates filed for bankruptcy on Nov. 16, 2001; Skytrans Mfg. LLC was formed the next day and Skyfair Inc. licensed Skytrans Mfg. LLC as its manufacture of record. Throughout all of these changes, the one consistent thing is my ownership in these companies. My son Daniel is the majority owner of SkyTrans Mfg. LLC and myself and my other children are minority owners.
Q. What were your first projects at Waterville Valley Resort?
A. Our original work was the installation of the four original chairlifts, which were designed by Walter Stadeli Company from Switzerland. We also manufactured all of the towers, tower crossarms, numerous other structures and various chair components.
We built a T-Bar in 1966 and a J-Bar in 1967. While working on these projects, the biggest challenge was that we were under a big deadline, just like here with the Green Peak expansion. It could have been very easily 1967 or 1968, but (Waterville Valley founder) Tom Corcoran helped us a lot with pushing this project through.
O.D. Hopkins and I had a pretty good relationship with Tommy, he enjoyed being around, he was a guy who could get people to do things and make things happen.
Q. How many people did you help to get to the top of the mountain?
A. Each of the original four chairlifts had an hourly capacity of 960 skiers per hour, the Hopkins T-Bar has an hourly capacity of 600 skiers per hour, the Hopkins J-Bar has an hourly capacity of 300 skiers per hour. Today we are riding close to 2 million people per year on the stuff that we constructed and own.
Q. What is the role of SkyTrans Mfg. in the Green Peak expansion?
A. SkyTrans Mfg. has been involved in every segment of the installation project, starting with the site engineering right up to concrete installation. This has included moving and installing all of the equipment, installing all concrete footings redesigning and rebuilding the electrical controls, splicing the wire rope and the final testing of the lift.