Q&A with Senate Minority Leader Jeff Woodburn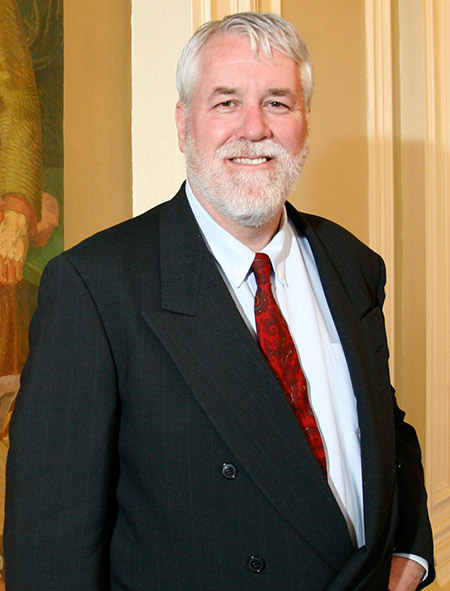 Jeff Woodburn, the NH Senate Minority Leader, doesn't shy away from confrontation. The Dalton Democrat says it comes with the political territory of leading the minority party, but even he was surprised by the blowback in January with what he considered a modest proposal. The issue was state purchases of Russian products in the wake of intelligence community assessment that Russia interference in the 2016 election.
"My first thought was this: Given what happened in the election, we should have a bipartisan study commission to look at state purchases and investments," said Woodburn, a former teacher and journalist and entrepreneur. "We should ask if our investments and purchases match our values and vision for the state. We should get together, ponder and evaluate if we should be doing more to boost more New Hampshire-produced products. President Trump has talked a lot about boosting American companies and keeping American jobs here. Given the amount of media attention, I didn't realize there were so many Russian vodka connoisseurs."
The popular North Country lawmaker – he won his district by nine percentage points while Hillary Clinton lost by double digits – believes the controversy revealed something more troubling: The diametric reactions about the Russian election interference exemplifies the extreme partisanship in Concord and Washington, D.C., that is making governing more difficult with each passing election.
He recently talked to NH Business Review about the certain clashes during the current legislative session, the first one since 2003 under full Republican control.
Q. With the future of the Affordable Care Act in doubt, do you think Medicaid expansion will continue?
A. I don't believe we should wait for the federal government to dismantle the ACA. Despite what Republicans say, Medicaid expansion and the ACA have been an undeniable success. More than 60,000 of our state residents have insurance through Medicaid expansion they didn't have before. We have made strides to combat opioid addiction and it has strengthened hospitals and community health centers across the state, especially the North Country
The idea of an alternative (to ACA) without specifics ignores the ripple effects this will have on our health care system with tens of thousands worried about what will happen if they get sick. Hospitals will be stuck with more uncompensated care costs because the ACA phased those out, and those costs will show up in premium increases for everyone. We need to tell leaders in Washington that they must acknowledge this (ACA) is the system we have.
Q. Is there a bipartisan coalition to sustain the health care momentum you've cited?
A. We should be proud of ourselves that with divided government we could make Medicaid expansion work so well. We should stand up on mountaintops and yell about this success and not be ashamed of it.
For example, the Indian Stream Health Center in Colebrook serves our communities and can pay a $15-an-hour living wage to its employees. These are positive ripple effects. We met the bipartisan test with a second renewal, but the third will be a challenge. We see more conservative Republican lawmakers who are averse to compromise and moderation.
Q. What are examples of this decline of moderation and compromise?
A. We saw it right out of the gate with the governor (Chris Sununu) talking about picking low-hanging political fruit like concealed carry, right-to-work and making it harder to register to vote. Leading with these divisive issues is the opposite of good governance. These are extreme issues that have made it into the mainstream.
Who was calling for right-to-work or concealed carry? I didn't hear from one voter that I talked to in Coos County during the election. These actions are meant to be punitive to groups and people who are typically progressive. We spend too much time in our building (State House) taking care of those who have the most and not enough about those who have the least in our society.
The lack of civility can be disorientating and depressing but we can't give up. Democrats are determined to mitigate as much of the damage as we can.
Q. Why is election integrity a legislative priority?
A. It's absurd, with responsible people making these ridiculous accusations about busloads of illegal voters from Massachusetts. I've witnessed elections at the local level since the 1980s, and we've made great progress in making voting accessible.
No right-minded person questions the integrity of our elections. But the Republicans are pursuing voter suppression, plain and simple. There is no evidence of voter fraud, and this is a concerted effort to drive down participation among young people. They don't want young people, who are more likely to want a progressive agenda, to vote. The problem is that in areas like Coos County, we are getting too old too fast. We should be creating ways for young people to study here and stay and work here while developing a vibrant entrepreneurial environment. This does the exact opposite and creates even more cynicism about government.
Q. Talk about your advocacy of marijuana legalization.
A. This is another example of creating a welcoming state by creating a pathway to legalization, like many states are doing. We have some of the toughest criminal policies in New England but this isn't a sane policy. We can't continue to bury our head in the snow.
If we've learned any lesson over the past few years is the 25 percent of the country's voters have jumped over lawmakers and the government. As we see with increased examples of jury nullification, there is no legitimacy anymore for these laws, and we can take gradual steps like Canada has taken to get there.
I'm a former teacher, and I want to keep pot out of the hands of young people. I don't encourage use or belittle the risks, but if we allow consenting adult access to alcohol, we can do the same with pot and focus our resources properly.