Q&A with Seacoast Media Group President John Tabor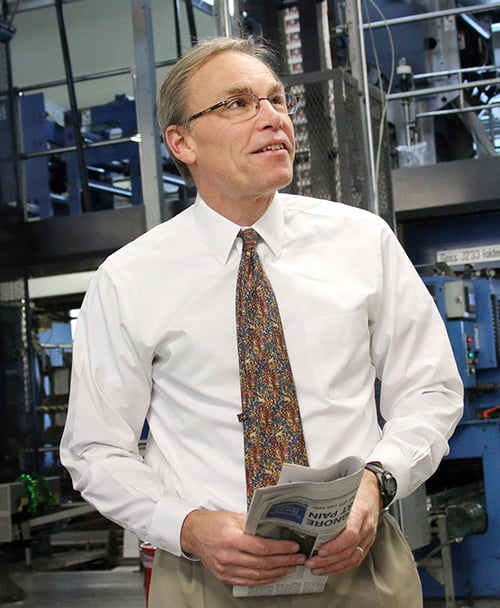 In December, one of the biggest newspaper mergers in New Hampshire history was finalized when New Media Investment Group, parent company of Seacoast Media Group, paid $5 million for the assets of Geo. J. Foster & Co. Inc.
The result: two longtime former newspaper rivals, the Portsmouth Herald and Foster's Daily Democrat in Dover, have joined forces and are now run by Seacoast Media Group's president and publisher, John Tabor.
Tabor, a Pittsburgh native and Yale graduate, has been part of the Seacoast New Hampshire newspaper scene since co-founding the Portsmouth Press in 1987. He was also publisher of the Rockingham County Newspapers group of weekly newspapers (Exeter News-Letter, Hampton Union and Rockingham News) before they merged with the Portsmouth Herald in 1997 to form what is now Seacoast Media Group, with Tabor assuming the publisher's role.
Tabor, who began his newspaper career as a copy editor at the Pittsburgh Post-Gazette, has overseen the media company's digital transformation and significant commercial printing operation.
Q. How has the transition been after the purchase of Foster's?
A. I think the integration is going pretty well. We've spent some time working on the mission and values of the combined company along with the operational work of bringing advertising and circulation together. I think it's a great opportunity to bring distinct editorial voices that are accountable to their local communities. The combined classified and advertising sections will also be more efficient.
Q. What's your take on the future of newspaper publishing?
A. What's interesting is that for around three centuries the printed page has proved pretty durable to local audiences. Now, in Portsmouth, more people read us on a computer screen; in fact, more than half of our digital readers use a smartphone for their news. I certainly never thought that 30 percent of our ad revenue would be digital and search engines would be important for our ads.
It's a whole new world because these readers are not only getting their news digitally, but we enlist them as sources. While it's true that fewer people are reading newspapers, we know there's still a significant local audience for good hard news and that will be the case for a long time. There's been a proliferation of media for national and international news, but if it affects your local schools, pocketbooks, taxes and daily life, local readers still have the desire to be well-informed. That's our mission and it's good we have two daily newspapers (Portsmouth Herald and Foster's) to provide that coverage.
Q. How critical was the $8.5 million investment in a new press and plant a decade ago for the future of Seacoast Media Group?
A. Well, I'd like to say we were prescient, but we were lucky. We were well-positioned with the advantage of a public company [Dow Jones], and we weren't saddled with excessive debt. Had we gone into the financial crisis [2008] with a lot of debt, it could have been fraught. We were lucky the investment paid off and we've given our owners a good return.
Because of the new press and mailroom, we quickly drew a 100-mile radius map and began to search for printing work. We now have 160 commercial clients, which is one-third of our business. This put us in position to buy Foster's, one of our biggest clients. Through the purchase of Foster's, we also acquired Eastern Marketing Services, a direct mail company, and this expands our business model into a growth market.
Q. What would say to someone starting out in the newspaper business today?
A. We are finding that if you diversify you do more than just survive, you can also thrive. Our newspapers bring in only about $15 million of our $30 million in revenue. I think a well-run newspaper is still vital to how people live their daily life. It's crucial that as long as we are really local, keep a watchdog eye on government and fight for the little guy, people will still read.
I'm still driven by the desire to run the story that everyone will talk about tomorrow. Tocqueville wrote that "Nothing but a newspaper can drop the same thought into a thousand minds" at once, and I still think that's very important.