Q&A with Retail Association CEO Nancy Kyle
The trade group recently released a new marketing campaign for members highlighting the state's sales tax-free status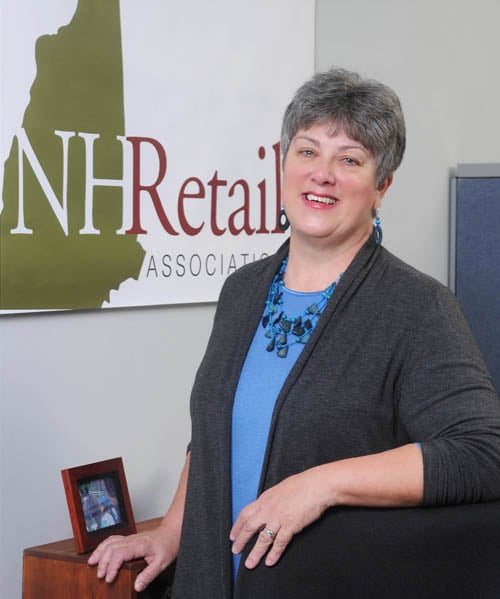 While the new name and home for the New Hampshire Retail Association represents a major change for the organization, which was founded in 1966, some issues remain the same.
The former Retail Merchants Association of New Hampshire was founded nearly five decades ago to oppose a sales tax. It helped defeat a strong effort to impose a tax in 2001, and recently released a new marketing campaign for members highlighting the state's sales tax-free status.
"We have a new sales tax-free logo that members can use in their advertising campaign," said Nancy Kyle, the organization's president and CEO since 1999.
The rebranding effort coincides with the 900-member association's move from Concord to Bow, for reasons both economic and practical. "We don't need to be in downtown Concord anymore," said Kyle. "We have lobbyists who are there, and we can communicate with our members from anywhere."
During her tenure, Kyle has overseen implementation of a workers' compensation insurance program for members and helped win a major grant through the Regional Greenhouse Gas Initiative that led to a successful business energy efficiency program, called Giving Power Back.
Q. When did you start thinking about the name change and why did you do it?
A. We are coming up on our 50th anniversary in 2016, and a lot of people already referred to us as the New Hampshire Retail Association. The term of "merchants" in our original name was an antiquated reference. We were thinking for a while as well for a new and brighter marketing message and image.
Q. How would you assess the overall economic health of the retail sector in New Hampshire?
A. I think our retail sector always does much better because of our lack of a sales tax. We have one of the top per-capita retail rankings in the country. It's at $19,269, while the U.S. average is at $13,657. I think that shows the cross-border retail traffic we get from Massachusetts.
That said, it's a very challenging time to be a retailer. I hear from members that there's no rhyme or reason to how business is going. Of course, the growth of online shopping impacts our members, and we see more of them engaging in customer social media. On the other hand, some things never change – we were formed to oppose a sales tax and we still are.
Q. How has the organization changed since you joined in 1994?
A. When I joined, there weren't computers in the office. Before, when we had pressing legislature issues, we communicated by mail or by fax, and it was a pretty expensive way of doing business. Now I can send out an email blast, which is a better way of connecting with members, and they can respond fairly quickly to issues that matter to them.
Q. Is there a typical New Hampshire Retail Association member?
A. I really can't say there is. We have big box retailers and one-person online businesses who are just as concerned about legislation that impacts their business. We even have members who aren't retailers, but professional service companies that want to reach out to our members. We have all types of businesses.
Q. How would you rate the success of the Giving Power Back energy-efficiency program your organization initiated in 2009?
A. The energy efficiency program has been very successful, and the work done by Amanda Holden, our energy-efficiency coordinator, deserves recognition. Because we got a substantial grant from the Public Utilities Commission and RGGI, we were the first association in the country to go around and help businesses become more energy-efficient.
Businesses want to be energy-efficient, but they don't know how, and in this program it wasn't just retailers: we worked with the auto dealers and grocers' associations and bankers. We paid for energy audits, and over the past four and a half years, there have been 200 buildings that received some level of audit and 91 have been improved with $1.1 million in rebates.
It adds up to the bottom line of these businesses. We estimated that they are collectively saving $700,000 annually in energy bills, reduced oil consumption by 99,000 gallons per year, and reduced CO2 emissions by 5.5 million pounds annually. The original grant money will soon run out, and the Legislature changed the grant-giving structure of RGGI, which now goes through the utilities. But we are so proud of what's been accomplished that when we created a new logo to go with the name change, we acknowledged this important green aspect of our work.
Q. What might people be surprised to find out about the New Hampshire Retail Association?
A. Some people think we just represent the big guys, the major retailers, but 95 percent of our members are small retail operators, and we make sure there are far more small independent retailers on our board of directors.