Q&A with: Research industry pioneer Katie Delahaye Paine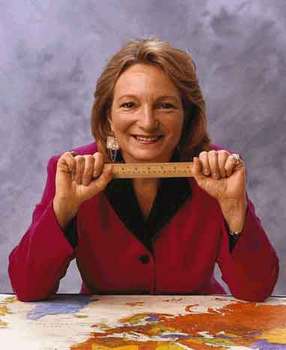 Few would consider the North Country city of Berlin a suitable candidate for expansion for an information-based company. Berlin has dealt with one economic shock after another over the past two decades as its paper mill and lumber-based economy have fallen victim to fierce global competition. And it's remote location hardly seemed like an ideal draw for talented employees.
But Katie Delahaye Paine, who admits to dancing to a different entrepreneurial drummer, seized on an opportunity to leverage technology and dramatically reduced overhead costs to open a branch office of the marketing research firm KDPaine & Partners she founded in 2002.
"We looked at India" as an outsourcing option, said Paine, who sold her first company, The Delahaye Group, in 1999. But she shrewdly calculated Berlin's tax and job credit advantages were worth a gamble as a second office for a fast-growing company — one in fact she wishes wasn't growing so quickly.
"We got the red-carpet treatment," Paine said. She also recruited a talented staff for the Berlin office "way overqualified" for the work, but a group she believes will expand the company's breadth of analysis and services it can provide to a growing client base that includes Raytheon, Southwest Airlines and Hewlett-Packard.
Her quest is to lead much of the business world out of the middle ages when it comes to sometimes blissful and sometimes willful ignorance of measuring marketing effectiveness. Her newsletter and blog are pioneers in an industry that she believes is stuck in methods better suited for 1890 than the early 21st century.
Paine, a Durham native whose family arrived there in 1906, also is a breast cancer survivor who donates time and work energy to increase awareness and develop support programs for women.
She has a bi-coastal resume that includes work as a journalist for the San Jose Mercury News, director of communications with Lotus Development Corp., and merchandising manager for Hewlett-Packard Personal Computer Group.
In her not-so-spare time, she teaches introduction to business classes at the University of New Hampshire's Whittemore School of Business and Economics.
And among her many awards, she was named by the school as Entrepreneurial Venture Creator, Person of the Year and won the 2006 New Hampshire Business Review Business Excellence Award for Media & Marketing.
---
Q. What's one of your biggest challenges?
A. Cash flow. Just when you're doing the best, you always have the least amount of cash. We never have enough cash.
Q. What do you get from teaching?
A. It's so rewarding, and I have so much fun. It gives me a chance to reach out and share my real-life experiences so they get more than theory. It's also a great recruitment tool. I want to get the best and the brightest.
Q. What drives you?
A. I believe passionately in marketing accountability. The Web in particular has changed everything: we have databases and have the ability through media analyses to measure the ROI (return on investment) of public relations and marketing campaigns. Southwest Airlines has done that for a long time, measuring ticket sales, and now other airlines are realizing the data is there.
Q. Why has progress been slow?
A. The top companies have always been on the forefront. Our goal is to have people use the data mining available to them. It works a hell of a lot better. It's also a matter of communication. Years ago, I saw this in person during a presentation and had a light-bulb moment. The best way to communicate with many (decision-makers) is with charts and graphs. I realized these guys don't like words.
Q. Where do you get your inspiration?
A. I'm just like one of my mentors in Silicon Valley — I'm genetically unemployable, so I have to work for myself. I'm inspired by other entrepreneurs. When I hear their stories and the struggles they had, I tell myself, "If they can go through this stuff so can I." I'm also inspired by the belief that you can make the world a better place by having a business that does the right thing.
Q. Why did you sell your first company, The Delahaye Group?
A. I'd had a lot of nibbles over the years. We had grown to around 50 employees and, frankly, I was tired of the struggle to reduce costs. I also thought about running for Congress. After I sold it I decided I wanted to become a flower farmer, but after a while I realized that I would make $5 an hour making flowers and $150 an hour providing data-driven analyses.
Michael McCord is business editor of the Portsmouth Herald. This article originally appeared in the Portsmouth Herald's sister publication, Seacoast Ventures.