Q&A with Red Sox radio announcer Dave O'Brien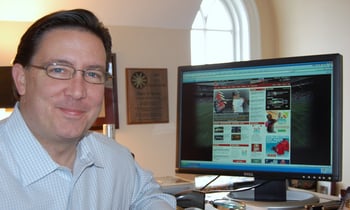 As the lead radio voice of the Boston Red Sox, Dave O'Brien knows a thing or two about the passion of Red Sox Nation –and not just as announcer. The Rye resident is a native of Quincy, Mass., grew up in Marlborough, N.H., and watched the Red Sox play at Fenway Park as a young, enthusiastic fan.
He was an infielder and pitcher on the Marlborough High School state championship high school baseball team in the early 1980s (the school no longer exists) before graduating and heading to Syracuse to study broadcasting.
O'Brien is a very busy and eclectic announcer. Over more than 25 years and an estimated 3,700 games, O'Brien has worked for the Atlanta Braves, Florida Marlins, New York Mets, the Red Sox and Major League baseball. He's also called college basketball games on TV for ESPN and soccer and NBA basketball for ABC.
When he got the Red Sox job in 2007, he moved his family from Florida to Rye — and as a bonus, called Red Sox games for the team's second World Series triumph in four years. With the beginning of spring training on the horizon, he talked with NHBR about his career, his busy schedule, the shocking end to the 2011 Red Sox season, and his most unforgettable and deeply personal call.
Q. What are your thoughts on the 100th anniversary of Fenway Park?
A. It's so unique because no other ballpark has ever lived this long, and certainly no ballpark has flourished this late in its career. The change (over the past decade) with the renovations and monster seats was more than welcome because the Fenway Park I saw as kid was a dark, dingy, smelly place. It will be marked as an historic occasion with regular celebrations and surprises. I hope the club wins the pennant and the season doesn't end the way it did in 2011.
Q. What was it like to cover the last night of the baseball season?
A. It was the most amazing end to a regular season, and the last night was one of the toughest broadcast nights of my life. I was working for ESPN on the Philadelphia-Atlanta broadcast, which was also an incredible game, but half of my brain was watching what was going on in Baltimore with the Red Sox-Orioles.
The audience was fixated on all those races going down to the last second, and my heart was breaking. We covered the team for 162 games and even as far back as June and July we pointed out the red flags and the mistakes being made — the dropped fly balls, the high ERAs by the pitching staff, the bullpen working too many innings and batters not working the count. I think we were pretty cold and honest about it. Yet, no one could have imagined a 7-20 month.
Q. What's the difference between announcing on radio and television?
A. There's no comparison. Television is like piloting a supersonic jumbo jet and radio is like climbing into the cockpit of a Cessna. On radio, nothing ever happens until the play-by-play guy says it does, while on television, viewers can see what's happening and you are an accompaniment more than anything else.
Radio is a different type of discipline. My (radio) partner Joe Castiglione and I paint a picture. We have an obligation to do it right because essentially the listener is a prisoner. But on television, I am more of a traffic cop, trying to keep my words to a minimum and passing it off to the color men while listening to directions from the producer.
One of the tricks I use on a radio broadcast is a stationary microphone, which reminds me to focus on the action and what I need to do to paint the best picture.
Q. Do you self-critique your broadcasts?
A. Yes. I am always working to get better. For example, when I review my television broadcasts I'm concerned about whether I was too chatty or not. I'm old school in that way. I believe in showing up and doing your job and having real discipline to stay out of the way and allow the moment to be seen. I think too many younger broadcasters play to the sports media environment we have today, who try to make plays into signature calls and are playing to the Top 10 sports highlight of the day. If Vin Scully (the legendary announcer for the Los Angeles Dodgers) doesn't do it, I don't need to.
Q. What was your most memorable call?
A. I was broadcasting the international feed for ESPN of the 2004 World Series when the Red Sox won in St. Louis. It was almost an out-of-body experience for me. I was thinking in those last moments about my late father who was a lifelong Red Sox fan. My dad would have loved it, and it was hard to keep it together. It was an historic moment, and here I was, a Quincy boy, calling it.
I've had other big calls, such as Barry Bonds tying Hank Aaron's home run record, but that's not even close.
Q. How busy is your schedule?
A. I just added up my 2011 schedule, and I called 212 games for the Red Sox and ESPN. The travel and time spent in hotels and airport terminals is extraordinary. It's pretty solemn sometimes, because that means I am away from my family and home in Rye so much. But then I realize how lucky I am. I try to tell my children to do what you love to do and find someone who's willing to pay you to do it. My office is Fenway Park, Allen Field House (Kansas), or any remarkable place I go for the broadcasts. I never forget that I get to talk sports and do it for a living.