Q&A with Real estate developers Dan & Renee Plummer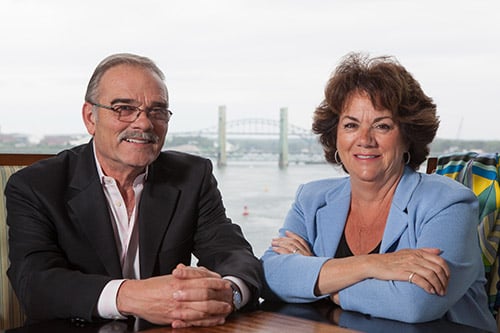 In their own way, Dan and Renee Plummer are the pied pipers of Pease International Tradeport in Portsmouth. Back in the mid-1990s, a few years after the U. S. Air Force closed the former base and turned it over to the state-created Pease Development Authority, the Plummers boldly stepped into a development vacuum. Their company, Two International Group, built the first new office complex on the property – on spec and without any tenant commitments.
"People said it was a cow pasture with no future," said Renee Plummer, vice president of marketing. "We thought it had great potential and I became the mouth to tell the story." Dan Plummer, president of Two International Group, said "It was clear that it was a great location with solid infrastructure in place, roads and quick exits to major highways."
The rest is history. Pease became one of the most successful military base redevelopment projects in the country with more than 250 companies and almost 9,300 workers. Two International Group has been Pease's largest developer. In less than two decades, Two International Group has built 19 buildings and almost 900,000 square-feet of office and industrial space.
The Plummers have also become quadrennial hosts of presidential contenders who stop by Pease for convenient meet and greet sessions with voters who work at Pease.
Q: What has surprised you most about how Pease International Tradeport has grown?
DP: We thought at the beginning that we would put in a new building every two to three years. We put up the first three buildings by 1999 and once people started coming, they kept coming. Then developers kept knocking on our door. We are surprised at how quick it has happened. We've almost built one million square feet of building space in a little more than 15 years.
RP: Then the marketing became easier because you could see the new buildings going up and the ease of access from Route 95, which drew companies and workers from Maine and Massachusetts.
Q: How did the Pease Development Authority fit into the development formula?
DP: They aren't partners, because we lease the land from them, but it's one of those good things when you are in a development backed by the state. You know they can afford to do it, to take care of the infrastructure, the utilities and the roads and to add stop lights when the traffic increased. Prospective clients would see old buildings everywhere at the beginning and we would say, wait a few years because they are coming down.
Q: What might people not know about Pease?
RP: There is such a great diversity in the companies and it's a place with a lot of good paying jobs. If one economic sector has a slowdown it doesn't impact the majority of the businesses. A lot of the smaller tenants are vendors to the larger companies. There are so many types of companies and no particular industry dominates even with larger ones like Lonza. While there is only 40 to 60 acres left to develop, we believe there will growth in airport-related businesses and that more airlines will provide service.
DP: The educational component is important. We have Great Bay Community College collaborating on custom training programs with Newmarket International. University of New Hampshire, Franklin Pierce, Granite State College and others have come here because this is a good location to serve a growing workforce.
Q: How many presidential campaign visits have you had?
RP: A lot. We started last year and have been busy with 13 of them so far and more to come. We call them business roundtable luncheons, and Dan and I host them for candidates from both parties. We pay for the roundtables so we don't owe allegiance to any one candidate. We started doing these years ago because it was easy for our tenants to meet, listen and talk to different candidates. Some are eager to meet Jeb Bush, Carly Fiorina or Dr. Ben Carson, and others want to see Scott Walker, Chris Christie or Jim Webb. Each roundtable has been packed and candidates don't usually turn down an invitation to meet 70 or more business people in one location.