Q&A with Portsmouth architect Lisa DeStefano
The firm just completed its 100th project in downtown Portsmouth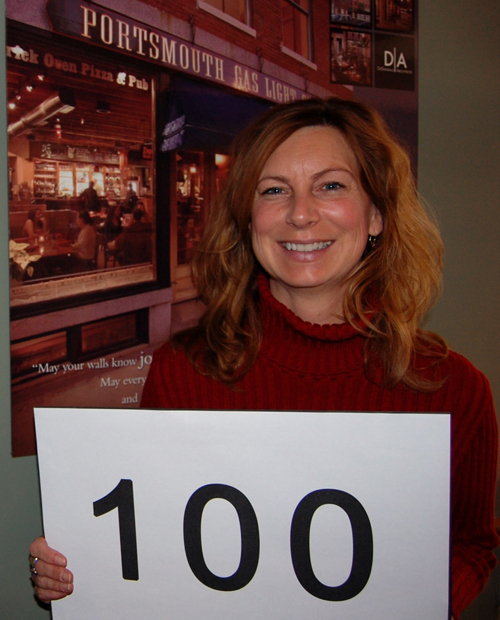 Earlier this year, Portsmouth-based DeStefano Architects reached a landmark achievement with the completion of its 100th downtown Portsmouth project. The redesign of the new upstairs bar of the popular Italian restaurant Ristorante Massimo marked 18 years of downtown projects small and large for the firm, which was founded in 1995 by architect Lisa DeStefano.
DeStefano, whose company (which also goes by the name D/A) has a balance of 50 percent commercial and 50 percent residential projects, is expanding into new markets in northern New England. D/A has 10 full-time employees with plans to grow to 16 after an in-house office expansion is completed.
Q. What do you remember about the first project in downtown Portsmouth?
A. I was on my own in 1995, and I was brought in to assist in tenant design for the interior of 100 Market Street, which was the first significant project in the revitalization of downtown Portsmouth. This five-story building was a game-changer because of how modern design could become part of the city and its historical roots.
The design and use of metals and glass captured the changing aesthetics of the city. It anchors the street as a building should with first floor energy in the commercial. There was a lot for the HDC (Historic District Commission) to wrap their arms around, but 100 Market Street showed new construction should complement and not be false reproduction of historical buildings around it.
Q. How much have you been inspired by your personal sense of the history and heritage in downtown Portsmouth?
A. My great-grandparents moved from Italy to the North End. I lived on High Street until I was 5, and I'm happy that our office is on High Street. All of the DeStefanos lived in the North End, and it was a very close-knit community in the post-World War II era, but it was also an urban renewal area.
This was an example of paving paradise and putting up a parking lot — a big parking lot to go with the ugly wave of commercial buildings. I love the downtown area, and it's where my husband and I live.
Q. How has Portsmouth's downtown evolved since you started the firm?
A. Beginning in 1995 with the northern tier study, we have seen the transition to an era of growth and development and infrastructure development. With the Portwalk project, we are dealing a new start. It's bringing buildings to the street, and we know not everyone is happy with the types and sizes of the buildings, but if you walk down Hanover Street it's become a better pedestrian experience.
We were part of the projects with the Hilton Garden Inn, on Deer Street and Porter Street, the Portsmouth Gaslight (on Market Street), the Haymarket condominiums at the corner of State and Middle streets, and the recent renovation of the old Portsmouth Herald building on Maplewood Avenue.
Q. How is the firm changing?
A. I've had the good fortune to have a really great staff that supports each other. But I saw we also needed a plan for growth. We brought in Adam Wagner, who has degrees in architecture and business, to be the director of operations. With Adam, we have added health care and multi-family residential projects and expanded our geographical reach into new areas such as Vermont and northern Maine. We now have the outreach to serve those clients.
I am able to focus more on certain projects and being more involved with mentoring and strategic growth. We enjoy working together and doing the fun stuff together, like sponsoring the New Hampshire Film Festival or having a bowling event to benefit Habitat for Humanity. It naturally reinforces our connection and commitment to downtown Portsmouth and the area.