Q&A with Physician/social media star Dr. Kevin Pho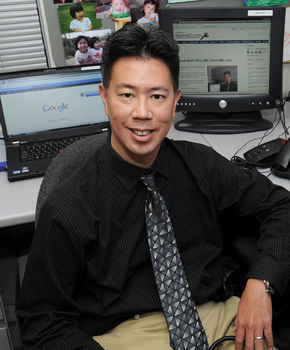 Dr. Kevin Pho's days begin when most of his patients are still asleep. Each morning, starting at 4 a.m., the 38-year-old primary care physician spends two hours managing all of his social media postings for the day.
That includes scheduling posts to Twitter (where he has amassed about 46,500 followers), his Facebook page (which has more than 11,000 "likes") and to his blog, KevinMD.com, which gets upwards of 20,000 unique visits a day.
And if that doesn't keep him busy enough, he then sees his patients at the Nashua Medical Group from 8 a.m. to 5 p.m.
The Toronto native and graduate of the Boston University School of Medicine first launched the blog in 2004, using it as a platform to offer his own commentary about health news. But as his readership grew, so did its scope.
Now, with more than 17,000 archived articles, the blog calls itself "social media's leading physician voice," featuring guest posts and lively commentary from physicians and patients alike, discussing the myriad of issues impacting the health care community.
His social media reach has also firmly established him as a go-to source for the mainstream media. Pho is on the editorial board of contributors for USA Today, has been interviewed on CBS Evening News and has contributed opinion pieces to the New York Times and CNN.
Klout, which measures social media influence, recently named Pho the Web's top social media influencer on the topics of both medicine and health care.
Q. When and why did you start your blog?
A. I started my blog back in 2004. The major reason I started is I didn't feel like physicians had a voice in the media. I thought that was important because patients would call my office and say, "I saw this health story in the paper and what does it mean to me?"
A lot of times in these stories, there wasn't a lot of physician commentary, so I thought a blog was a great place where doctors could provide commentary to help patients decipher what they've seen in the media.
Especially now, with health care reform and medicine changing, it's more important than ever to have a say, and I think social media is a fantastic way in getting that voice.
Even now, the intersection between social media and medicine is still in its relative infancy, but it's more accepted now because more patients are using Facebook and Twitter.
A lot of hospitals are using social media now, but back in 2004, it was relatively novel. I didn't know many physicians then who had a blog — maybe 50 to 100 in the whole country. We had to be careful, especially with that medium being so new — we needed to be careful not to disclose personal information about patients, not to give personal medical advice, because those (social media usage) guidelines didn't exist then.
Now more doctors are using Facebook and Twitter, the American Medical Association is establishing more guidelines, and it's exciting being at the forefront of that.
Q. How has the blog evolved since you first started it?
A. When I started, it was originally my voice giving commentary on what I read in the news and our health system. Then it evolved into a platform where not only other doctors could read it, but patients as well.
I think it's something patients need to know about. A lot of time, patients go to the doctor, they don't know what goes on behind the scenes. These are stories that they want to be told. Having a platform for us to tell those stories is a tremendous value.
Q. Who reads your blog more — those working in the health care industry or patients?
A. I would say it's more the health care community and other health professionals. It's probably a 70-30 split. I also have a good proportion of patients reading it as well, who will say I didn't know there was so much paperwork and bureaucracy. I get a lot of appreciation from patients when they read about the issues that doctors face. I get a good proportion of patients who are interested in what goes on behind closed doors.
Q. Aside from your website, what social media platform have you found to be the most effective in building a following?
A.I think in order to have a presence, you need to be on many platforms. People consume information differently — there are people who read all their news on Twitter, for instance. I think it's very interesting to see how social media has evolved over the years and really become influential in how people consume news and information.
Q. How has the website helped to further your career?
A. I think making that connection to the mainstream media was most effective. I write for USA Today and I've had pieces in the New York Times' Room for Debate Blog and CNN. Really, making that jump from social media to mainstream media has been very powerful. I didn't have any media training, and I wouldn't have these opportunities to speak on that mainstream media stage if not for my social media presence.
A lot of the early media inquiries were, 'What's it like to have a blog?' But now that the novelty has worn off, I've established myself as a voice where media can get a physician's opinion on breaking news. I think it's important to have a physician perspective out there, and it's something I'm very flattered and humbled by. It's an opportunity I would not have had if not for my blog.
Q. What topics garner the most discussion on your blog?
A. It would mirror what would get the most conversation in the national health care conversation — anything to do with health care reform. I think it's important to get a variety of perspectives; I don't lean toward one political persuasion. I include views from across the spectrum.
I make a conscious decision to really include health care reform from a progressive and a conservative point of view, and I think people appreciate that nonpartisan approach. Health care reform brings up a lot of debate, as well as issues that doctors deal with, like medical malpractice, which gets a lot of disagreement from lawyers.
Then there's a third category. I think there is a certain disconnect from how patients are viewed in the health care system, and a lot of patients are frustrated because doctors don't understand what patients go through. There's a lot of back and forth between doctors and patients, a disconnect between them. It's enlightening to see how each group sees each other. Using the blog as a way to bridge that gap is very instructive.
That's really one of the primary goals — to make both doctors and patients understand where each other is coming from.
Q. How do you keep the discussion civil?
A. That's an interesting topic — how do blogs moderate comments? With social media, especially when you have pseudo-anonymous posts, debate can quickly get out of hand.
First I would moderate every comment before it was posted, but that was time-consuming. Right now I have what's called community moderation, where if a post gets a certain number of flags, it gets moderated or deleted.
I force people to log in either through Facebook or Twitter or with email. That extra step weeds out a lot of comments that can be abusive. It's an issue that every forum faces, you have to balance insightful debate with a degree of civility.
Q. In general, do you think doctors have taken full advantage of social media?
A. My answer is no, I don't think we're anywhere near our potential. They don't see the value yet of social media. I give a lot of talks to doctors across the country.
A lot of them ask me, 'Why do I need to go on Facebook? I'm busy enough.' One of the things I do is show them my experience, how I've made media contacts and connected with patients to help them interpret the news, to give them reasons to do so.
When they hear a practicing physician using social media and incorporating it in his life, I think there's a certain level of credibility.
Slowly the tide is turning, but the new entities and new forms of communication are slow to adopt, and I don't think we're anywhere near where we should be in utilizing social media.
Q. How do you find time to be a practicing physician and also run such a successful website and tweet so prolifically?
A. It definitely takes a commitment and time. I do all my social media activities from 4 to 6 a.m. each morning. Those Twitter posts are all scheduled in advance. I'm not on Twitter during the day. I see patients from 8 to 5.
It does take time and I wouldn't do it if I didn't get a lot out of it. When I talked to other doctors, I always advise them to do what they're comfortable with, but the more you put into it, the more reward you get out of it.
Q. Do your patients know you're a social media superstar?
A. They certainly know about my blog. The feedback has been universally positive. One reason is I don't take controversial stands. I don't give personal medical advice on the Web. They appreciate what I do.
Q. More people are using the Web to research their own medical issues. What kind of impact does that have on the medical community?
A. I think it's a phenomenon that the medical profession needs to deal with. Eight out of 10 Internet users use the Web to look for health information. Patients are going online to look at health information whether the medical profession likes it or not.
Many doctors tell people not to look online. I think that's a shortsighted approach. We need to help them interpret what they read online. There's a lot of bad information on the Web that can be dangerous.
Only a quarter of patients check the source of what they look at, so we need to guide them to better sources of health information because they're going to do it anyway, and that's really a point I try to bring home to a lot of doctors.
Q. Have you gotten new patients through your blog?
A. Yes, that's certainly one of the indirect benefits of having a visible online presence. Patients are looking for health information and their doctors online as well. I am obviously very visible and I do have a growing portion of patients who find me online, I think there is a subset of patients who want doctors who understand Internet trends and Web browsing.
Q. What's a simple step you recommend to health care professionals wanting to start using social media?
A. The easiest thing I could recommend is to have a social media presence — a LinkedIn profile or a Google profile, because when their name is googled, those are the things that come up first.
Having a social media presence would make them proactive and put them in control when their name is googled, because if their name isn't, what comes up instead are third-party physician rating sites. The information cannot only be inaccurate, but can contain slanderous patient reviews.
By having a social media presence, that's the type of profile that comes up first. Most importantly, they control the information that goes in there. That's the biggest piece of advice — use social media to put yourself in control of your own social media presence.
Q. Do you think there's a place for social media in all industries?
A. Any industry where you're dealing with people, the answer is yes. A study I read said 65 percent of people interact with blogs and social networks. That's a significant portion of the population. If you want to connect with them, whether in health care (or other industries), you need to have some type of social media presence.