Q&A with Pax World Investments CEO Joe Keefe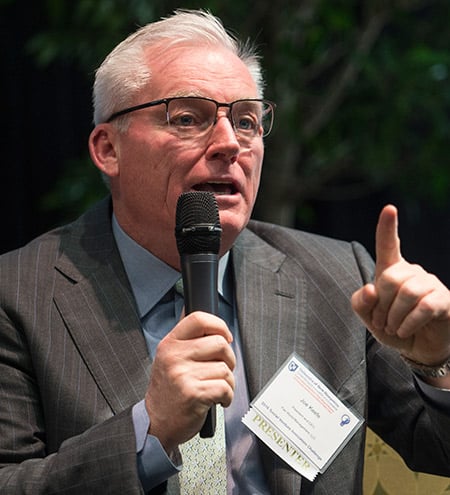 Joe Keefe, president and CEO of Portsmouth-based Pax World Investments, was honored earlier this month as the University of New Hampshire's Center for Social Innovation and Enterprise 2016 Social Innovator of the Year.
Keefe passionately believes in the promise of SRI (socially responsible investing) and its ability to simultaneously promote social change and shareholder return.
"The reason I became involved was to make the world a better place," said Keefe, a former chairman of the NH Democratic Party. "When we have political dysfunction and gridlock, businesses and capital markets can make a huge contribution to human progress."
The UNH Center for Social and Enterprise said Keefe's voice "has helped change the field to champion both sustainable investing and women's empowerment, and his influence has been felt across the globe."
Keefe was named by the Financial Times in 2015 as one of the top 10 Feminist Men in the World, and in 2014, Keefe was honored at the United Nations as one of five recipients of the Women's Empowerment Principles Leadership Award.
Q. On a personal level, what does the Social Innovator of the Year honor mean to you?
A. I believe this honor recognizes the work that Pax World employees and shareholders do to engage companies through dialogues and resolutions. We've focused on gender diversity because we have seen from experience and compelling research that companies with more women in leadership positions simply perform better.
Q. What prompted your interest in gender diversity?
A. My interest goes back some two decades when I did a lot of research to figure out what I wanted to do next with my career. I read "The Wealth and Poverty of Nations" by David Landes. There was one chapter in this great book that stood out to me: Landes said the best clue to a nation's wealth is the status and role of women. He believed that one key to reducing poverty was to promote gender equality and it played out at both the macro and micro levels.
What has stood out to me is that companies that promote economic opportunity and have diverse leadership groups are more likely to have stronger performance.
Q. What are other benefits?
A. Companies that do the right thing in regards to sustainability are being smart because we have found that when companies manage their human capital well, they create more stability. Companies that have a higher regard for ESG (environmental, social and corporate governance) tend to be of higher quality, have more consistent profitability and more return on assets.
Q. What are your thoughts on SRI/ESG going forward given the tumultuous political environment following the election of Donald Trump?
A. I think to the extent the public sector is either sidelined by political gridlock or undermined by reactionary measures, it's imperative for businesses and investors to stand up for the right things.
For example, despite the rhetoric by Trump, the science of climate change is settled. The international business community and many American companies support the Paris Agreement (on climate change) because sound business practices require planning, and climate change is going to impact many of them. The insurance industry takes climate change seriously and is already way ahead of politicians who deny it.
Businesses and capital markets can step into the breach and be part of the solution. I think one unintended side effect of the election is that more people, investors and consumers, will try to impact social policy and promote social change. We know that women and millennials want their investments aligned with their values, and that likely won't change.
Q. What's the best book you've read lately?
A. I've just finished a few, but the one that stands out is "Barbarian Days: A Surfing Life" by William Finnegan. It's an incredible book about surfing and a memoir I can relate to, even though I don't surf. We are the same age (63) and grew up listening to the same music and are going through similar stages of life. Finnegan writes about surfing in the same way that Hemingway did about bullfighting.