Q&A with Paul College Dean Deborah Merrill-Sands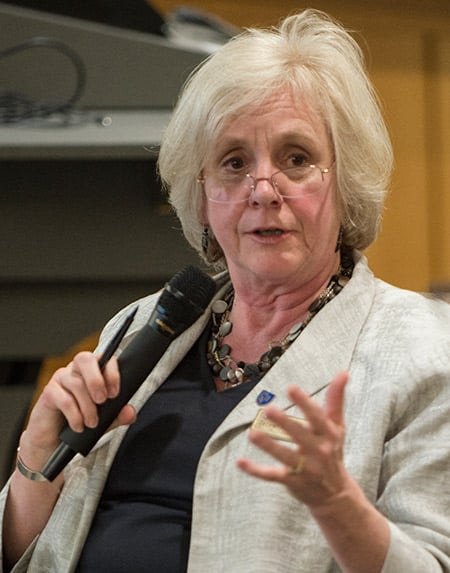 If there is such a thing as a nontraditional dean of a nationally ranked business school, then Deborah Merrill-Sands fits the bill.
She arrived in the spring of 2015 to become dean of the Peter T. Paul College of Business and Economics at the University of New Hampshire. She previously served as dean of the graduate business school at Mill College in California from 2010 to 2015 and had a number of leadership appointments at Simmons College in Boston during her time there (1996-2010).
Additionally, Merrill-Sands has extensive experience in public service with organizations such as the Ford Foundation, World Bank and the United Nations. During the 1970s, an era in need of long-term solutions to dire economic situations such as widespread famine, she earned her Ph.D. in economic anthropology at Cornell University and was involved with agricultural initiatives in rural Mexico and later in Africa. Her current research focus has been on business ethics, corporate responsibility and sustainability.
Q. How has your first year gone at the Peter T. Paul School?
A. It's gone really well. I came into a dynamic situation, and it has been wonderful to see how we've focused on what's next. We are in a good position to further enhance the programs we offer and increase our visibility.
When I entered, we set this goal to be ranked in the top 100 of the Bloomberg Businessweek ranking of the top undergraduate business schools. I knew we had the quality, but we hadn't competed before. We took significant pride in being ranked 81st (rankings were released in April), and we ranked high in career outcomes for our students and student satisfaction.
Q. What's the major strategic focus in 2016?
A. We all know that college affordability is a major issue, and we've taken two clear steps.
We were able to secure $5 million for Paul scholars programs – that's $5,000 for four years for students. We are also focusing on ROI for our students, with good jobs that are meaningful to our students along with good compensation. We've increased internship opportunities.
Part of our goal is to increase involvement of our alums. We have a very strong network of 16,000 alumni, and they are important stakeholders for our growth and success. I was at an alumni event recently and I heard that they were pleased that we are raising the visibility of the Peter T. Paul College regionally and nationally. They don't want us to be a well-kept secret.
Q. How is university-level business education evolving?
A. I believe the keys are innovation, impact and engagement, and I think we are doing well on all three.
As a land grant public university, we need to ask ourselves, "How do our research and academic programs serve and impact New Hampshire, and more broadly, New England?" We want to remain engaged with political and business leaders to retain talent in New Hampshire and have students consider a wide range of options, including smaller but dynamic companies in the state.
We host the Small Business Development Center, and we are considering more specialized MBA programs. We are engaged and have active dialogue with local, national and global industries to make sure our students are prepared.
Q. What in particular?
A. We have moved from the information age to the digital age and have moved quickly into digital marketing. Students are involved in that dialogue to address the needs of cutting-edge employers.
We recently had a competitive symposium with Liberty Mutual called Data Jam in which students created a more demographic attractive website. We are offering undergraduate classes in analytics and a master's in analytics to prepare students for SEO and management of big data. We believe this is a win-win for our students and employers.
Q. How have your international experiences informed your perspective as an academic leader?
A. I've spent almost two decades working on issues of rural poverty around the world. When you are exposed to such profound poverty for a long time, you gain a much broader perspective on the vital role of business in society. I learned quickly that government wasn't enough and saw the impact of the private sector in economic and social development.
As a dean in a business school, I believe it's important to understand the positive impact of business while not getting swept away by the power of greed. We still need ethics and accountability.