Q&A with Outgoing House Clerk Karen Wadsworth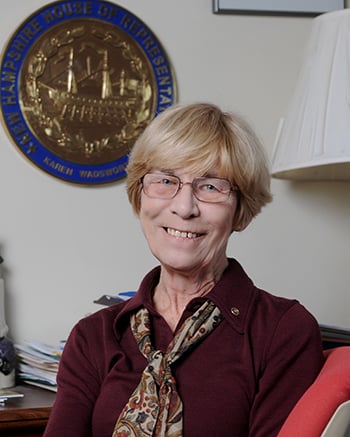 Karen Wadsworth, the outgoing clerk of the New Hampshire House of Representatives, remembers that when she first started her job in 1994, a House leadership aide gave her a blunt piece of advice.
"He said my job was to cover his butt," says Wadsworth, who is retiring after 20 years as House clerk. It was advice she declined to take.
As a former five-term Republican House member and former mayor of Lebanon, Wadsworth was the first female clerk and until now, the longest-serving one. Wadsworth said she focused on long-term institutional integrity and wanted to oversee a nonpartisan shop. She worked for five Republican speakers and one Democratic speaker, and Wadsworth said she served all of them with equal devotion. (The Republican speakers were Harold Burns, Donna Sytek, Gene Chandler, Doug Scamman and Bill O'Brien; Terie Norelli was the lone Democratic speaker.)
Wadsworth's role has included overseeing the office staff, publication of the regular calendars and journals of House legislative business, providing parliamentary advice to the speaker during House floor sessions, and helping the 400 members understand how the House works.
Q. What has been one of your most important accomplishments?
A. I believed we changed the mission of the office to become a nonpartisan one to all members. That had not always been the case before I was elected. Most House members today do not know I had been a Republican representative, but I believe they know our role is nonpartisan, and we took pride in that. I got to know about three-quarters of the members each session, but not the ones who weren't here much. My office door was always open to any member, and some would occasionally stop by to vent their frustrations.
Q. What may the public not understand about the House?
A. For the most part, members take their jobs seriously. We see a lot of new bills every new term, but I think that may be changing a bit. Every new class has the latest, best ideas they think no one has thought of before. I wish they would do some research and find out the same bill has been up two terms in a row or been sent out for further committee study.
Q. Has the decorum in the House changed in your time?
A. The lack of decorum over the past four to six years has been very troubling. It's something we've talked about as a staff.
The behavior on the House floor has gotten way too lax. It appears that some members don't have as much respect for their own office let along anyone else or the institution. You would never see members reading newspapers during votes or disrespecting other members. It's really too bad that we have 4th-graders come in, and they see members behaving badly. There should be more discipline, and members need to show more respect to each other and the institution.
Q. What will you miss the most?
A. The thing that's been best, and that I will miss the most, is the people I've met while serving as clerk of the House. Far and away, it's been the best part of the job.
Q. Do you have any words of advice for the next House clerk?
A. It's important to know how dedicated the staff is to the Legislature. Every speaker will have their own chief of staff and policy directors, and everyone is different in how they do their job. This job can be difficult, aggravating and a lot of fun. I absolutely loved it.