Q&A with Office of Energy and Planning Director Myles Matteson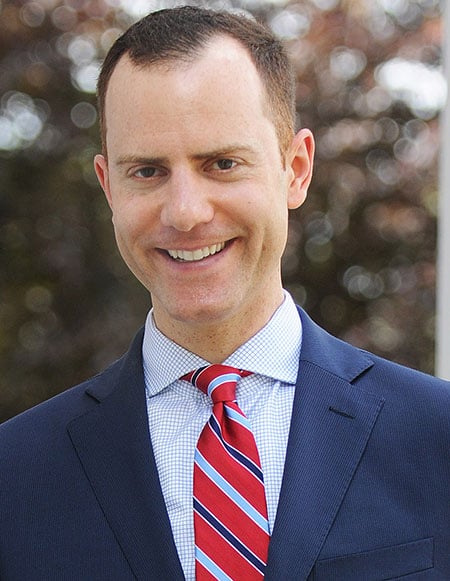 Myles Matteson, an Epsom farm boy who went to Oxford University, helped prosecute genocide suspects in Rwanda as well as the only New Hampshire capital murder case since the 1930s and worked as an aide for six years for former U.S. Sen. Kelly Ayotte. In February, he took over as director of the NH Office of Energy and Planning, hoping to transfer it into a kind of government think tank.
Q. How did you go from an Epsom farm to becoming a lawyer and involved in government?
A. I was very aware from a young age of how involved New Hampshire citizens are in our own governance. Three people on my road were in the state Legislature, so I learned this is what you do in New Hampshire.
Q. You went to Rwanda?
A. The former Merrimack county prosecutor (Michael Johnson), who was selected to be the chief of prosecution for the United Nations, invited me to live with him for the winter at the Hague. I interned on the Slobodan Milosevic trial. Throughout college and grad school, I was researching judicial reconstruction after genocide. I interviewed people from Rwanda and wanted to go there. I spent a fall in Rwanda working for the prosecutor general, drafting future extradition requests for genocide suspects.
Q. What were the energy issues you worked on for Senator Ayotte?
A. The biggest energy issue was energy security, but that could be environmental factors – solar events, management of grid, from a national security and homeland security perspective.
Q. Were you looking at rising sea levels?
A. Yes, we had some UNH experts come down to testify on hazard mitigation and coastal flooding.
Q. Is global warming real?
A. Yes. We are seeing the precipitation rate in New Hampshire climb significantly. We are looking for the actuarial assessments of what the risks are and how to plan for it.
Q. Talk about rebranding the Office of Energy and Planning.
A. In the governor's budget there is the request to rebrand Office of Energy and Planning as the Office of Strategic Initiative. Where the current statue lays out an energy mandate and a planning mandate, it also says other activities that the governor and director might assign.
Q. Can you give me an example?
A. View it as think tank – the ability to look at a small set of high-priority items and how those could be advanced. One of the initiatives is the governor's scholarship program. That's a $5 million scholarship intended to be given New Hampshire high school graduates to be able to help them prepare for the workforce.
Q. So you think the office might work on a scholarship program?
A. What is the viability? What is the structure? What should be pursued? The goal is not to administer a whole suite of new programs, but to provide some support and long-term thinking.
Q. What are some of the other priorities of this government think tank?
A. Operation of government, regulatory reform, energy prices. How are we thinking about our infrastructure and investments to attract businesses? How can we be trying to attract and maintain our younger population? There are a lot of candidates – some are already being worked on.
Q. On energy, should the state be subsidizing the use of natural gas by guaranteeing electric customers pay for gas pipelines?
A. How do we address cold spikes, when a confluence between heating and electricity generation lead to gas shortages? How do you mitigate the volatility, particularly for businesses? Contracting for that capacity is one possibility. It does need to be done thoughtfully to make sure there is a public interest there.
Q. The PUC said no to that. It seems that you are saying the PUC is wrong.
A. I see this as a policy decision. The PUC was looking at current law.
Q. Do you support changes in the current law, which is what Senate Bill 128, currently retained in a House committee, is about?
A. It's important to have some of those tools. They have to be closely monitored to insure there is consumer benefit.