Q&A with nonprofit leader and activist Robert Egger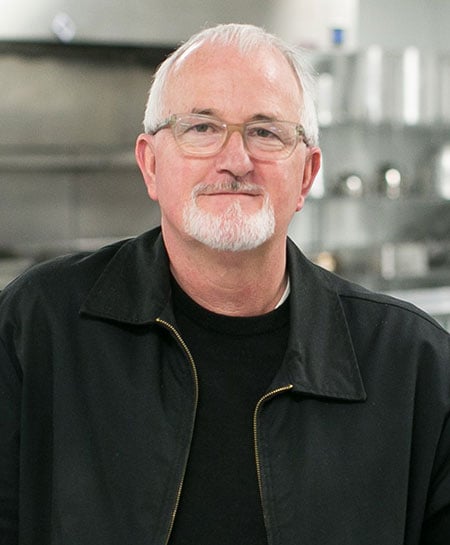 For almost 25 years, Robert Egger was president of DC Central Kitchen, a program he founded that, using recycled food collected around Washington, D.C., trains unemployed adults to develop culinary job skills while supplying meals to local service agencies. In that time, the program produced more than 30 million meals and helped 1,500 people gain full-time employment.
Since then, he moved to Los Angeles, where he's founded L.A. Kitchen, which uses a similar model and has found similar success.
Egger will be the keynote speaker at the NH Center for Nonprofits annual Nonprofit Leadership Conference, "Unleashing the Power of Nonprofits," Friday, Sept. 15, at the Grappone Conference Center in Concord. (For more information, visit nhnonprofits.org.)
Q. What is the message you'll be bringing to New Hampshire?
A. I'll be talking about how there is no profit without nonprofits. It's Economics 101. A city or town cannot attract investment, businesses to locate, families to settle, without arts and culture, institutions of faith, education.
Nonprofits have historically traded in their kind of do-gooder stuff. That's cool, but how much money do you bring in from outside, how many do you employ, how much payroll taxes do you pay? They're major job creators, and they need to tell people about that. We're an essential part of the economic ecosystem.
Q. But it's hard to get around the stereotype that some people hold about nonprofits.
A. They often view them as people who don't pay property taxes or are a nest of liberals, but that kind of understanding troubles me. At this stage, we should have a more mature understanding of all the contributions nonprofits make.
But when budget time comes around, arts and culture, employment training – all of the things nonprofits do –
are viewed as extra stuff. What we're trying to say is that without all of these things, our city or state becomes economically unviable. We're the third biggest employer in the economy – 14 million people work in nonprofits, and another 70 million work as volunteers. Nonprofits in California alone bring almost $40 billion into the state.
Q. But when politicians talk about job creation and the like, they almost unanimously talk about the for-profit sector.
A. Rarely do candidates talk of us in a partnership way, and you have to ask yourself: Why would you elect somebody who doesn't understand the economic role that this major sector plays?
Q. How can you get elected officials and others to see things differently?
A. In 2006-07, I worked with the NH Center for Nonprofits on the Primary Project. The idea was that, instead of us instinctively going to our immediate issue, we had an all-boats-must-rise approach went to the presidential candidates and told them there are thousands of employees of nonprofits who are registered voters, and what are you doing to help the nonprofit sector in the economic recovery?
We went from the top of the state to the bottom. It was the first experiment to see if we could get the sector to view itself as a sector.
It also highlighted how little the candidates understood about the sector. We would preface our big question with a simple warm-up: "Could you tell us any experiences you've had with direct work with a nonprofit" – and we found there were people running for prez who don't understand 20 percent of the entire economy.
Q. That should have raised a red flag.
A. I find it troubling yet funny. Oftentimes, at the most threadbare little shelter, elected officials are complaining that the shelter is there "making trouble" by drawing "those people" in there. But you go inside, and you see that these are citizens. They're from the community. They've been raised in the community.
Q. Should nonprofits share some of the blame for the misconception?
A. Historically, our sector has focused on the right/wrong of what to do – we don't talk about the tremendous economic impact we have.
At L.A. Kitchen and the DC Central Kitchen, each year 80 men and women graduate with jobs. That may not sound like much, but when they get out and are employed, they are contributing to the economy via payroll taxes and commerce, and most likely, they're off the welfare rolls. When you start to really calculate the impact of what we do individually and collectively, it sends a different message.
Q. So should nonprofits become politically engaged?
A. Most nonprofits are terrified of politics, and the vast majority labor under the false notion that they cannot do anything. And many of their board members similarly have the sense of being risk-averse, even at the very moment our budgets and our country are very much at risk.
They should realize they very much have the ability to stand together, and this is a strategic moment for them to do that and have them see you as a collective. It's the way the chamber of commerce works – they educate people about the effect of businesses.
The way our society views business, they're allowed to use some of their profits to influence elections and have the legal right via Citizens United. But nonprofits, because they rely on donations, are concerned that donors might be upset that that money that was intended to address something like a homeless shelter. But what I'm proposing is a constructive economic partnership between government and nonprofits, individually and collectively. It's a progressive view of nonprofits as economic partners.
Q. How does that work?
A. When I came to L.A., the city had contracts with a multinational caterer for a seniors meals program. They served processed food and paid low wages. I said if we get the contract, you'll get the same or even better senior meals – but in addition, you'll also get support for local farmers and good jobs.
Now, in L.A. County, the board of supervisors passed a policy that gives preferential treatment to registered social enterprises for county contracts – not low-bid contracts, but the best value for the county. It's using the power of city, county or state contracts to drive the evolution of social enterprise businesses.
Q. But social enterprise businesses are for-profits, aren't they?
A. The nonprofit sector, with a little support, could turn into social enterprise businesses, creating profit and jobs. The movement's growing, but it's still a novelty, and in my opinion the fastest way for this to grow is to elect a generation of mayors and governors who understand the power of nonprofits and the potential of social enterprises that understand the power of volunteerism and purchasing power.