Q&A with Nick Vailas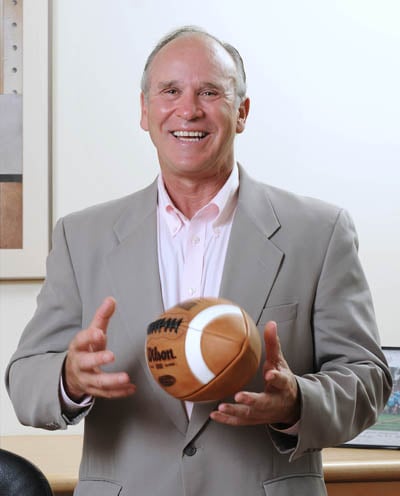 Less than two months removed from the third annual CHaD NH East-West High School All Star Football Game, Nick Vailas has been hard at work preparing for the fourth annual game next June in Manchester.
A teacher, coach and lifelong entrepreneur, Vailas served as New Hampshire's Health and Human Services commissioner in 2003. The Manchester native and Plymouth State College graduate also co-founded and has been the longtime CEO and chair of Bedford Ambulatory Surgical Center, which now has a second facility in Nashua. And he founded and is chair of the board of Compass Healthcare Advisers, also in Bedford.
Vailas says the common denominators of his career incorporate the lessons of community (especially the tight-knit Greek community he grew up in) and sports. The now annual game to benefit the Children's Hospital at Dartmouth-Hitchcock was initially prompted by the cancer death of a lifelong friend's teenage daughter. Vailas merged philanthropy and sports and the result has been spectacular.
More than $752,000 has been raised with the first three games for CHaD programs and services, including a special fund for children battling cancer. It has support from scores of volunteers and donors, including Chip Kelly, the coach of the Philadelphia Eagles and graduate of Manchester Central High School.
Even more inspiring, Vailas said he has been struck by the dedication of the teenage athletes who have stepped up to raise fund s on their own.
"These young men have not only take away the skills and lessons from the work they put into this game, but also the experience of learning what it means to give back," he said.
Q. How long have philanthropic ventures been a part of your life?
A. I would say pretty much my whole life because I learned the importance of giving back, and the older I get, the more important it becomes. Along the way I had a lot of great coaches and teachers and was the recipient of a lot of kindness and strong support.
I've been blessed with five children who are pretty good citizens. As my businesses grew, I was able to serve as a volunteer on boards and to coach and give more back financially.
Q. What do you bring from your experiences and knowledge as a corporate executive to your philanthropic work?
A. My task is getting people to work together for a common cause. As a teacher, coach or CEO, the goal is educating people. There's some salesmanship, but mostly it is embracing the opportunity to work with great people and working to reduce barriers so they can do their jobs well.
When I was the commissioner of Health and Human Services I was honored to work with people who do incredible work every day who were dedicated to taking care of people. If you get people to come together, we can do incredible work whether it's for my business or the (all-star) game.
Q. What does it mean to give heart and soul to a project like the CHaD game?
A. It gets to the heart of the matter and gives my life greater meaning. It's about love and giving of yourself to help children who are suffering through no fault of their own.
I'm a father and I know how fragile life can be, and this event pays it forward because so many outstanding people are standing on the sideline with me to support this incredible asset (CHaD).
This is a team with a great sense of purpose, and you see it with Chip Kelly. He doesn't want people to know he got Nike to donate uniforms for the game. He just does it to give something back. It's an example of what makes New Hampshire such a special place.
Q. Why do you hold sports in such high regard?
A. I grew up near Gill Stadium and the JFK Coliseum. Sports were such a central part of the life of the thriving blue-collar community in Manchester then, and we were helped by so many wonderful coaches. I believe sports are a vital part of our educational system because it is a place where you can build character. Your character will seal your fate because life can be difficult at times, and strong character will get you through those tough times.
Sports can teach you humility and realize it's not about you but how you work with teammates and sacrifice for a common goal. As great as Tom Brady is, he can only be as good as his (offensive) line plays.
It's true that sports can be a vehicle for a successful athlete, but it can also be a disaster if there's too much about yourself. If you realize there is a greater benefit to sacrifice for a common cause, those principles can be applied at early time in life.
Q. What has surprised you about the young players and what have you learned from them?
A. The biggest surprise is how receptive these teenagers are to go beyond what's asked of them. We appreciate the fact they are playing, but they aren't required to fundraise on their own. They have done it anyway and raised $53,000 this year alone and more than $150,000 over the past three years. They also visit the kids in the hospital.
I'm inspired by the goodness inside of them and it tells me America will be in good hands. It's become more evident to me that we as adults have a responsibility to nurture their talents.